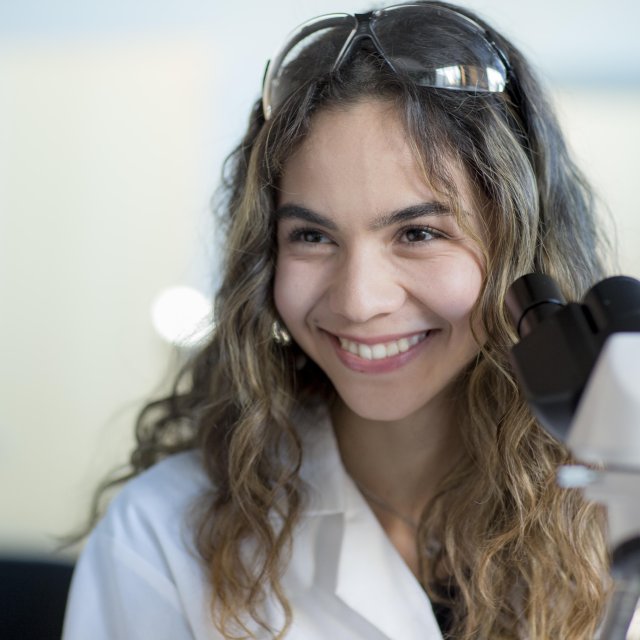 The University NOW program provides opportunities for underrepresented high school students in San Diego to envision themselves as college students, and successfully complete two university-level integrated courses: Writing, and Human Biology and Bioethics.
Students who enroll in University NOW are typically high school juniors who come to PLNU three days per week in the afternoon to take a specially designed interdisciplinary course that extends over two semesters. The program allows students to get a head start on their college course requirements and experience the intensity of college-level material, with a built-in support system. The ability to write well is crucial for success in college.
Essential components that contribute to student success are:
Professors from the biology and writing departments who are accessible and motivated to see students excel
University student tutors who serve as role models
Hands-on laboratory experiences
One class retreat during the year to help build community and motivation
Upon completion of the course, students may receive one semester of college credit for both biology and introductory writing. University NOW has been extraordinarily successful as measured by the high rate of college entrance in a population that is more than 95% underrepresented students. Between 2004 and 2018, 219 University NOW students graduated from our program and more than 87% of them went on to college.
Former University NOW Student Testimonials
"Joining the UNow Program completely changed my thoughts about college. It was an extraordinary opportunity where we had University professors and a medical doctor in the same room! The course was filled with my friends who were also first-generation college students or under-represented. The professors taught at our pace and always welcomed questions. It didn't feel like a race through a textbook, but rather a time to explore our questions. Our professors gave us time to think through different scenarios and prompted questions, keeping us on our toes. It is an experience like no other where you are lectured about a heart attack by a medical doctor, while also learning about active cancer investigations by the very scientists themselves! The program taught me to think like a scientist, meaning asking questions, reading previous studies, and learning from peers. We also had an awesome English component that elevated our writing to the college level. This was extremely helpful during my first few years of college where most struggle the most. In high school, I had a hard time in English classes but in college, I was a top student in my courses. The staff welcomed questions regarding college applications. They were willing to write letters of recommendation, read over essays, give college advice, and create a rigorous course that prepared us for college. Higher education did not feel distant anymore but rather a norm. The program provided a supportive environment while we became college students."

"The UNow program shaped the person I inspired to become. Before joining the program I thought I would be a math major. However, after taking the biology course through UNow, I completely fell in love with biology. I continued to learn more about how our body functions and explore active research projects. The enthusiasm from the staff gave rise to my own curiosities about biology. I also wanted to learn more about our education system and ways to support members of my community. Being part of such a caring program, I wanted other high school students to have a similar experience. This is why I choose to minor in Education and find roles where I too can extend a hand, the way the members of this program did for me. I would like to thank all of the staff involved in the program for helping me build the confidence of becoming the scientist that I am today."

Ricardo, University NOW 2015 – 2016
Point Loma High School

---

"If I had to sum up my experience at University NOW in a few words I would say life changing. This program allowed me and many other low-income first generation college students to attend university courses on the PLNU campus as juniors and seniors in high school. We were given a taste of the college life, workload, and community offered at PLNU. Many of us who attended the program would have never been able to take a college class at that age if it wasn't for the University NOW program. I now attend PLNU as a first-year biology major and am loving the community and the classes. Words can't express how thankful I am for the University NOW program. I know I can speak on behalf of everyone and say that University NOW is one of the greatest experiences in our lives that has influenced our future in many different ways."

Eric, University NOW 2011 – 2012
Point Loma High School

---

"University NOW has been the most meaningful activity I have ever participated in. It gave me all the skills I need to succeed as a college student, prepared me to know what to expect from a college course, and made me a different person. I acknowledge every step I take, because now I know I can go to a four-year university. It made me realize that my goals and dreams are not impossible; I just have to be determined to reach a better future. University NOW was composed of biology, writing, lab, and tutoring experiences. It also gave me the opportunity to go on a retreat to Julian for a weekend, which helped me realize that all my peers there had the same aspirations in life. The professors at University NOW were so pleasant and we all enjoyed class. One of the things I liked most was that our tutors were PLNU students and they always lent a hand when we needed it. The knowledge and experience I took from this opportunity was amazing; I never thought something like this would change my perspective toward attending a four-year college."

Teresa, University NOW 2006 – 2007
Point Loma High School

---

"I am currently attending University of California, Irvine, as a biological science major. Being part of the first group of students to represent Sweetwater High School at PLNU through the University NOW program was such an honor. I gained so much experience as far as what to expect in college, the type of work, test taking, study habits, etc. Joining the program was very beneficial to me as a biology major because the class I took at PLNU provided me with basic knowledge of biology. The program also had events that were very memorable, including the retreat, experiment by the beach, and award ceremonies. I will never forget the memories and the friends I made during the program."

Carl, University NOW 2005 – 2006
Sweetwater High School

---

"The University NOW program really helped me prepare for the rigorous academic curriculum of a four-year university. It covers and teaches us the skills we need to survive in college: writing skills, study habits, and a hands-on experience of a real college class. Also, this class fulfilled some of our general education requirements (GEDs for college), giving us an advantage over other students academically. The University NOW program is a very important program."

Karl, University NOW 2006 – 2007
Sweetwater High School

---

"The professors I studied under at PLNU through the University NOW program encouraged us to voice our opinions and answer every question confidently, without hesitation. I became comfortable talking with college professors without being so intimidated. I say this now because in my classes at UCSD with 300 or more people, the fear of being wrong holds students back from participating or asking questions. The writing and rhetoric skills I learned give me an edge in class and grant me high scores on my papers. The biology class gave me skills so I understand the applications and importance of chemistry in the biological industries and industrial markets. The skills I learned through the University NOW program have been so helpful."

Melinda, University NOW 2005 – 2006
Sweetwater High School
High School Partners
We have partnered with several San Diego high schools since 1997. Currently, we are partnering with Point Loma High School and e3 Civic High. The partner schools are chosen because they have significant numbers of underrepresented (57-97%) and socioeconomically disadvantaged (44-72%) populations (ed-data.k12.ca.us). The counselors at the high school recruit the students, who then submit an application.
Financial Support
University NOW is supported by private donors. With the recent California state budget cuts, it is becoming difficult for schools to afford bus transportation costs. We hope to find more donors to support University NOW so we can continue to serve 20 to 25 students per year.
Additionally, PLNU would like to offer tuition scholarships to former University NOW students who want to major in the sciences at PLNU. With additional private donor support, we can once again offer these scholarships and increase the diversity of students majoring in the sciences at PLNU.
If you would like to help make a difference in the lives of our University NOW students, please visit our giving site.
University NOW Faculty    
Professor of Biology and University NOW Program Director
mdorrell@pointloma.edu
(619) 849-2962
Eric Dahms, Ph.D. (MD)
Adjunct Professor of Biology
Jennifer Niethammer, M.S.
Adjunct Professor of Biology
jnietham@pointloma.edu
Adjunct Professor of Writing
kseehaus@pointloma.edu