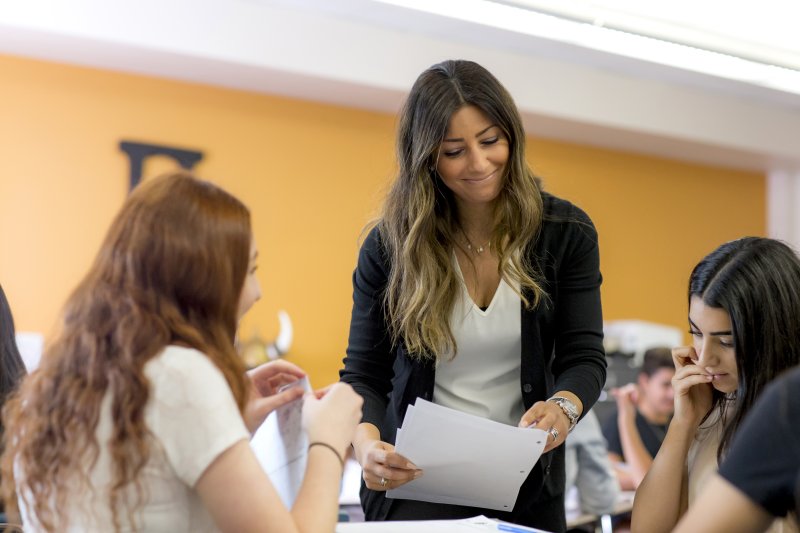 When it comes to completing your education, it can be difficult to choose between the many formats available. This is true regarding online vs. traditional education. There are advantages and disadvantages to both, but how do you know which one is right for you?
How do you go about choosing which format best fits your personal style and your professional goals?
Online Education Vs. Traditional Education
Before we dive into the pros and cons of online and traditional education programs, let's quickly define what each one is and what elements are involved. 
According to Evelyn Learning, traditional education is the format in which professors or teachers will instruct students in a physical setting of some sort. This type of education requires physical presence in classes. This is the type of education that most of us are quite used to from our experience in elementary and high school. 
With the advent of technological advances and widespread internet access, online learning has quickly gained momentum over the past few years. This type of learning is primarily done virtually and does not require physical presence. Students are still able to connect with their professors and other classmates, but all interactions are done online in a long-distance format. Online learning often requires much more self-discipline and organization. You can find more tips on how to thrive as an online student here. 
With each model comes a set of pros and cons. Let's dive into those for each one. 
6 Pros of an Online Education 
According to Class Gap, there are many advantages to pursuing an online education.
Here are a few:
1. Flexibility
Online programs give students a greater amount of flexibility. Students can personalize the program to fit their personal needs. They can study wherever and whenever they want and have full control of their hours. If you work a full-time job or have other personal responsibilities like a family, an online program affords you the flexibility you need to reach a healthy work-life balance. 
2. Less Commuting
Since classes can be taken anywhere, students save time and money as they do not have to commute to attend class physically. This can lead to less stress and greater quality of life. 
3. More Degree Options
Students are able to enjoy a wider variety of degree options and can take their pick from the thousands of universities and colleges in the country and around the world. Students can also opt to go for certificate programs as well as full bachelor's, master's, and doctorate degrees online. 
PLNU offers a wide variety of online program options that offer you the flexibility to maintain your work-life balance while fully pursuing your life's calling. Learn more here. 
4. You Can Go at Your Own Pace
Most online programs are self-paced, which means you decide at what speed to complete your assignments and courses.
5. No Costly Relocations
With online programs, you won't have to leave the comfort of your city or home to obtain an education. This will save you quite a bit of money on traditional program costs such as housing, commuting, and relocation. 
6. Affordability
Online programs are typically more affordable and cost less than traditional programs. 
Cons of an Online Education
Just as there are advantages to online programs there are also disadvantages. Here are a few:
1. Self-Discipline and Motivation
Online programs require you to be more self-disciplined and depend less on external motivators. You will have to be the one to motivate yourself to complete assignments and get through the course. 
Students with a learning style that requires external structures and motivators may have a hard time getting through an online program. 
2. Fewer Physical Interactions With Others
Although online programs do afford you the ability to connect with others, most of that connection is done virtually, which can be difficult for students who need face-to-face physical interactions to thrive in an educational setting. 
3. Online Programs Don't Work For Every Field
There are some areas of study that require much more hands-on experience and lab hours. Fields such as medicine or chemistry may work out best in an in-person setting. 
_______
Who are you called to be?
Pursue your purpose at PLNU.
_______
3 Pros & Cons of Traditional Education
Traditional education comes with lots of perks and advantages. 
1. More Opportunities to Interact In Person
Unlike online programs, traditional education programs provide students with the opportunity to interact physically with one another and with their professors. This makes for an interactive and dynamic environment that not only helps certain students learn better but can also lead to significant friendships and personal connections that can enhance the learning experience. 
Traditional education programs also afford students the opportunity to attend other campus events and help further enhance their personal and social lives. 
2. Great for Group Projects
Traditional education programs are great for group projects as students are better able to interact and connect with one another when it comes to their assignments. 
3. Structured Programs 
Traditional education programs typically have well-defined structures that are great for those seeking external motivators to complete their degree. This type of structure is useful in maintaining one's self-discipline. 
Cons of Traditional Education 
There are some disadvantages to this type of education format, however. 
1. Less Control Over Your Schedule
With traditional education programs, you are bound by the schedule set by the program, which may include particular in-person class times, as well as any other in-person activities necessary to complete assignments or succeed in a course. As such, you'll have to adapt your personal life to the program and not the other way around. 
2. Traditional Programs Tend To Be More Costly
You may be thinking that tuition might be more expensive, but there are other costs as well. If you commute every few days for the in-person class, you'll have to factor in gas, meals, living expenses, housing, parking permits, health insurance, attire (scrubs or business wear), lab fees, and other costs. 
How To Choose The Right Path For You
So, how do you go about choosing the right path for yourself?
First, it's important to consider what you want to study. Do some research to see if what you want to study requires lab hours or hands-on training. If so, perhaps an in-person setting would be best for you. If not, then online may be the way to go. 
Second, consider your learning style. Are you someone who thrives with more independence? Are you skilled at setting your own hours and have a great amount of self-discipline? 
Do you struggle with self-management and need external motivators (structured schedule, physical interactions with other students, etc) to help you thrive in school? 
Knowing your learning style is important when determining which format will fit best.
Other factors to take into consideration:
How much can you afford to spend on education right now? Do you have some financial legroom to be able to relocate to a new city or area for in-person learning, or are you looking to save time and money through an online program?
What sorts of scholarships are available for both formats? Are there any that would be more advantageous for one format than another? It's important to weigh your financial options when making a decision. 
Is being able to study from anywhere appealing to you? Or does learning in a classroom setting feel helpful when it comes to building focus and determination?
Consider your social needs. Do you need physical interactions with people to aid you in a learning environment? Are you more of a social person in general and find that to be important to you? Or are those needs already being fulfilled elsewhere, and you don't necessarily need them in an education setting?  
These are just some initial questions to get you going. Be sure to do your research and perhaps even create your own pros and cons list based on your personal and professional goals. 
Take the Next Steps 
PLNU offers a vast array of online and traditional degree programs.
If you have any questions, don't hesitate to contact your local counselor.