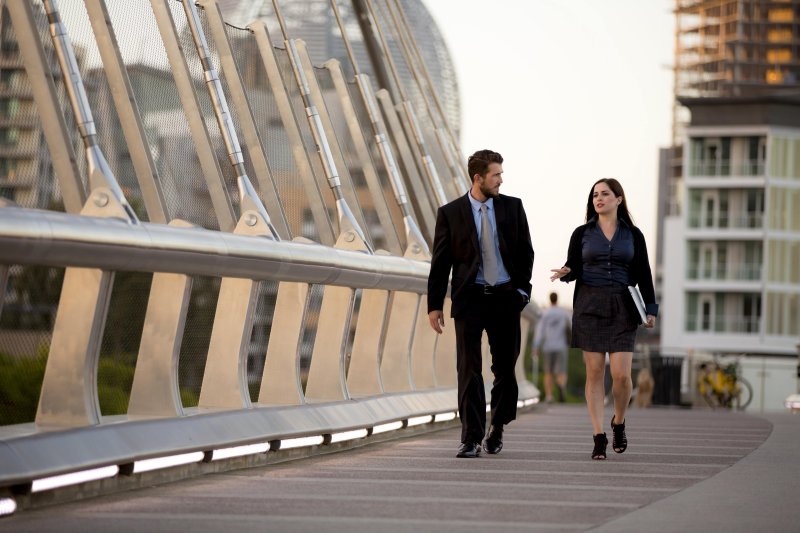 Communication happens in every workplace, but can you make a career out of it?
There are many common myths about a degree in communications. An article posted on College Reality Check titled Is Communications a Good Degree? listed a few of these common myths, including that communications is too easy a subject (compared to STEM degrees), that it doesn't lead to good job opportunities, or that graduates of a communications program don't make as much money.
In reality, communications is one of the most versatile majors that can prepare you to become an exceptional, well-rounded professional. It gives you the tools to enter into any community, connect with other members of an organization, and make your voice — and others' —  heard. Plus, communications professionals have a promising future: media and communications occupations' overall median wage is $62,340, or 27% higher than the national average, per the U.S. Bureau of Labor Statistics (BLS).
Here's what you need to know about the bachelor's in communications, and some of the most popular careers you can pursue with a communications degree.
What is a communications degree?
Communication programs aim to help you become an effective communicator while keeping a close watch on media as trends evolve and emerging technology develops. You'll learn how to express yourself professionally and compellingly across traditional and modern mediums in a collaborative social environment.
With majors like communication studies, media communication, and organizational communication, you can learn to express yourself confidently and convey information effectively in a variety of forms. Whether you're writing for news outlets or magazines, contributing to television programs, or working in corporate, sales, or even nonprofit positions, a communications degree is a highly adaptable program that will prepare you to connect with any audience.
You can also earn a minor in communication or adjacent programs like media communication, public relations, cinema studies, women's studies, and more. These can be great additions to any bachelor's degree if you want to pursue a specialization or lean into your passions.
Skills you learn with a communications degree:
Leadership: Encouraging others, inspiring productivity, emphasizing an organization's goals, and playing to collaborators' strengths.
Writing: Expressing yourself creatively, effectively, and concisely in a variety of contexts.
Presenting: Creating persuasive, informative, professional presentations for any subject or audience.
Event planning: Collaborating with others, making arrangements or reservations, and advertising the details of an event to ensure a seamless, popular, and engaging experience.
Marketing: Promoting your organization's products, services, and goals, including social media marketing, advertising, long-term campaigns, and more.
Networking: Connecting with other professionals not only within your organization, company, or industry, but also within adjacent organizations. Exercising self-promotion, conferencing, business-to-business communication, and more.
Top jobs that require a communications degree:
Although qualifications for jobs may vary among different organizations, there are many common career paths that typically ask for a degree in communications or an adjacent field of study. U.S. News & World Report lists several positions that benefit greatly from a B.A. in communications. Here are some exciting opportunities you could achieve with a communications degree.
__________
It's never too late to start your journey.
Earn your B.A. in Strategic Communications today.
__________
Journalist:
In the internet age, journalism takes many forms and is constantly adapting to new platforms and technologies. While print newspapers and magazines are still being published, news websites, social media pages, and digital newsletters are especially booming. Broadcast journalism and television news are also enormous industries with numerous opportunities, both on camera and behind the scenes.
In addition to news journalism and reporting, journalists can also be involved in special-interest or hobby journalism. Writing for magazines or websites focused on fitness, health, food, technology, finance, and more can give you incredible opportunities to focus on your passions while connecting with like-minded readers and viewers.
Photographer/videographer, broadcast engineer:
Every piece of online and television content needs a capable production team. Photographers provide attractive, informative still photographs, often traveling onsite to newsworthy events to enhance written content. Videographers may work onsite or in a studio to provide high-quality, professional film for a wide audience. They may work with live broadcasts or recordings and may edit footage and audio to ensure a video is professional and suitable for publication.
Broadcast engineering is similar to videography, but on a broader scale for a consistent live program. According to the U.S. Bureau of Labor Statistics, broadcast engineers operate a variety of light, sound, set, and video equipment to ensure live shows are broadcasted with a rigid schedule and consistent quality. They may also operate recording equipment or convert video to digital formats or edit recordings.
Public relations specialist, speechwriter, technical writer:
Public relations specialists write press releases, prepare information for the media and help clients communicate with the public, according to the BLS. Public relations have to be well-informed about the subject and their audience to ensure the information is communicated optimistically and effectively. Similarly, speechwriters write for a person or organization, such as a government representative, a political candidate, or even a corporate leader. They may write for the general public or for a specific audience, like financial investors.
Technical writers must have a thorough understanding of an organization, a subject, or a specific process to provide a detailed explanation to a general audience. Examples include writing for a manual, a technical support website, or infographics and may include sectors like healthcare, business, finance, technology, or engineering. Technical writers must understand and interpret information in simple terms that the average reader would understand or may sift through large amounts of information and provide an accessible summary.
Brand manager, social media director, and sales representative:
Brand managers create and achieve a brand's desired "image," according to Indeed. They monitor market trends and make sure their company's messaging is as effective as possible. Social media directors also promote this desired company image by overseeing a brand's social media. They may create engaging social media content, foster partnerships with other relevant brands, and grow the brand's online presence.
Sales representatives present the face of the company to potential and existing customers and sell products and services. They make personal connections with the customers, communicating with the customer to find out their needs and goals, then try to help the customer find a product or service that meets those needs or goals.
12 Careers to Pursue with a Communications Major | Indeed.com
Famous people with communications degrees
Communications majors make lots of connections — and sometimes, they can find great success and popularity. Here are several celebrities who earned their bachelor's degree in communications on their road to fame.
TV Hosts: There are a tremendous amount of television hosts with communications degrees, including Stephen Colbert, Oprah Winfrey, David Letterman, Arsenio Hall, Cedric the Entertainer, Bob Costas, Connie Chung, and Howard Stern, according to communicationstudies.com's list of famous people with communication degrees. Ranker.com's list of celebrities who majored in communications also adds popular TV personalities Ellen DeGeneres, Wendy Williams, and Al Roker of NBC's Today.
Actors: Several actors' backgrounds include a communications degree, including Interstellar star Matthew McConaughey, Jerry Seinfeld, NCIS' Mark Harmon, The Sopranos' James J Gandolfini, Criminal Minds' Shemar Moore, and actor-director Spike Lee.
CEOs: Although degrees in business, economics or management are more common for Chief Executive Officers, two of the biggest global corporations have communication professionals at the helm. According to the article Wildly Successful CEOs with Liberal Arts Degrees, both Howard Schultz, CEO of Starbucks, as well as Bob Iger, CEO of Walt Disney Company both earned their bachelor's degrees in communication. No doubt their expertise in making connections and marketing has helped them keep releasing their world-famous, beloved products while always expanding and taking each company to new heights.
How do I know if communications is the right major for me?
It can sometimes be tough to determine which major is right for you. College Reality Check's article Is Communications a Good Degree? explained that people with certain personal goals and personality types are especially suited for a career in communications. Here are five qualities that may mean the program may be ideal for you:
You love assisting others.
You see yourself as a "people person."
You're social-media savvy.
You're comfortable with presentations (or becoming more confident).
You value creativity and innovation.
If you have a heart for meeting new people and connecting with others, if you enjoy paying close attention to the newest apps and social media trends, if you've been working on your presence as a presenter, or if you see yourself as a creative personality, communications is a perfect fit for you.
Get started with a degree in communications
No matter what aspirations you have, the communication programs at PLNU will equip you to become a confident voice in the workplace. A B.A. in communications can help you become the leader, networker, and promoter you're called to be. Strategic communication is another degree that's very versatile and fine-tunes skills like social media management, SEO management, digital strategy, and more.
Request more information about our adult degree completion programs