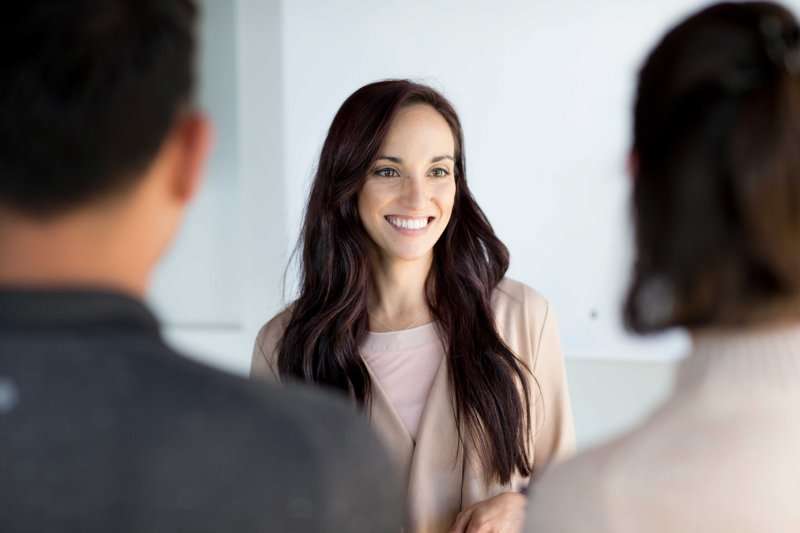 PLNU's Master of Arts in Clinical Counseling (MACC) prepares students to become either a licensed professional clinical counselor (LPCC) or a licensed marriage and family therapist (LMFT). 
Although the course requirements are the same for students seeking either path, you'll gain the knowledge and practical experience to qualify for your licensure exams and pursue a calling that best serves your purpose and helps your clients attain theirs as well.
As you consider where to focus your education, here are some points about the LPCC and LMFT options to help you determine which path best aligns with your calling in counseling.
Licensed Professional Clinical Counselor (LPCC)
Licensed professional clinical counselors (LPCC) focus primarily on the needs of patients as individuals with the purpose of improving mental health, though they may also work with families and in group settings. Through a broader scope of intervention, LPCCs diagnose and treat individual patients living with:
Mental and emotional illness
Substance abuse
Disability
Personal trauma
Psychological and social developmental disorders

Career counseling 
What is the difference between an LPC and an LPCC?
A Licensed Professional Counselor (LPC) and a Licensed Professional Clinical Counselor share similarities at their core, but have a few distinctions that set them apart as mental health providers. Keep in mind that specific requirements for each may vary by state. 
1. Scope of work/practice 
A licensed professional counselor (LPC) master's degree is a broad degree that grants the professional the ability to support counseling — whether through career, rehabilitation, or another counseling sphere — that doesn't directly involve diagnosis or treatment of mental illness. LPCs have a more limited scope of practice than LPCCs because they can't provide a clinical diagnosis for their patients. 
The "clinical" element of an LPCC broadens the scope of practice to be able to diagnose and treat patients with mental illness. At the core of the practice, LPCCs focus more on mental health instead of counseling. While they do not specialize in a specific patient or mental health issue, they have the licensure to treat a wide variety of clients seeking mental health support. 
2. Education 
Since LPCCs diagnose and treat patients, their education may require or include classes that build the foundation for proper diagnosis and treatment.  
3. Clinical training 
Both LPCs and LPCCs are required to complete at least 3,000 hours of direct client clinical hours after graduation. However, specific requirements for what those 3,000 hours must meet will vary depending on state regulations. 
4. Licensing and regulation
Licensing and regulation vary by state, but an LPC must pass state board credentialing exams along with the national exam sponsored by the National Board for Certified Counselors (NBCC). 
LPCCs also need to pass state board and credentialing exams. However, only seven states recognize Licensed Professional Clinical Counselors (LPCC):
California
Colorado
Kentucky 
Minnesota
New Mexico 
North Dakota 
Ohio 
How do I  become an LPCC?
Becoming an LPCC requires a few additional steps outside of earning your bachelor's degree. If you want to pursue a career as a therapist, and more specifically an LPCC, these are the typical steps to follow to achieve your goals.
Earn a bachelor's degree — it doesn't necessarily have to be in psychology.
Earn a master's or a doctoral degree in a counseling or related field – i.e. social work.
Gain clinical experience — about 3,000 supervised hours under a licensed psychotherapist. 
Take both state- and nationally-accredited licensure/certification exams.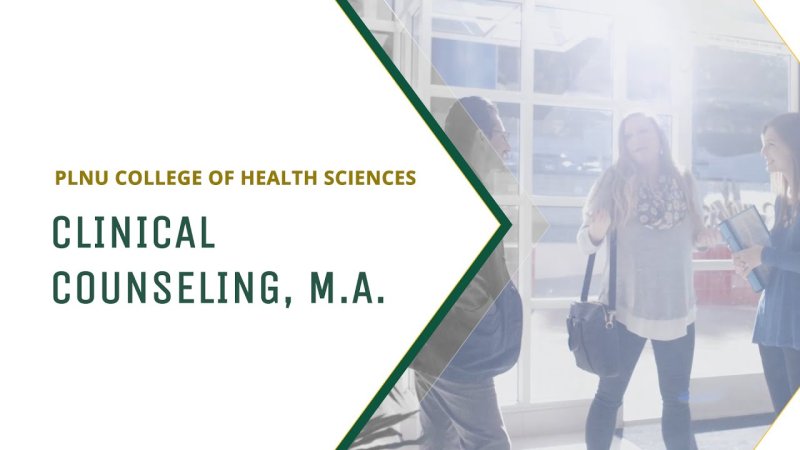 LPCC career opportunities
Mental health impacts our entire well-being. As education about the importance of fostering positive mental health continues to gain momentum, we've seen a shift toward people seeking more mental health support than ever before. 
The American Psychological Association (APA) found that 62% of psychologists reported receiving an influx of referral requests in 2021, compared to 37% in 2020. Psychologists have continued to see heightened demand even as the mental health effects of the COVID-19 pandemic have subsided.
The need for mental health support is predicted to continue to grow as the U.S. Bureau of Labor Statistics (BLS) forecasts LPCC employment to jump up 22% in the next decade — a rate higher than other occupations. 
__________
Advance your career and purpose.
Start a graduate degree at PLNU.
__________
As an LPCC, you have a variety of career opportunities available to choose from:
Private practice counselor 
School or college counselor  
Crisis intervention counselor 
Military counselor 
Rehabilitation counselor 
Grief counselor 
Mental health counselor
Consider the different types of organizations you can choose to work as an LPCC:
Private practice 
Nonprofit organizations
Department of Veteran Affairs 
Hospitals 
Prisons 
Licensed Marriage and Family Therapist (LMFT)
Licensed marriage and family therapists (LMFT) focus more specifically on the relational and interpersonal dynamics within families, marriages, and couples. With a more specialized field, LMFTs focus on a wide range of topics such as: 
Premarital counseling 
Separation counseling 
Childhood counseling  
Divorce counseling
They also work with more specific conditions like depression, anxiety, and other psychological needs within relationships and families.
LMFTs are more specifically trained to support family dynamics and how mental health impacts the different family relationships.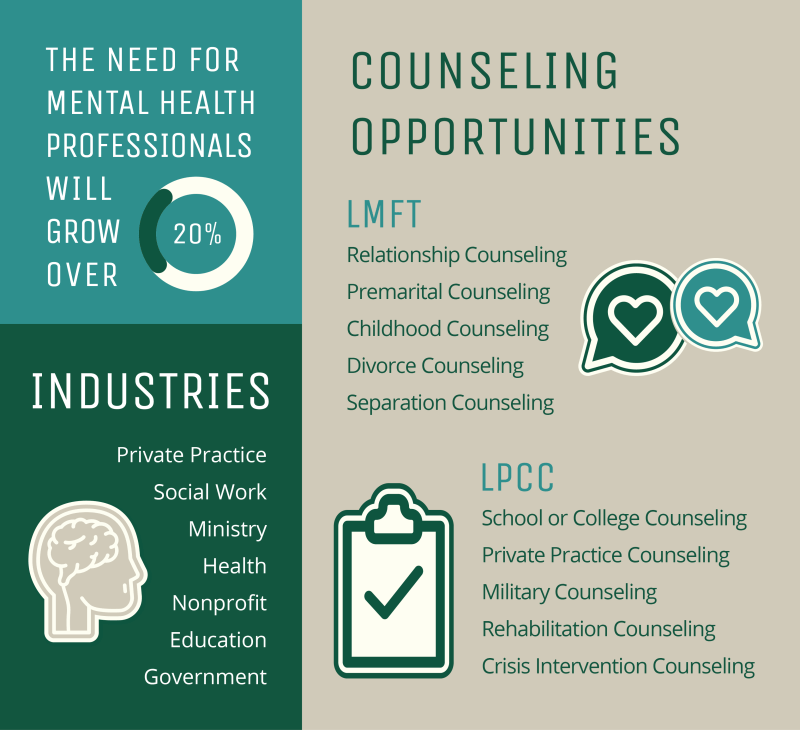 How to become an LMFT 
Similar to LPCCs, LMFTs must complete the following steps to become licensed and certified practicing therapists. 
Earn a bachelor's degree — it doesn't necessarily have to be in psychology.
Earn a master's degree from a program accredited by the Commission on Accreditation for Marriage and Family Therapy Education.
Gain clinical experience — about 3,000 supervised hours under a clinical psychotherapist. 
Take your state- and nationally-accredited licensure/certification exams.
Where can I work as an LMFT?
Like an LPCC, an LMFT has a wide range of settings to practice, such as: 
Hospitals 
Schools 
Private practice 
Government agencies
Outpatient centers 
Rehabilitation centers 
Nonprofit organizations 
Is there job growth for LMFTs? 
Yes! Similar to LPCCs, LMFT career opportunities are also projected to significantly grow in the next decade to support the growing need for mental health services in the United States. 
According to the U.S. Bureau of Labor Statistics, the field is expected to grow by 16% by 2030. According to a report from the San Diego Workforce Partnership, the San Diego region '...needs to more than double the behavioral health workforce by 2027.' This is increasing the demand for universities in San Diego to offer programs that prepare students for the mental health field.
LPCC and LMFT Career Opportunities
Although there are differences between what LMFT and LPCCs do in their day-to-day work, they can often work in similar settings and will experience a rise in demand. 
Hospitals, health centers, clinics, and private practice, as well as roles within social work, education, ministry, and government service, all need the support of mental health professionals. In the United States, the need for mental health providers will continue to rise at a rate of over 20% through the year 2030, with a mean average salary of $46,050 for LPCC and $53,860 for LMFT professionals. 
Take the next steps
Whether you see yourself helping an individual improve their mental health, or helping a young couple prepare for a long and fulfilling marriage, your pursuit of a career in counseling and therapy will improve the lives of the clients and people you interact with.
Next Steps to Learn More