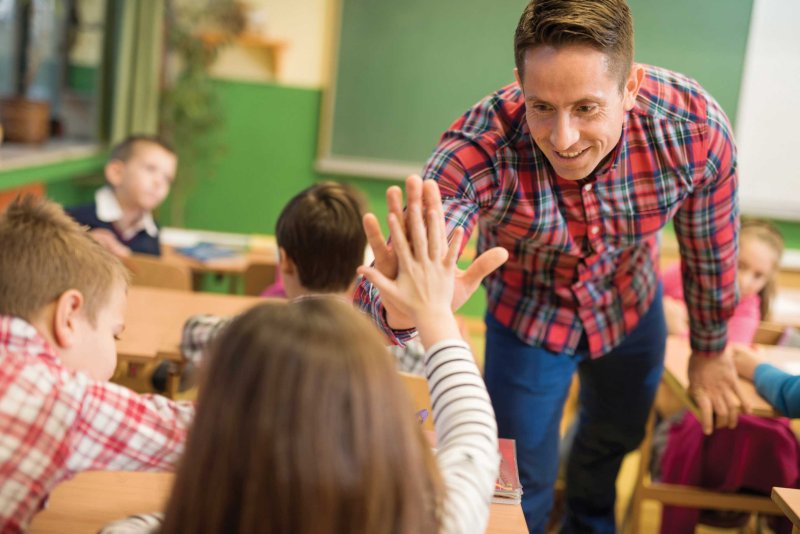 Maybe your path began in medicine or office management, the military or even business. But something changed, and now you're thinking about education. You're thinking that maybe teaching could be right for you. 
You're also probably asking questions, big questions, because changing direction comes with a lot of unknowns:
And before you make the leap, you need a few answers. That's why we at PLNU are here to walk you through every step of the way.
Point Loma Nazarene University's School of Education has been nurturing future educators for over four decades. Our graduates have done such an excellent job in the field that local school districts now call us when they're looking to fill internships or permanent positions. Our faculty have passion and experience, and have dedicated themselves to sharing it with you. And that's why we want to help determine if teaching could bring the challenge and satisfaction you seek. 
__________
Experience life-changing education
Pursue your purpose at PLNU.
__________
How Do I Become a Teacher? 
Becoming a teacher in California requires a teaching credential through an accredited program. Point Loma's education programs will prepare you to manage a classroom, teach your chosen subject or grade level effectively, and fulfill the requirements of credentialing. You will also be mentored as you do your student teaching. At first glance, the requirements may feel overwhelming, but a good teacher preparation program will provide the support you need to accomplish it all.
Consider the type of credential you may wish to earn. Do you like the idea of working with younger children? Do you prefer digging deeper into a single subject with older kids? Maybe your heart goes out to children with exceptionalities who require special education. What kinds of students do you imagine yourself teaching?
The requirements may feel overwhelming, but a good teacher preparation program will provide the support you need to accomplish it all 
As you reflect, think about which credential would allow you to work with your chosen population.
To teach in an elementary self-contained classroom, you will need a multiple subject credential. This credential allows you to teach multiple subjects in one classroom and is required in a kindergarten or elementary class.
To teach a single subject in a middle or high school, you will need a single subject credential. This credential authorizes you to teach in a specific subject area of your expertise in a departmentalized classroom typical of middle and high schools.
To teach in a special education classroom, you will need an education specialist instruction credential. With this credential, you specialize in either Mild/Moderate Disabilities (M/M) or Moderate/Severe Disabilities (M/S).
Earning Your Teaching Credential
The path to becoming credentialed in California varies depending on what kind of education and experience you already have, as well as which credential you choose to pursue. All paths, however, have these basic requirements:
Possess a minimum of a bachelor's degree or higher at an accredited college or university.
Demonstrate knowledge of basic skills. The most common way is the California Basic Educational Skills Test (CBEST), a standardized exam that assesses basic reading, writing, and mathematics skills. As you look into applying for a credential program, you will be guided to where and when you may take the exam. 
Complete an accredited credentialing program. While in the program, you will be offered support as you fulfill the additional requirements, which include:

Completing a student teaching assignment.
Getting tested for tuberculosis. While this is not required for a credential, it is required in order to enter the classroom as a student teacher, and is a simple procedure that can be administered at any clinic.
Depending on your desired career path, different courses and standardized assessments will be required. Your credential program will help you set up a personalized plan based on your background and teaching goals. For most people, this includes:

Passing the California Subject Examination for Teachers (CSET), which evaluates your competency in the subject area(s) that you will be teaching.
Completing a Developing English Language Skills and Reading course, which focuses on comprehensive reading instruction.
Passing the Reading Instruction Competence Assessment (RICA).
Passing a course on the U.S. Constitution or an approved exam.
Completing a computer technology course that will give you skills in using current technology in educational settings.
How Do I Keep My Credential Current? 
Many careers have ongoing requirements for keeping professional certifications current. Teaching has a simpler process. Within the first five years of receiving your preliminary credential, you can earn the professional clear, which does not need to be renewed or upgraded. It is your final destination. And while a great teacher never stops learning or seeking a deeper understanding of the profession, there are no further requirements for your credential after obtaining the clear.
Upgrading to the clear credential requires completing an approved clear credential program. Clear credential programs do not interfere with your ability to work full time. In fact, in many cases, local universities have developed relationships with public schools in order to offer clear credential classes in the evenings to cohorts of teachers from the same school. These valuable classes deepen your knowledge of pedagogy, creating inclusive environments for learning and working with special populations of students.
Your personal requirements for the clear credential depend on the path you took to obtain your preliminary credential. The details will be worked out under the guidance of your teacher preparation program. If you are unsure which credential is right for you or you would like to talk through the credentialing process, we would love to answer your questions. You can receive free career guidance with a trained counselor by getting in touch with us.
Will I Like Teaching? 
Though we can't answer that for you, there are many practical reasons for entering the field. Most teachers' eyes light up when talking about the satisfaction and purpose they feel in their profession. They describe that particular kind of joy that wells up as a child finally "gets" a difficult concept. They take pleasure in those spontaneous classroom moments when breakthroughs occur or when a student deepens their understanding of the world. Teaching is a string of moments — many lovely, some incredibly challenging — that allow a teacher to inspire learning, help students succeed, prepare young people for life, and ultimately find deep passion and meaning in the journey.
Most teachers' eyes light up when talking about the satisfaction and purpose they feel in their profession 
So why might YOU want to teach? Are you yearning for more meaning in your profession? Has someone complimented the way you work with young people? Are you looking to synchronize your work schedule with your own kids'? Is it your dream to be able to share the knowledge you love with young people? Or perhaps you are looking for stability, benefits, or job security?
Meaning
By interacting with the same students on a daily basis, teachers form the kind of relationships that provide opportunities to mentor, encourage, and change lives. Teachers also get to talk about their favorite subjects and inspire their students to love learning as well.
Financial Security
Teacher salaries and job opportunities in California are increasing due to the growing need and numbers of students. Benefits such as paid leave, health insurance (including dental and vision), discounted insurance for family members, and retirement are common. Also frequently offered are life and disability insurance, mortgage assistance, and flexible spending accounts.
Having a work schedule that follows the academic year allows teachers with families to take vacations when their children are out of school. Most California schools have a nine-month academic year. Some teachers choose to pick up additional paid teaching assignments (such as summer school) or attend training opportunities during the months when school is not in session.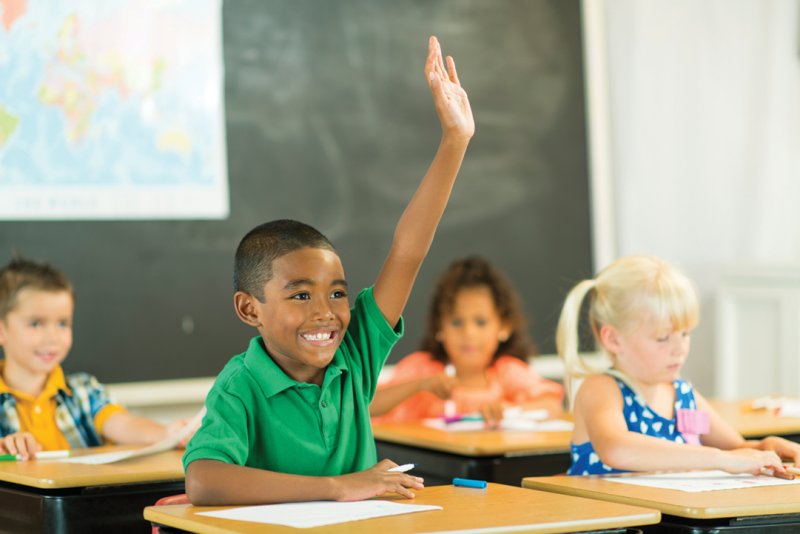 What is the Job Market Like for Teachers Today? 
California is set to hire teachers in the coming years at a pace not seen for over a decade.
After a hiring slump due following the recession, California public schools are allocating an infusion of funding to reduce class sizes and fill a growing shortage of teaching positions. For a little perspective on the current teaching job market, let's look at the context of California's public education system over the past decade.
2009-2014
Immediately following the recession, more than 20,000 teacher positions were cut. By 2012 another 100,000 teachers received "pink slips" indicating they could be laid off, however, voter-approved Proposition 30 and Local Control Funding increased funds for education through increased property tax. The number of teachers in California began to climb once more, but the state had been pushed into a massive teacher shortage, leaving schools to operate with significantly larger class sizes and fewer staff than ideal.
2015-2016
A Learning Policy Institute study of over 200 California school districts found that 75% of schools reported a shortage of qualified teachers — particularly in the areas of math, science, art, and special and bilingual education — forcing many schools to hire under-trained teachers and substitutes, assign teachers out of field, cancel courses, and increase class sizes to fill vacant positions. 
The Bureau of Labor Statistics projected a nearly 7% percent growth in teacher employment between 2016 and 2026, with nearly 100,000 K-12 teaching jobs expected to open up.
2017-2018
California's state legislature allocated a total of nearly $200 million to address the growing teacher shortage by increasing compensation and improving hiring and management. 
2019-2026
Teacher strikes in Los Angeles and Oakland gained wide support from the public, resulting in commitments to continue increasing district wages by up to 6%, as well as lower class sizes by increasing the number of teachers and support staff. 
A net increase of more than 10,000 teachers hired since the initial budget cut layoffs following the recession has brought the total number of teachers employed in the state of California to over 307,000. However, the number of students entering schools and retiring baby boomer teachers still outpaces that growth, leaving a massive shortage of qualified teaching positions still needing to be filled. 
Considering the context of the growing number of open teaching positions, the continued upward trend in teacher salaries, and the growing recognition and support for teachers following COVID-19, now is an ideal time to consider becoming a teacher in the state of California.
How Do I Choose the Teaching Program That's Right for Me? 
It may be tempting to jump into a program for its cheap tuition or apparent ease. But the truth is, your preparation is critical to your success. Arguably the biggest factor in how smoothly you transition into full-time teaching is how prepared you are — how organized, how well you understand the expectations, and how many "tools" you have in your teaching toolkit. When determining which program is the right fit for you, consider the following questions:
Do you already have a degree, or do you need to complete your degree and credential at the same time?
There are two types of teacher preparation programs — one provides you with a credential only and the other provides a way to earn both a degree and a credential.
What kind of reputation does the college or university have with school districts in the area?
Graduates from programs that produce excellent teachers are in demand. In fact, this could make all the difference in landing your first job. Some universities actually receive calls directly from district human resource departments asking for students or graduates to hire for internships or permanent teaching positions.
When do you begin student teaching? Are you given preparation prior to entering the classroom?
Some programs get you into the classroom immediately; others first require the completion of several units. How comfortable you are with either approach often depends on how much time you've spent in a classroom already, for example, from volunteering in your child's class or working in a youth-related or after-school program. If you do not have prior experience, you may prefer to acquire some preparation and support before you start student teaching.
How big are the class sizes and to what degree will you be mentored by your professors?
Smaller classes and a more intimate learning environment build camaraderie among fellow teaching candidates as well as offer more opportunities for direct mentorship by professors. Smaller class sizes also allow for more personalized attention and support as you navigate the challenges and requirements of the credentialing process.
Do you prefer learning online or in-person?
Many people find that the relationships they have with their peers and professors are critical to their personal growth as future teachers. Being able to walk in with a question and receive an immediate answer or guidance can make all the difference in achieving your goals. Online programs do not always provide the kind of interactive learning that classroom programs do. In considering an online or partially online program (hybrid), ask about how the students receive support and nurturing.
Does the program offer any test preparation guidance, student teaching seminars, or other professional development?
Some programs go beyond the preparation provided in formal classes by offering additional free trainings throughout the semester, as well as personalized career counseling.
How Do I Land My First Job as a Teacher? 
Congratulations! At this point, you have completed your teacher preparation program. You have conquered multiple standardized exams and survived your first teaching experience as a student teacher. You have articulated your philosophy of teaching and created a portfolio designed to impress. You have a few letters of recommendation under your belt, and no matter how nervous you may feel, you are excited to get into the classroom for real.
At this point, you have completed your teacher preparation program and no matter how nervous you may feel, you are excited to get into the classroom for real
While a great teacher preparation program will guide you through this process, there are still a few things that are good to know. School districts post openings on their individual web sites (look them up at cde.ca.gov/re/sd) as well as on the education job site, EdJoin. Each district will require a separate application.
Before you enter the classroom, you will need to be fingerprinted and have a background check through a Livescan service in your area. Your program should help you through this process. A TB test is also required, though you will have completed this prior to beginning your student teaching.
Teaching Hiring and Average Salaries in Southern California Counties
So, let's take a look at some numbers. According to the State of California's Employment Development Department (EDD), the median elementary school teacher salary in California in 2019 was $82,237, and the median high school teacher salary was $84,109. This is only moderately helpful information because it includes lower wage first-year teacher pay as well as the earnings of someone who has been teaching for 15 years and has a master's degree. When starting off, your salary will likely be lower than the state or county average, but as you gain experience it will rise.
Another good thing to know — teacher salaries are set by each individual school district which means that if one county contains several school districts, salaries may vary within that county.
Salary is also determined by several factors, such as number of years of teaching experience, cost of living in the area, and teacher's level of education.
Take a look at our infographic. We've broken down average teacher salaries for every county in Southern California. While these are merely averages, they provide a general tool for comparison of salaries across the region. We have also included the hiring projections released by the California Department of Education on DataQuest so that you can see where to find the greatest opportunities.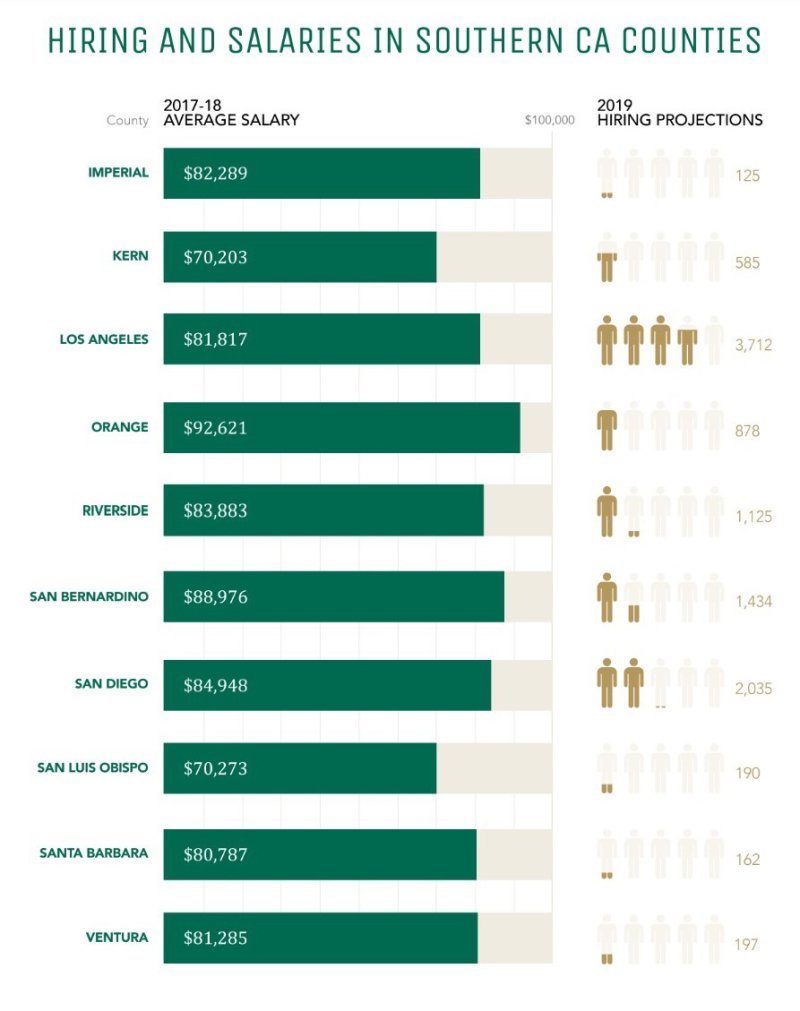 Click here to download the above infographic.
One way to differentiate yourself and possibly earn more is to teach in a "high-needs" school or subject area. Teachers in "high-needs" schools may be paid more or may be offered signing bonuses, financial aid, fellowships, loan forgiveness, or housing incentives. These opportunities vary by school district. The "high-needs" designation might indicate a school that has a shortage of teachers due to challenging demographics, a less attractive environment such as an urban or rural setting, or a subject area that is experiencing a dearth of qualified educators.
What Makes a Truly Excellent Teacher? 
The best teachers connect with their students, make learning enjoyable, and teach in such a way that their kids retain the information. While those elements can be stated simply, they are really a complex accumulation of numerous small decisions, routines, and interactions. Here are a few things to think about as you enter the classroom:
Have empathy 
Kids often come to school with a multitude of concerns weighing on them. In some classrooms, students go home to chaos, dysfunction, hunger, and violence. Merely showing up at school is a testament to their resilience. Academic success might not even be on their radar, because they are just trying to survive. In other classes, the kids may have all their basic needs met, but they are struggling with the excessive demands of "success" — attempting to juggle sports, AP classes, volunteer hours, music lessons, and always feeling that their worth depends upon their perfection or impressiveness. No matter where your kids fall on the spectrum, allow empathy to temper your agenda and you will make greater strides with your students' minds and hearts.
Build relationships 
The best, deepest, and most enthusiastic learning comes when students have a connection with their educators. Being authentic and showing you care, taking time to mentor or allow kids to eat lunch in your room are a few examples of things that will help them love being in your class and learning from you.
Have high expectations 
Kids rise to your expectations of them, so set the bar where you think it needs to be, and believe in your students. Let them know you believe in them, and they will aim high, too.
Offer support 
High expectations often feel inaccessible if the support needed to reach them is lacking. So build that support. Look for ways to break concepts and tasks down into manageable portions as your students work toward proficiency.
Be creative 
Incorporate your life and interests into your teaching. Utilize multimedia to illustrate lessons. Bring in music. Move around the room. Creativity surprises and stimulates the brain and combats boredom.
Allow movement 
You'll find that some kids just need to move. Make them sit still and they become a discipline problem. Allow them to move and they focus on learning. Whenever possible, incorporate movement into your lessons and seek solutions for the wiggly ones who need a little more physical input.
Teach respect 
Respect is not a value that is understood naturally by all students. Creating a culture of respect in your classroom requires explicit and frequent conversation, at least in the beginning. Perhaps this means defining what respect looks like, role-playing, and making a list of ways to show respect in the class. A respectful classroom will become a place where it is safe to learn.
Model good organization 
To be an executive teacher, organization is imperative. Organization is also key for your students as they tackle the responsibilities of multiple classes; sometimes disorganization is the obstacle hindering a student's success. Be organized, be explicit about how to get organized, and help your students get organized.
How Can I Afford My Teaching Education? 
Teacher candidates who already have a bachelor's degree may apply for an internship at a public school. Internships allow you to work as a teacher, satisfying your student teaching requirement while getting paid.
Substitute teaching is also an option. Substitutes choose whether or not they wish to accept an assignment, which could be a single day, several days, or long term, as in the case of a teacher's maternity leave. In the majority of cases, substitutes get an automated call early in the morning with an assignment for that day which can be accepted or declined immediately. Substitutes often become known with certain schools which could potentially lead to a future hire. In order to substitute, you must apply separately to every district in which you wish to work.
Helpful Resources
Now that you know, are you ready to make the leap? 
You may have lingering questions or doubts. If that's the case, please call us. PLNU's School of Education supports students through every step of the journey, from those first seeds of interest to the acceptance of a permanent teaching placement. We would love to help you determine your next steps.
Speak with one of our admissions counselors at (619) 329-6799 or by clicking here. And if you are ready to apply right now, we are waiting to help you with every step along the way.