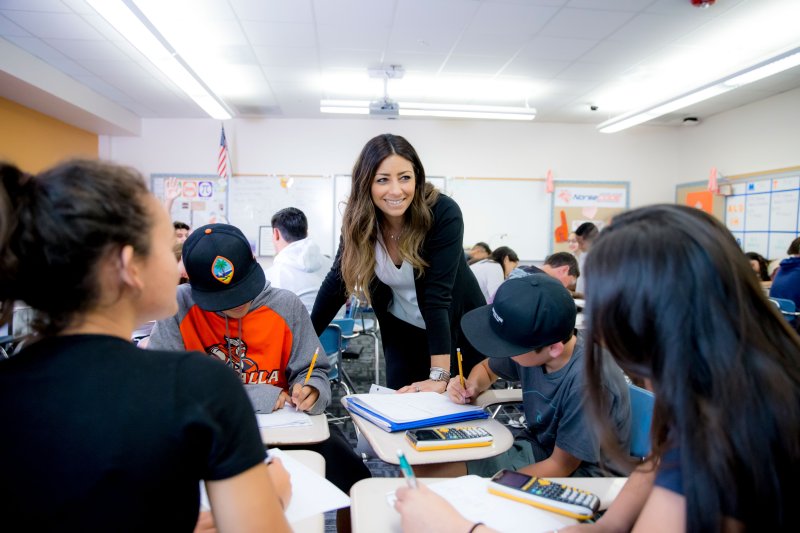 Those drawn to careers in teaching are attracted to the field because of their desire to have an impact on the lives of the students they teach. While many teachers do the best they can with school funding, the truth is that their allotted budgets often force teachers to spend money out of their own pockets to meet the educational needs of their students.
In fact, a 2021 study conducted by AdoptAClassroom.org found that teachers spent an average of $750 of their personal money on classroom supplies during the course of a school year, with 30% of the teachers surveyed claiming they spent $1,000 or more. The disheartening findings of this study highlight the significant challenges teachers face when trying to provide their students with worthwhile educational experiences. 
Fortunately, teachers have the opportunity to look beyond their institutions when it comes to finding resources to help enrich the lives of their students. Grants are an amazing source of funding that teachers can tap into to help them better instruct their pupils and provide them with profound and lasting educational experiences. 
Specifically, there's an abundance of teacher grants in California available to educators to help them reach their teaching-related goals and improve the academic outcomes of their students. Understanding the best available education grants for teachers can help both current educators and those pursuing a career as a teacher in California obtain funding for education-related activities. Here are the top seven grants for teachers in California. 
What Is a Teaching Grant?
Before exploring the best grants available to teachers, it's important to have a clear grasp of what teaching grants are. Grants are prizes awarded to individuals or organizations by an entity such as a charitable institution or a government agency.
The grants are typically a sum of money awarded to an individual or group to help the recipient reach a certain goal. In the case of teaching grants, these funds are typically meant to aid teachers in fulfilling their duties of providing valuable educational experiences to their students.
While each specific grant may differ in its instructions, stipulations, and criteria for eligibility, teachers who receive these grants are typically free to utilize the funding as they see fit. In opposition to loans, grants do not have to be paid back and are viewed as an award. 
__________
It's never too late to start your journey.
Pursue your purpose at PLNU.
__________
Types of Grants for Teachers In California
For those currently working as teachers, pursuing an education in teaching, or thinking about pursuing a career as a teacher, it's important to understand the distinct types of grants a teacher can receive. Here are the two kinds of grants available to teachers in California:
Grants for the student loans of teachers: This type of grant is offered to teachers to help them pay off their student loans in some capacity. These grants typically require teachers to meet certain criteria to be eligible, such as working in a specific school district for a certain amount of years. 
Grants for teachers to utilize for their students: This type of grant provides working teachers with funding to utilize in the classroom. Teachers may use the money awarded to them for supplies or other activities that enrich the educational experience of their students. 
Top 7 Grants For Teachers to Explore in California
Whether you've been working as a teacher for years or you're just beginning your educational journey to become a teacher, it's helpful to have a clear understanding of the resources available to teachers. Here are seven of the best grants available to teachers in California. 
1. Golden State Teacher Grant Program
The Golden State Teacher Grant Program is a grant offered to students pursuing a teaching credential in a program that the Commission on Teacher Credentialing (CTC) has approved. This grant provides up to $20,000 for individuals to put toward costs associated with their education. To be eligible for this grant, you must complete your credential program within three years of receiving the grant and must also work as a teacher at a priority school located in California. 
This grant is perfect for those interested in pursuing a career as a teacher but who feel hindered by the cost of receiving an advanced education. In addition, those interested in making an impact on students in priority schools are provided an opportunity to do so while also receiving a sizable amount of money to put toward the cost of education, making it the right grant to pursue if you have altruist teaching ambitions. 
2. The National Education Association Student Success Grant
The National Education Association (NEA) Student Success Grants award between $1,500 and $5,000 to chosen educators, specialized instructional support personnel, and education support professionals. These grants are meant to be used to elevate and improve student development through project-based learning experiences. To be eligible for this grant, one must be a member of the NEA and not currently receiving funding from the organization through a different grant. 
Though the NEA provides guidelines for what receivers of a Student Success Grant may use the awards for, there are a wide variety of projects, activities, and initiatives teachers can fund with the grant. For teachers with a vested interest in preparing students for lives in a consistently evolving world, this grant allows you to invest in initiatives that imbue students with the skills to thrive in a variety of settings and situations. 
3. TEACH Grants
TEACH Grants are federal grants that award up to $4,000 a year to students pursuing a career as a teacher. To be eligible for these grants, students must meet certain academic criteria while also attending an institution that participates in the TEACH program. 
TEACH grants require you to work for at least four years as an elementary school or secondary school teacher or in a specified high-need area of teaching. If you receive a TEACH grant but do not complete these requirements within eight years of graduating, the loans will be converted into unsubsidized loans, which you'll be responsible for repaying in full. 
4. Colibri Special Project Grant
The Colibri Special Project Grant is a unique grant that awards K-12 teachers teaching in public schools up to $5,000 toward a class project of some kind. Colibri does not specify a particular topic the project must center around, however, the project must contain activities that benefit 15 or more students. 
In addition, teachers who are awarded this grant must submit a detailed report which includes an itemized breakdown of how the money was spent within six months of receiving the award. This grant is ideal for teachers with unique ideas for projects that can enhance the lives, development, and learning outcomes of their students. 
5. McCarthy Dressman Education Foundation Teacher Development Grant
The McCarthy Dressman Education Foundation Teacher Development Grants are awarded to individual teachers and small groups of teachers to "integrate fresh strategies that encourage critical inquiry." The grant awards up to $10,000 a year for up to two years to recipients. 
To be eligible for this grant, you must be a licensed K-12 teacher with prior experience showcasing your ability to effectively utilize the grant to improve the educational experiences of students. This grant is perfect for teachers with several years of experience who have cultivated distinctive teaching approaches and methods to improve student learning outcomes. 
6. The Public Service Loan Forgiveness Program
The Public Service Loan Forgiveness program is a federal program that forgives the remaining balance of your loans. While not just for educators, this program can provide monetary relief to some qualifying teachers. 
In order to be eligible to have your remaining loans forgiven by this program, you must show that you've made 120 monthly payments toward your loans while working full time for a qualifying employer. Employers who qualify include government agencies — including military agencies — and certain nonprofit organizations. If you're a student who plans on taking out loans, it may be worth looking into which loans and future employers would qualify you for The Public Service Loan Forgiveness program. 
7. Donors Choose Crowdfunding 
Donors Choose is a crowdfunding organization and website that allows teachers to create lists of items they need for their classrooms that others can donate to. Once a predetermined monetary goal is reached, Donors Choose purchases and ships the items straight to the teacher. Though the way Donors Choose functions is markedly different from other grants on this list, it's an amazing resource for teachers and aspiring teachers to be aware of. 
Examples of supplies that teachers may list on Donors Choose include pencils, books, and snacks, among others. This form of gaining funding is perfect for teachers with very specific needs in the classroom that can benefit from a faster funding process and community support. 
Start Making an Impact on the Lives of Students
Teachers make a profound and lasting impact on the lives of the many students they teach throughout their careers. If you're ready to begin your journey of benefiting lives, Point Loma Nazarene University has all of the resources you need to take advantage of educational grants and become a credentialed teacher in California.