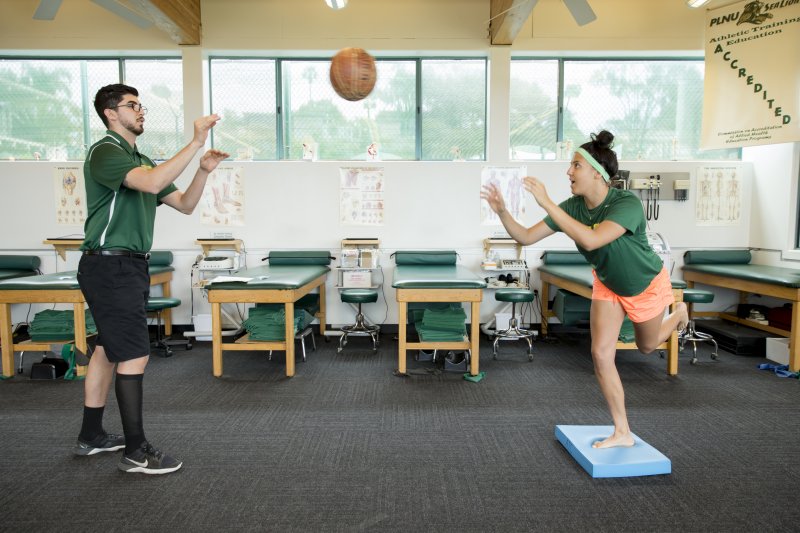 In 2021, it was reported that NBA superstar LeBron James spent over $1.5 million annually to keep his body in top All-Star shape and live a healthy lifestyle. Nutritionists, personal trainers, specialists, and coaches were all needed and hired to make this a reality. 
If you're considering an exercise science career, there are plenty of options for you to pursue and put your master's degree to work. From LeBron to high school student-athletes to senior patients, exercise science studies the body's movements and facilitates the throughline of exercise, diet, and overall health.
What can you do with an exercise science degree? The following is a list of jobs that a degree in exercise science can help you prosper in, along with the responsibilities, average annual salary, and projected outlook of the careers.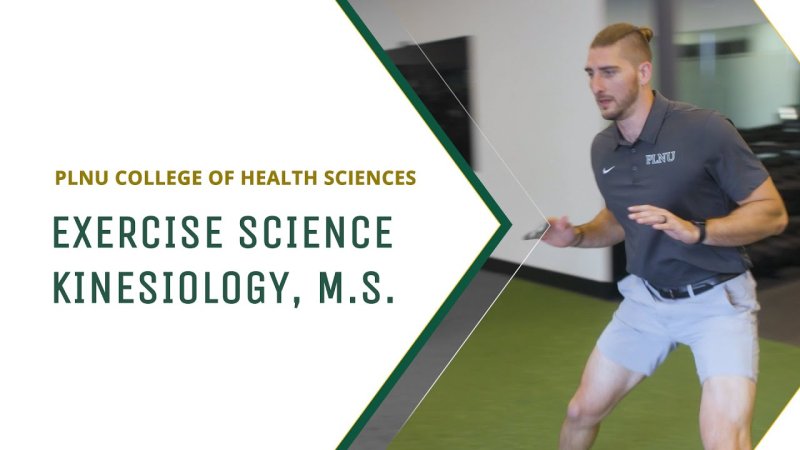 Top Exercise Science Careers
1. Personal Trainer
Median Annual Salary: $40,700
Projected Growth: 19% from 2021 to 2031
Turn your active lifestyle into helping others do the same. Becoming a personal fitness trainer or instructor is a great option for those with an exercise science degree. Trainers use their knowledge to lead, instruct, and motivate groups or individuals through workouts, personal training programs, and healthy-habit-forming activities. Trainers make sure to monitor their clients' progress and adjust their fitness plans accordingly. 
2. Registered Nurse (RN)
Median Annual Salary: $77,600
Projected Growth: 6% from 2021 to 2031
Not all heroes wear capes. Registered nurses are anchors in the healthcare field by providing and coordinating patient care and education. Nurses often work in hospitals but can also thrive in physicians' offices, nursing care facilities, and home health services. With your master's degree in exercise science and completion of nursing school, you can pursue a career in (but not limited to) sports medicine, work as an ER nurse, or specialize in cardiac rehabilitation.  
3. Certified Strength and Conditioning Coach
Median Annual Salary: $40,700
Projected Growth: 19% from 2021 to 2031
This career avenue is meant for someone wanting to help athletes of all levels improve their endurance, speed, agility, and quickness through sport-specific testing. Your comprehensive knowledge will allow athletes to prevent injuries and add power to their performance. 
4. Kinesiologist
Median Annual Salary: $54,843
Projected Growth: 17% from 2021 to 2031
Being an expert in kinesiology lets you study the art of physical activity. With that, you could work with athletes and sports teams to develop fitness plans and treatments best suitable for each individual, or you could help design optimal-performance athletic equipment — using your master's degree to become a kinesiologist opens many doors within fitness-focused professions.
5. Fitness Tech Engineer
Median Annual Salary: $41,592
Engineers come in all shapes and sizes. Try combining your love for fitness and science to become a fitness tech engineer and design gear and safe exercise technology for consumers. This could include anything from designing workout apparel to tennis rackets to training equipment. 
6. Massage Therapist
Median Annual Salary: $46,910
Projected Growth: 20% from 2021 to 2031
Love going to the spa for a massage? With a background in exercise science, adding additional skills in massaging could prove to be beneficial. With a projected job outlook increase of 20% over the next 10 years, the demand continues to rise for this expertise. 
Learn to knead the body's soft tissues and muscles for pure relaxation or to aid an injury. Massage therapists tend to increase their clients' range of motion through various techniques that manipulate the tendons, ligaments, and joints to create satisfying results. You could work in a soothing spa setting or work on professional athletes after games and practices.
7. Registered Dietitian
Median Annual Salary: $61,650
Projected Growth: 7% from 2021 to 2031
If food is your love language, then becoming a registered dietitian with your master's degree in exercise science is a perfect fit. Dietitians create nutritional programs to assist their patients in forming healthier habits and treating specific medical conditions when it comes to their meal choices. In this career, you're the number one promoter of the relationship between the food you consume and a healthier lifestyle. A dietitian closely monitors progress and shifts the dietary plan accordingly while also contributing to the latest food and nutritional science research. 
8. Occupational Therapist
Median Annual Salary: $85,570
Projected Growth: 14% from 2021 to 2031
As an occupational therapist, you guide patients who have disabilities, chronic illnesses, mental illness, and injuries to improve and develop their self-sufficiency with everyday activities. After completing special OT schooling, occupational therapists can first identify the patient's goal for treatment and then develop a plan to reach them. This includes evaluating their workplace and homes for strategic ways to maneuver (and succeed) in their daily lives. 
9. Exercise Physiologist
Median Annual Salary: $47,940
Projected Growth: 9% from 2021 to 2031
Exercise physiologists spend their time planning exercise programs geared toward patients recovering from chronic illness, injury, or sickness. After analyzing a patient's medical history, an exercise physiologist evaluates which exercises best suit them and their specific needs. You'd be responsible for managing risk during exercise, performing stress tests, and measuring the patient's blood pressure and heart rhythm, then analyzing the results. 
A key note here is about half of exercise physiologists are self-employed, creating their own schedule, while most others practice with health care providers directly in hospitals. 
__________
Become who are you called to be
Pursue your purpose at PLNU.
__________
10. Physical Education Teacher
Median Annual Salary: $61,820
Projected Growth: 5% from 2021 to 2031
Was P.E. your favorite subject in school? Being able to teach future generations the power of living an active lifestyle is a great way to use your master's degree in exercise science. Studies show the more physically active students are in school, the better they do academically. Be the influencer that helps students work out their bodies and their minds too as they begin on a path to healthy adulthood. 
11. Nutritionist
Median Annual Salary: $61,650
Projected Growth: 7% from 2021 to 2031
"You are what you eat!" Ever heard that phrase? Nutritionists aim to help you be your best self by counseling your food choices to maintain healthy habits for a lifetime. You can find nutritionists in schools, hospitals, long-term care facilities, cafeterias, and with sports programs. By studying exercise science, you'd be able to identify the correlation between diet and athletic performance and create a meal plan that exudes the best results — on and off the field.
12. Fitness Center Manager
Median Annual Salary: $48,594
Projected Growth: 19% from 2021 to 2031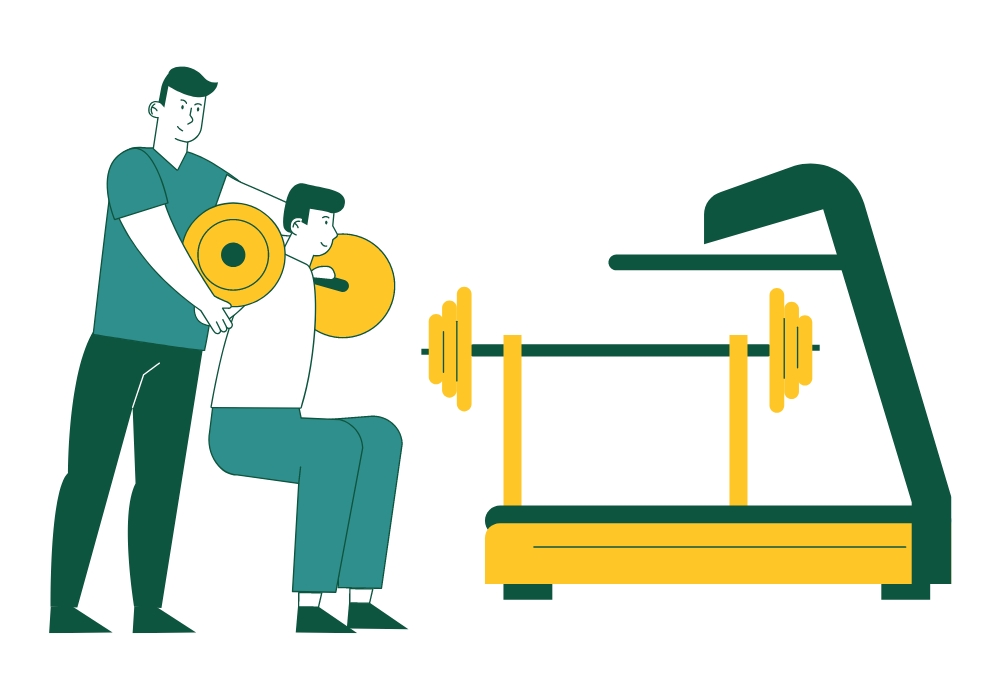 As a fitness manager, you'd oversee the daily functions and staff of a fitness center or gym. You'd be responsible for creating work schedules for employees and verifying best practices. In this leadership role, the fitness manager is in charge of the gym's fitness instructors and personal trainers — guaranteeing there are enough employees to match the gym's offered services — and ensuring members' satisfaction.
13. Athletic Director
Median Annual Salary: $96,910
Projected Growth: 7% from 2021 to 2031
Athletic directors, or ADs, oversee the athletic programs at primary schools, colleges, and universities. You'd typically work alongside principals or the school board to make sure the goals of the institution's program are met, like NCAA compliance, weight room safety codes, or your school's travel budget. 
As an AD, you'd be responsible for hiring coaches, scheduling practices and games for all sports teams, and facilities management. In this leadership role, multiple people would look to you to make decisions on the overall direction of the sports programs. 
14. Wellness Program Manager
Median Annual Salary: $48,860
Projected Growth: 12% from 2021 to 2031
Whether in a fitness club, nonprofit, community center, or rehabilitation facility, a wellness program manager is responsible for supporting the health and wellness goals of a given community. This means tracking and reporting performance goals, building exercise regimens, and handling staffing requirements to ensure the program is the best it can be. Strong leadership, education in exercise science, organization, and communication skills are needed for this career path.
15. Rehabilitation Specialist 
Median Annual Salary: $42,934
Projected Growth: 11% from 2021 to 2031
Similar to occupational therapy, rehabilitation specialists work with people with physical and mental disabilities to help re-establish themselves in society and become more independent. A specialist assists patients in finding the best workplace environment for them to thrive in and even prepare them for the interview to land the job. 
Then, you'd work with the future employer to discuss the client's disabilities and share educational resources to best fit the situation. In addition, rehabilitation specialists can work with patients on daily exercises to increase strength and maintain confidence for doing everyday tasks. 
16. Kinesiotherapist
Median Annual Salary: $48,326
Kinesiotherapists use body-movement mechanics to help people who have difficulty moving. They assess a patient's current moveability and then design an exercise treatment plan accordingly. Kinesiotherapists also lead administrative tasks like noting patient data and ordering special equipment. Plus, they often lead group workouts, such as aquatic exercises. 
17. Physical Therapy Assistant
Median Annual Salary: $61,180
Projected Growth: 24% from 2021 to 2031
Supervised by a physical therapist, PTAs support patients recouping from an injury or maintaining strength in muscles. They can also help overall body movement and manage pain in the body. Physical therapist assistants are heavily involved in the direct care of patients, which includes developing their care plan, walking patients through exercises, and educating patients (and family members) on steps to take after treatment. 
18. Nonprofit Wellness Program Director
Median Annual Salary: $60,922
Projected Growth: 12% from 2021 to 2031
Exercise science graduates who want to explore the nonprofit or community-based fields should consider becoming a nonprofit wellness program director. In this role, you'd be responsible for leading, developing, and monitoring programs and activities for the public. With this profession, there's an emphasis on preventing disease and promoting overall health within your community by getting creative to promote healthy habits.
19. Camp Director
Median Annual Salary: $38,675
Projected Growth: 10% from 2021 to 2031
Calling all summer camp lovers! Camp doesn't have to end once you become an adult. As a camp director, you'd be in charge of planning and performing day-to-day admin and operations for the camp. 
Love fitness? Be the one to design a kids' fitness camp curriculum, hire and train staff, and monitor expenses. 
20. Recreation and Sports Director
Median Annual Salary: $48,525
Projected Growth: 10% from 2021 to 2031
This career path is meant for those who are the go-to for group activities. As a recreation and sports director, you would likely lead and oversee the staff and facilities of an organization's rec department. Your responsibilities would include: coordinating, creating, and executing recreational programs, and hiring the appropriate staff to make sure those programs run smoothly. With an exercise science master's degree under your belt, you can emphasize recreational health and wellness activities for your community. 
Is Exercise Science the Right Career for Me?
Next Steps: Get a Master's Degree in Exercise Science
The best next step for you may be to learn more about Point Loma Nazarene University's master's in exercise science program, including the types of courses you'll be taking and what specialties the program offers.