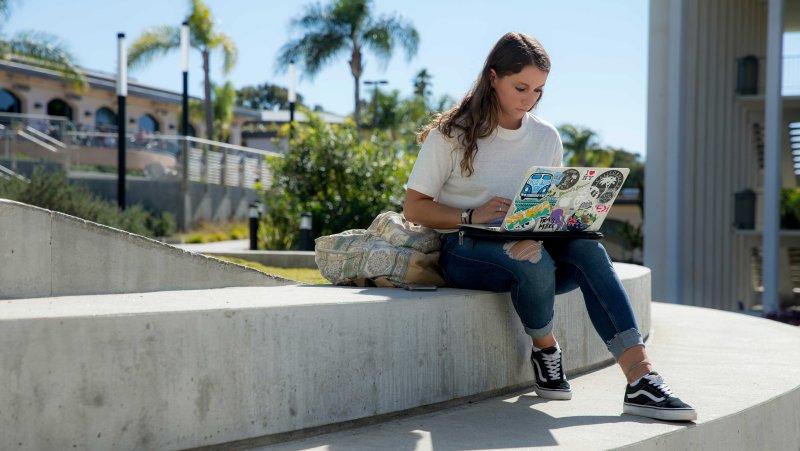 Choosing where you're going to attend college and what you're going to major in can be some of the biggest decisions you make in your life. Maybe you've gone back and forth a few times because you're interested in multiple subjects and don't necessarily want to focus on a single area of study.  
If you're interested in a diversified approach to learning – where you can develop essential life skills as well as a broader perspective of the world – attending a liberal arts school, such as Point Loma Nazarene University, might be the right choice for you. 
What Is Liberal Arts?
However, what exactly is a "liberal arts school" and what does a "liberal arts education" really mean? The term "liberal arts" comes from the Classical Greek idea of having a diversified education that revolves around the intellectual cultivation of the mind. The well-rounded education of the Greeks included courses such as grammar, logic, rhetoric, arithmetic, geometry, and music. 
__________
Who are you called to be?
Pursue your purpose at PLNU.
__________
Present-day liberal arts programs offer a variety of majors and minors within the categories of humanities, social sciences, and natural sciences. Individuals who graduate with a liberal arts degree have the ability to analyze and address social, environmental, economic, and political problems while also being introspective and creative. Let's take a look at a few reasons why a liberal arts education is worth it.
Reason #1: Enjoy Your Education by Choosing an Exciting Major 
While preparing yourself academically for a future career is an important aspect of college, it's also important for you to enjoy yourself. In a liberal arts program, you have the freedom to choose your own major and minor. PLNU offers many academic programs with various majors and minors, such as:
Humanities: literature, teaching, theology, art, education, foreign languages, music, theatre, and journalism
Social sciences: history, psychology, pre-law, sociology, economics, women's studies, and political science  
Natural sciences: biology, physics, engineering, sustainability  studies, environmental science, and chemistry 
At PLNU, you have the opportunity to choose from more than 60 areas of study. In each one, you'll be able to grow intellectually, philosophically, and spiritually.  
Reason #2: Expand Your Worldview as You Grow Spiritually 
As you step into adulthood, you may begin thinking about your place in the world and grappling with challenging questions. Since PLNU is a faith-based liberal arts school, you'll have the opportunity to engage in spiritual and civil dialogue within an academic environment grounded in the Christian faith. While your academic endeavors are an essential aspect of your time in college, spiritual growth is just as important.
In classes, you'll take part in conversations about what it means to be a service-minded, aware, thoughtful, and confident member of the Christian community and the world. Learning about the worldviews and ideas of other people while solidifying your own belief system is a fundamental component of a faith-based liberal arts program. 
Reason #3: Develop Critical Thinking and Creative Skills
At a Christian university in San Diego, specifically PLNU, you'll enroll in a wide range of general education courses, from chemistry to political science, even if your major is music. Because of this, you'll have the opportunity to develop an understanding of diverse topics and subject areas. Whether you're examining the parts of an atom or analyzing a piece of legislation, you'll learn how to enhance your critical thinking and problem-solving skills. 
Additionally, you'll also have the chance to take courses, such as philosophy, music, and art. While these areas of study still demand critical thinking skills, you also get to spend time developing your creative skills. You'll learn how to balance your passion for creativity with your analytical thinking competencies.  
Reason #4: Prepare for Diverse Careers
When you're applying to go to college, you'll notice that submitting information about your academic background isn't the only requirement. Colleges look for well-rounded applicants who have devoted time to community service, arts, sports, student government, and leadership development. In the same way, employers are looking for well-rounded and intellectual employees who can solve problems, apply critical thinking skills, and work productively. 
According to the Association of American Colleges and Universities, "4 out of 5 employers agree that all students should acquire broad knowledge in the liberal arts and sciences." Having a liberal arts degree can potentially set you apart from other applicants when you begin looking for jobs after graduation. 
Reason #5: Become Socially and Culturally Aware
Whether you were raised in a big city or a more rural environment, it can be hard to fully understand the worldviews and perspectives of other people, cultures, and societies until you're old enough to really contemplate your own beliefs. At PLNU, you'll have the opportunity to develop intercultural awareness and skills through Intercultural Pathways, a global citizenship skill-building program.
You may also have a desire to see the world and learn about the economics, religion, business, history, music, art, and culture of other societies and countries. You can choose to become part of a Study Abroad program and complete courses in over 50 different countries. 
If you're interested in traveling and immersing yourself in a different culture for a shorter period of time, you could go on a three-week long LoveWorks trip. You'll be able to develop lifelong relationships with your team members and your hosts and exhibit your love for community work and service.  
Reason #6: Develop Meaningful Relationships 
One of the most important reasons to earn a degree from a liberal arts program is to develop meaningful relationships in a community of like-minded yet diverse individuals. Even though your professors and fellow students will all be from different backgrounds and have different life experiences, everyone will be committed to the process of learning more about themselves and the world around them. 
Whether you're meeting a friend for coffee before class or you're planning on traveling abroad with a fellow classmate, cultivating a strong sense of community can make the process of earning a four-year degree completely worth it.
Earn Your Degree at a Faith-Based Liberal Arts School
Going to college is an important investment that you choose to make not only for your future career but also for your own personal and spiritual growth. Earning a liberal arts degree at a Christian university in San Diego like PLNU can open the doors for you to meet people locally and abroad who can have a long-term impact on your life. 
If you're interested in learning more about the benefits of a diverse and interdisciplinary degree, read more about how PLNU is a faith-based liberal arts school, shaped by excellence. If you're ready to apply, reach out to an undergraduate admissions counselor to talk about your next steps. 
---
About the Author 
McKenna Themm earned her Bachelor of Arts in Literature and Writing and is currently pursuing her Master of Fine Arts in Creative Writing. She works as a freelance writer and lives in San Diego, California.