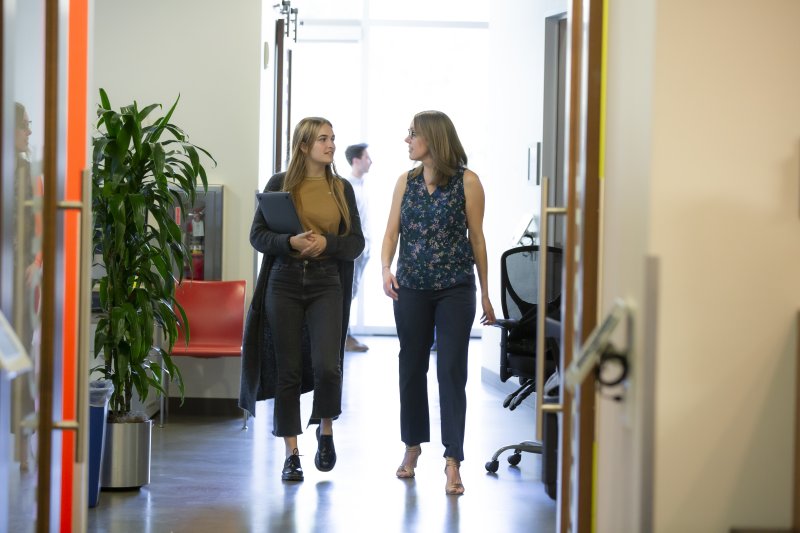 Whether you are returning to school, going from a community college to a university, or looking to finish your degree at an institution that best aligns with your values, transferring from one place of higher education to another is more common than many may realize. 
Why Transfer? 
There are many reasons one might transfer to a new university. Maybe you are continuing your education later in life, wanting to switch careers and obtain a new degree, or are looking for a school that will fit your needs better than the one you are currently at. 
One of the most common reasons for transferring is transitioning from a community college to a four-year university to earn a bachelor's degree. Junior colleges give students room to take general education courses and explore what their interests are so they can develop a better sense of what they might want to major in. Regardless of the reasons, there are many universal things to think about when navigating this process as a transfer student.
__________
Who are you called to be?
Pursue your purpose at PLNU.
__________
Looking for Your Next University
Selecting the college where you might be looking to finish your undergraduate degree is no easy decision, but there are a few ways to compare schools and narrow down your search. Checking out the university's website and scheduling a visit to the campus are great ways to experience what life might be like after transferring. Visiting can provide the opportunity for you to chat with other prospective students, ask admissions questions, and interact with those currently attending the school. 
Checking out the offered programs is also useful to making sure there is something that caters to your specific degree plan. Considering the student-to-faculty ratio, financial assistance, and career support can help with determining what will be the best fit for your needs. 
It can be hard to know where you might fit in after transferring to a new college. Exploring the ways an institution of higher education builds community for their students can help you make an informed decision. What you do outside of the classroom can be just as formative as what you do inside. Extracurriculars offer the chance for relationships to develop and for you to grow—whether that is personally, professionally, or spiritually. 
Knowing the Transfer Requirements 
Some schools may require you to have taken certain courses before transferring or ask that you are able to provide transcripts from your high school or previous place(s) of higher education. Making sure a prospective university will evaluate each of your previous courses or credits is important so you are not retaking classes. 
Maintaining a checklist of steps in this process can be a helpful way to ensure that you are on track to find the school that's best for you and transfer successfully. 
Download the Transfer Process Checklist
Top 3 Transfer FAQ's 
PLNU's transfer counselors offered three frequently asked questions they receive from prospective students, with their answers included, so you can get some insight into common concerns. 
How will my credits transfer?
We work with the Records Office to offer transcript evaluations. Contact your transfer counselor if you're interested and we'll get that going for you. We can also help you choose transferable classes at your current college/university.
Do you offer scholarships to transfer students?
We do! We have transfer merit scholarships of up to $10,000 a year which are awarded based on your cumulative college GPA. Incoming transfer students may also apply for any of our performance-based awards.
How long will it take me to finish my degree at PLNU?
This will depend on how your courses will transfer and how much general education and major course requirements you have left. Once you've applied to PLNU, you can request an unofficial course evaluation to see what transfers, and your Admissions Counselor can help connect you with the right people on campus to determine what your graduation path will look like here!
Finish Strong, Transfer to PLNU 
Whatever your interests and unique background, there is a place for you here at PLNU. With over 50 student clubs and organized activities, 11 NCAA Division II teams, and the Transfer Activity Group—an activity and mentorship group specifically for transfer students—you are sure to find something that ignites your interests at this university in San Diego. 
Connect with a counselor and learn more about transferring to PLNU!