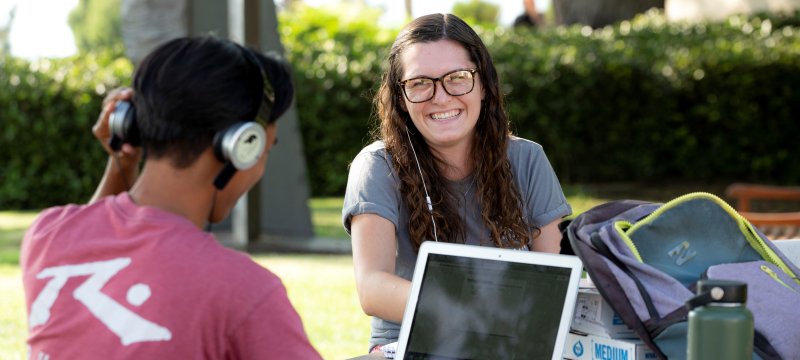 We spend a lot of time going to school. From age 5 to 18, we learn how to solve complex problems and work interpersonally with those around us. For many, college becomes the next step to specialize in a career track or subject which appeals to us in some way. Whether going into the job market with your bachelor's degree, working while in school, or looking for a job after completing a graduate program, the search for employment can be an intimidating one. 
Preparation and understanding what it takes to land the career you want are two important foundations for finding work in what can  be a volatile job market. 
The digital age of information has made  getting hired easier in some respects, with websites and apps dedicated to matching employers with those searching to fill the positions they offer. But this ease of access also makes these openings more competitive as everyone tries to throw their name in the ring. Before applying to as many companies as you can, it may be helpful to look at what sets you apart and makes you an asset to the places where you would like to work. 
Career Readiness 
The National Association of Colleges and Employers (NACE) defines one's career readiness as the attainment of competencies that will broadly prepare college graduates for a successful transition into the workplace. The ability to be a professional in the workplace, communicate effectively, and think critically are just a few of the abilities employers want to see in potential employees. NACE identified eight of these areas and the skills that fall under each one.
__________
Who are you called to be?
Pursue your purpose at PLNU.
__________
Rate yourself on each of these areas and see how you can grow in career readiness through this interactive worksheet. 
Are You Career Ready? 
Gauging your own abilities in order to express your skill set to an employer will help them understand how you would fit into the work being done. 
Creating an Elevator Pitch 
If you feel prepared with the abilities you have to offer and are ready to enter the job market, developing your elevator pitch is a great way to begin marketing who you are to those who you want to work with. This concept comes from the idea that you could end up in an elevator with the boss or manager and have just 30 seconds to let them know who you are, what your background is, and what you are trying to convey to this specific individual. 
It can seem nerve wracking to promote yourself or difficult to narrow down your work experience to fit the conversation, so knowing what your specific pitch looks like ahead of time can make introducing yourself easier and help clarify your individual brand. 
Tips for Creating Your Pitch 
Make sure the things you share about yourself highlight your interests and industry knowledge so the person you are speaking with knows you can bring something unique to the conversation or a potential job. 
Be Intentional and Flexible 
Practicing your pitch ahead of time will help with your confidence and keep the listener more engaged. Aiming for a 30-second introduction — or longer if it is an interview — will force you to be intentional about what you say and will hold your audience's attention better than a long winded explanation of your entire job history. 
If you're having a conversation with someone and trying to pitch yourself, understand that you may get interrupted if they're busy or called away. It can also be helpful to finding creative ways to reach back out, being aware of when someone might not have the time to speak with you, and offering to do so later. 
Informational Interviews 
Taking the time to talk with professionals within your career path or industry of interest will give you insight into their lives and can lead to more networking opportunities in the future.  Take time to research people within your areas of interest and when you reach out to them. This template may be useful in structuring the conversation. 
Having a list of sample questions prepared beforehand can allow you to accomplish more during the interview as you look at what's most helpful to learn from the person you are speaking with. The professionals you interview may be busy, so creating specific goals can make for a more productive conversation. You can also check out four simple steps to help you get started here! 
The Job Search 
Looking for work can feel overwhelming, but creating actionable items like cleaning up your social media, doing the research on where you want to work, developing your cover letter and resume, and, finally, putting yourself out there are good places to start. 
Why Write a Cover Letter? 
Taking the time to make a cover letter may seem tedious or repetitive as you are often reiterating the work experience and areas of interest you have. However, employers often require this in an application because it provides them context for why you are applying for the job available and what sets you apart from other applicants. Your cover letter also allows you to disclose more relevant information which may not be in your resume. 
Developing the Cover Letter 
There are a couple important things to focus on when creating this document, the first of which is how you format it. Utilize blank space so it's easy to read. Keep the length at one page or less. Format everything the font and style to match your resume. These are all key ways to make your cover letter appeal to employers. 
Letting Your Voice be Heard 
In many ways your cover letter is an extension of your personal brand, so you should use it as a way to show the ways you can benefit a possible employer. When you begin writing, it can be helpful to think of the letter in three parts: opening, connection, closing. 
The opening is where you express why you are interested in the specific role or organization you are applying for and reiterate any relevant experience. The connection can be more specific, relating your experience to the position while acknowledging the position's requirements and how you meet them. The conclusion allows you to emphasize your excitement about the role and thank the employer for their consideration. And if you can, try and research the name of the person who will be reading your letter. 
Creating Your Resume 
A resume highlights your work experience, skills, and education so the employer or hiring manager can see if you fit the open position, as well as what makes you unique. Here are a few key aspects of the resume you should keep in mind when creating yours. 
Format 
 Create a header with your name and contact information that's clear and easy to see. The rest of the document can contain separate categories listing your education, skills, or professional and volunteer experience. Giving some insight into the variety of skills you have or accomplishments can help showcase the experience you bring to the job. 
Content 
A couple questions to ask yourself when creating a resume  are: "How can I market my experience to the industry/job I want to get?" "How do I show I'm career ready from the work I've done in the past?" "How can I emphasize what I bring to the table? 
Using action verbs and key phrases unique to whichever field you're trying to enter can reveal to employers that you understand the job in some way already. Talking about past work experience and the results you achieved on certain projects is also a unique way to present your skillset. Here's a checklist to make sure you've touched on all these elements of a resume and help you proof your work before sending it off to potential employers. 
Developing a Strategy 
When your cover letter and resume are complete, make sure to double-check both for any errors. Also, including a professional email address — one you will check regularly — will make you look more prepared while giving them a place to reach you with future inquiries. Knowing what your elevator pitch looks like, understanding what skills make you career ready, and remembering the highlights of your resume can be useful going into interviews. 
Get Started Today! 
PLNU has a dedicated on-campus career services center that prides itself on helping students find their calling. Their mission is to prepare Christ-centered, career-ready graduates who want to make a difference in the world. Whether you need help developing a resume or exploring your strengths for your desired career after graduation, they are available to you. Schedule an appointment with Career Services through Handshake today. 
About the Author 
MJ Renner is a current psychology major at PLNU. They are the Writing & Research Assistant for Marketing and Creative Services.