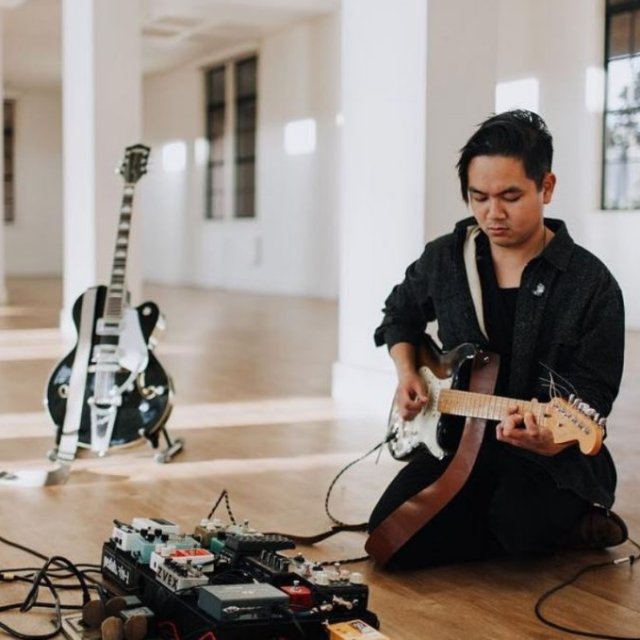 What does it look like to search for connection with God when we can't find inspirational words through prayer? How do we re-examine our spiritual practices in ways that reflect our presence and full attention, even in the whirlwind of everyday life?
For Julius Obregón Jr. (16), navigating these questions has been a part of the journey he's stepped into both personally and as a leader. 
Growing up as a pastor's kid, whose dad was also a musician and recording artist in the Philippines, Obregón has carried a longtime passion for ministry through music. His involvement with youth group in high school brought him to PLNU where he had initially intended to focus on worship arts. 
"When I first got my schedule back, I was bummed to not be in more biblical classes," Obregón said. "Luckily, I had really great people encourage me to listen to my heart for ministry." 
He shared that PLNU's School of Theology & Christian Ministry allowed him to gain an appreciation for Christian tradition through classes with Michael Lodahl, Ph.D., while professors like Kara Lyons-Pardue, Ph.D., helped shape his relationship with scripture. 
"[Lyons-Pardue] instilled in me a sense of humility and wonder when it came to reading the gospels." 
At the same time, Obregón admitted he was also trying to constructively challenge his own understanding of Christianity and eventually, "hit a point that left me without the words to pray. It inhibited my ability to engage with faith in the same ways." 
"I learned to appreciate the ways liturgy provides a coming together with the body of Christ. It helped me develop a greater patience because even if it doesn't always inspire, it shapes who I am as a person and informs what kind of world I want to live in." 
This period of time caused him to look even more critically at the ways he was connecting to God or leading others in this practice. He said it was the experience of digging into different liturgical practices and allowing others to provide inspiration when he needed it that helped him engage with his own faith again in fulfilling ways. 
"I learned to appreciate the ways liturgy provides a coming together with the body of Christ. It helped me develop a greater patience because even if it doesn't always inspire, it shapes who I am as a person and informs what kind of world I want to live in."