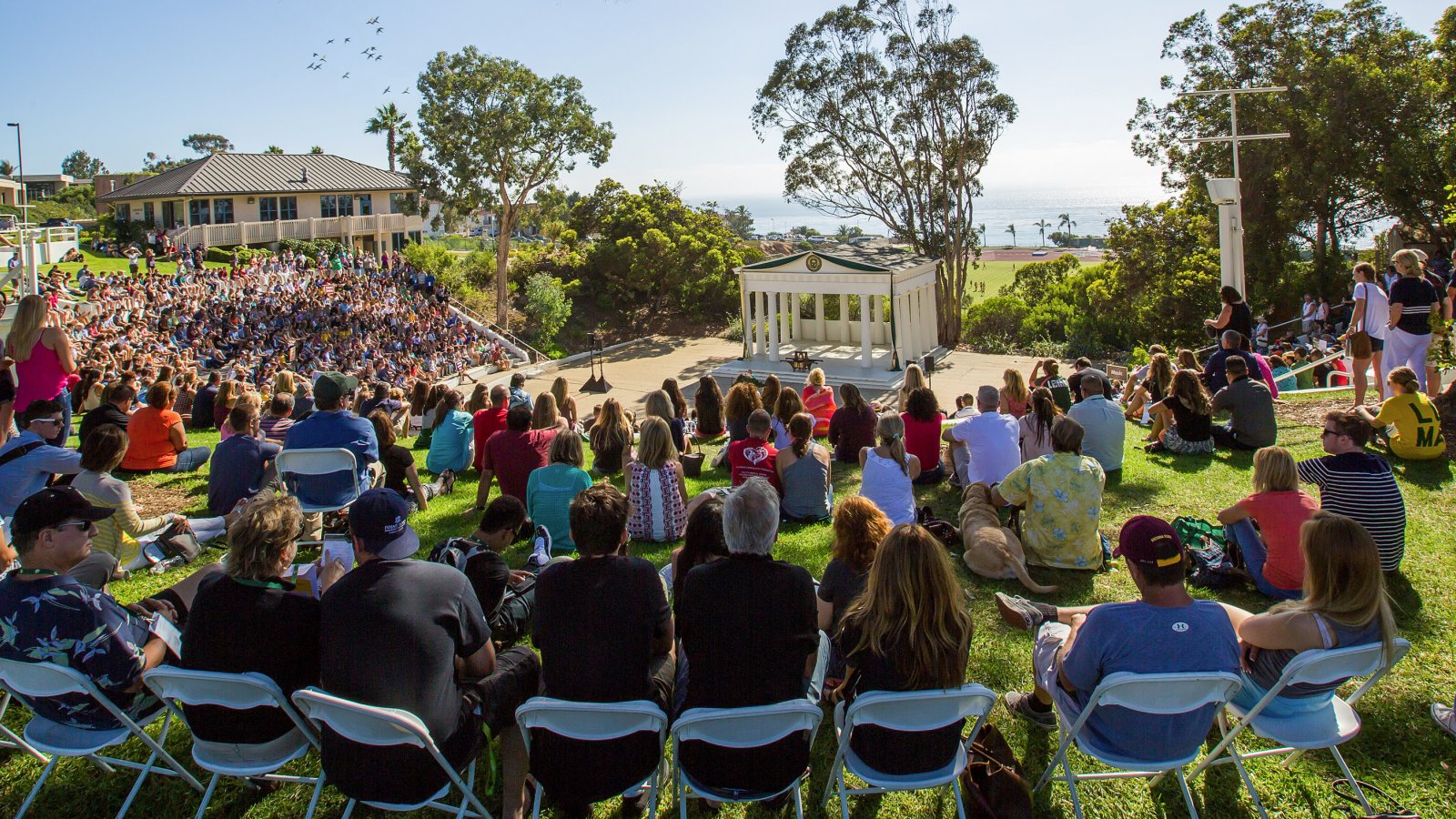 New Student Orientation, Spring
Welcome to PLNU!
We deeply desire that you grow as a whole person during your years here. We trust you will experience an extra measure of God's grace as you participate in our community. Opportunities to learn, grow, and serve are abundant here. The entire PLNU community is preparing for your arrival.
At New Student Orientation (NSO), you will meet key people, get your ID card, learn about the culture of PLNU, move into your room, purchase your textbooks, and much more. You are welcome to bring parents/guests to attend NSO with you.
NSO Spring 2020 is on Monday, January 13.
---
Sunday: Residential Student Move-In
Prior to NSO, students may move-in on Sunday, January 12, 2020 from 1 – 3 p.m.
---
Monday: NSO Check-In
Registration begins in the Nicholson Commons Thomas Conference Room at noon on Monday, January 13. 
---
Parents and Guests
Parents and guests are invited to join us for the move-in process on Sunday, January 12, in addition to events on Monday, January 13, and are welcome to leave on Monday evening at 4:30 p.m.
Hotel Accommodations
PLNU is pleased to offer a specially reduced rate at a variety of Bartell Hotels in the San Diego area. Rates are based on availability and all appropriate taxes and hotel fees apply. To guarantee a special rate, please book early and ask for the "PLNU rate" at the time the reservation is made. In return, Bartell will donate a percentage of the total room cost to PLNU's university fund benefiting student scholarships. Book online and find additional information about PLNU's partnership with Bartell hotels.
---
Disability Accommodations
PLNU is dedicated to providing students with disabilities access to the programs, services, and activities of the university, as required by the Americans with Disabilities Act (1990) and Amendment (2008), and by Section 504 of the Rehabilitation Act (1973). The Disability Resource Center (DRC) provides reasonable accommodations so otherwise qualified students with disabilities may, as independently as possible, meet the demands of university life.
For accommodation requests, contact the DRC at drc@pointloma.edu. Please send requests at least four weeks in advance of NSO.
Spring 2020 NSO Schedule
Date/Time:
Location:
12 – 12:50 p.m.

Check-in

Nicholson Commons Living Room & Thomas

Check-in and registration
ID card photos only (p/u cards at Resource Fair)
Video clips from new students
Free PLNU spirit gear (t-shirts, stickers, lanyards, etc.)
Meet staff and your student government directors
Lunch provided in the main dining room

12:30 – 12:50 p.m.

Opening Greetings / Introductions

Nicholson Commons Cunningham Dining Room

Welcome from Dr. Caye Smith, Vice President for Student Development
Greetings from:

Admissions: Wyatt Ehrlich, Associate Director of Admissions &Transfer Representative
Records: (explain filling out class form)
Student Financial Services: Molly Porter, Director Financial Aid
TAG: Transfer Activities Group Coordinator

1 – 2 p.m.

Strengths On Point (Student's Only)

Nicholson Commons Cunningham Dining Room A

Parents/Guests Q+A in the ARC

2:10 – 3 p.m.

Covenant Service & PLNU Sand Tradition Service

Nicholson Commons ARC

Welcome from Dr. Mary Paul, VP for Spiritual Development and the Spiritual Development Staff

3 – 3:15 p.m.
Break (new student and guests)
3:15 – 4 p.m.

Campus walking tour (Where are my classes?)

Campus tours led by TAG Leaders

3:15 – 4 p.m.

Resource Fair

Nicholson Commons ARC

Campus resources all in one spot

5 – 7  p.m.

Welcome Home Dinner (ASB)

Nicholson Commons Cunningham Dining Room

New students only (no guests)

Specific Individualized Meetings Today

10 a.m. Math Placement Test in Latter Hall room 101
10 a.m. Athletic Compliance meeting in room KIN1 (invitational only)