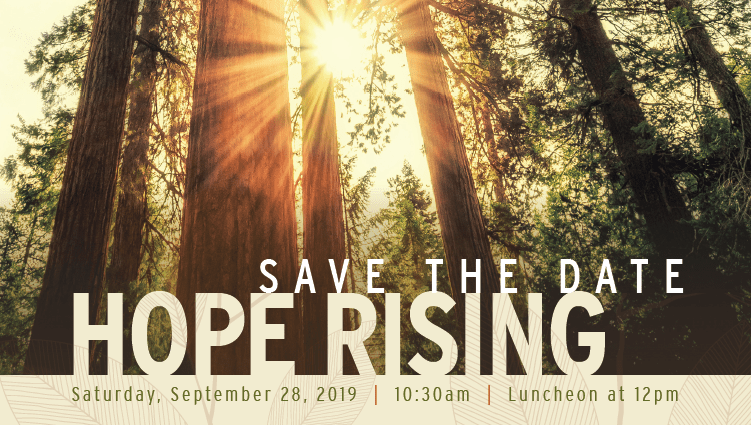 Join us for Hope Rising
Benefiting the human trafficking initiatives of the Center for Justice & Reconciliation at Point Loma Nazarene University.
Our roots are deep in the region's efforts to end human trafficking. Our groundbreaking scholarship for survivors and prevention education lead the way in restoring victims and preventing exploitation. Please join with us as we build our programs to impact more lives. Online registration deadline is Wednesday, September 25.
Hope Rising Awards
The Hope Rising Awards were created to honor community members who exemplify the collaboration and courage it takes to end human trafficking in our region. An FBI-designated "hot spot" for child sex trafficking, the San Diego region faces an ugly truth.
Together we can make a difference. The Hope Rising Awards honor leaders from government, education, community activism, faith based organizations and service agencies. The 2019 Hope Rising Awardees include:
Chris Marsh and the San Diego Prevention Collective
When research uncovered active recruitment in our schools by "boyfriend pimps" looking to exploit our kids, Chris led a community-wide effort to raise the funding to launch a public-private partnership that includes the UBS Optimus Foundation, the San Diego District Attorney and private donors to fund a $3.5 million four-year pilot that brings prevention education to children across the region.

The San Diego Trafficking Prevention Collective unites three unique programs - PROTECT, Project ROOTS, and kNOw MORE - to bring human trafficking awareness and prevention education to San Diego youth and families. The Collective empowers teachers and students through creative and comprehensive training to understand the dangers and signs of human trafficking in our schools and neighborhoods.
Dion Sayles McKinney
Dion learned that trafficking was a reality in our community and stepped up to make a difference. She served on the first Hope Rising Event Committee, running the auction and building connections across the region for our new project. She also helped Churches Against Trafficking reach new congregations and organized the Christmas gift drive for survivors. 
Dion now serves as the Administrative Assistant for Free to Thrive, ensuring clients receive the best legal representation possible. Free to Thrive offers pro-bono legal services and clinics to survivors of trafficking Her tireless, optimistic advocacy for vulnerable people is an enormous asset for every organization she supports.
Yusef Miller
Yusef is a faithful supporter of Churches Against Trafficking, and inspired by the work of CAT, launched MAT - Mosques Against Trafficking. He co-chairs the Community Subcommittee of the San Diego Human Trafficking and CSEC Advisory Council, leading the efforts to raise awareness and inspire action in our community.
Yusef continues to support all the regional work, train and educate the community and is doing groundbreaking work in bringing the conversation about trafficking to the Muslim community.  
STAT! - Soroptimists Together Against Trafficking
For the first time, we are honoring an organization with the Hope Rising Award. STAT! was formed in 2011 in response to Soroptimist members' desire to gt involved in the fight against human trafficking in San Diego.
STAT! is made up of members from Soroptimist clubs from around the county who work together to increase their impact. Their focus areas include public awareness and victim/survivor support. 
Silent Auction
ONE WEEK AT CONDO IN KIHEI, MAUI
Two bedroom, sleeps six people
HARBOR YACHT CRUISE WITH DRINKS & APPETIZERS
Hosts up to 30 people
FIVE NIGHTS AT MCCALL, IDAHO CONDO
Three bedrooms, sleeps eight people
ONE WEEK AT PACIFIC BEACH CONDO
Three bedrooms, sleeps ten people
Sponsors
Barry and Karen Meguiar
Sycuan Band of the Kumeyaay Nation
Sempra
Bartell Hotels
Mission Church of the Nazarene
Sodexo
Event Committee
Susan Hoekenga, Co-Chair
Michelle Shoemaker, Co-Chair
Kim Berry Jones
Ellen Fonseca
Andrea Justus
Kevin and Lisa McGinnis
Leanne Mudge
Gemma Rickolt
Rev. Gordon and Rachelle Wong
Honorary Committee
Linda Brower
Tori Curtis
Assemblywoman Lorena Gonzalez Fletcher
Supervisor Dianne Jacob
Nick and Vicki Lambesis
Barry and Karen Meguiar
Betty Peabody
Ginger Shaw
District Attorney Summer Stephan
Greg and Ericka Rizio
Student Committee
Ana Gates
Elaine Giles
Danielle Jorgensen
Ella Osterweil
Lauren Perez
Ricky Thomas Serikawa
Bridget Stephenson
Finley Stitt
Morgan Wurtzler
For information on sponsorship opportunities or questions, contact Kim Berry Jones at (619) 849-3224 or kimberryjones@pointloma.edu