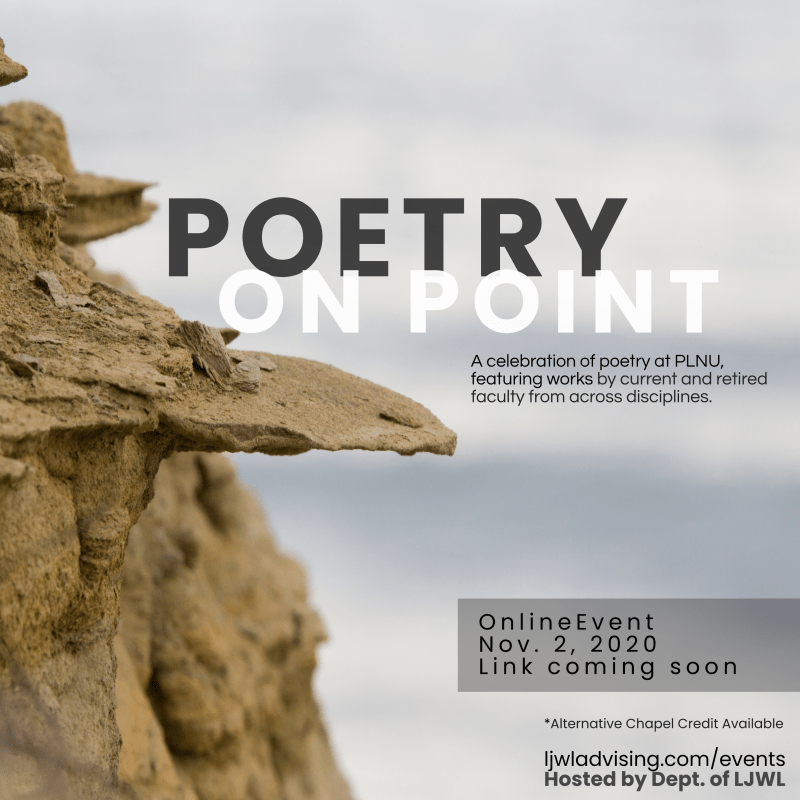 Join us for a celebration of poetry at PLNU, featuring works by current and retired faculty and staff from across disciplines.
This year's event will be held online, with prerecorded poems from the following:
Carol Blessing, Professor Emeritus of Literature & Women's Studies
Rebecca Flietstra, Professor of Biology
Nillie Graf, Department Assistant, Office of the Dean
Kay Harkins, Retired Associate Professor of Writing & Literature
Breeann Kyte Kirby, Assistant Professor of Writing
Michael Lodahl, Professor of Theology & World Religions
Robbie Maakestad, Assistant Professor of Writing
Katie Manning, Professor of Writing
Eddie Matthews, Adjunct Professor of Literature & Writing
Margarita Pintado Burgos, Associate Professor of Spanish
Ashley Reynolds-Montaño, Department Assistant, Dept. of LJWL
Bettina Tate Pedersen, Professor of Literature
This event is online here: ljwladvising.com/poetry-on-point.
For more information about this event, contact Ashley Montano (amontano@pointloma.edu) or Katie Manning (katiemanning@pointloma.edu).