Overview
Out of a desire to love God and neighbor, Ministry with México exists to contribute to shared life within our dynamic cross-cultural context through building and sustaining genuine relationships.
We create a space for the widening and challenging of perspectives, which encourages steps toward serving and living justly. Get updates on our programs and more information by subscribing to our monthly newsletter.
About Our Programs
Sponsors: PLNU faculty, staff, or alumni sponsors are invited to attend our trips throughout the school year.
Education Sponsorship Program: The Education Sponsorship Program (ESP) allows you or a group to sponsor a child at one of the children's homes we visit on our Ministry with México trips. Your contribution of $25 helps with the costs of educational supplies for a child throughout the school year. In addition, you will have the opportunity to write letters to your child each month, learn more about them and help them to practice their English. One of the unique aspects of this program is that you get a chance to visit the child you are sponsoring. We want to encourage you to participate in this great opportunity of providing an educational resource to a child in need.
Passports: All travel to México now requires a passport. For more information, read our Passport Guide.
Safety: The International Ministries Office, which oversees all México programs, works diligently to consider all safety aspects. Read more about our commitment to secure travel in our México Travel Note.
One-Day Trips
Our student-led ministry groups each visit the Tijuana-Tecate area once a month. This means you could be part of up to three trips a month!
Our groups include:
Belén
Casa Hogar Belén, a faith-based children's home in the Otay area of Tijuana, is a new partnership with Ministry with México this year. Belén aims to merge the two worlds of children and young adults in creating a unison of laughter that brings about an environment where the presence of God's love is tangible.
Sign Up to Attend the Belén Trip
Eunime
Eunime provides PLNU participants the opportunity to support the goals of Eunime orphanage in raising AIDS awareness and encouraging literacy while building relationships and sharing life with the children and adults there. The home has been running for five years, and is the only orphanage in the state of Baja for orphaned children who are HIV positive. Every visit, we do something special with the kids — whether it's taking them out for pizza, tutoring them in English and other subjects, running a day camp at a ranch, or playing and reading to them in the house. For more information, contact eunime@pointloma.edu.
Sign Up to Attend the Eunime Trip
La Iglesia
La Iglesia hopes to work together with the Body of Christ in México to build relationships and show a more complete picture of what the church can be. We strive to wrestle with the question of how the Body should function as one in spite of the barriers that separate us. The Northwest Baja District of the Church of the Nazarene welcomes us each month to partner with various Nazarene churches across the border. We're invited to participate in district gatherings and celebrations, as well as help with construction projects on the church and seminary buildings. For more
information, contact iglesia@pointloma.edu.
Sign Up to Attend the La Iglesia Trip
MwM Christmas Celebration
Our Christmas event celebrate with all our ministry groups at the end of each semester. In December we spend a day visiting each of our children's homes, giving gifts, singing Christmas carols, and exploring the city. If you have any questions, please contact Liliana Reza at lreza@pointloma.edu.
Multi-day trips
Fall Break Trip
Join us on our fall break trip to explore our border cities and discover the culture, arts and food. This is an opportunity to not only get to know the border in a new way, but also to build relationships. After a day of exploration, we serve in the community alongside youth groups from Nazarene churches in Baja California through a program called Máxima Misión.
Join us for the next Fall Break Trip
Border Pilgrimage
Join us for an opportunity to explore the Tijuana-San Diego border area and learn about the complexities of this fascinating region. Witness firsthand the contrasts between how U.S. Border Patrol protects the border and how families have been separated by immigration laws. You will meet migrants who have been deported while trying to enter the U.S. and tour the red light district of Tijuana. This trip will push you to grapple with complex issues.
Learn more and register for our next Border Pilgrimage.
Spring Break Build
Some students spend spring break at the beach. At PLNU, you'll have the opportunity to spend it with President Dr. Bob Brower, fellow students, faculty, staff, alumni, and administrators, contributing to an environmentally friendly building project in México. Get a glimpse of the action during a Spring Break Build.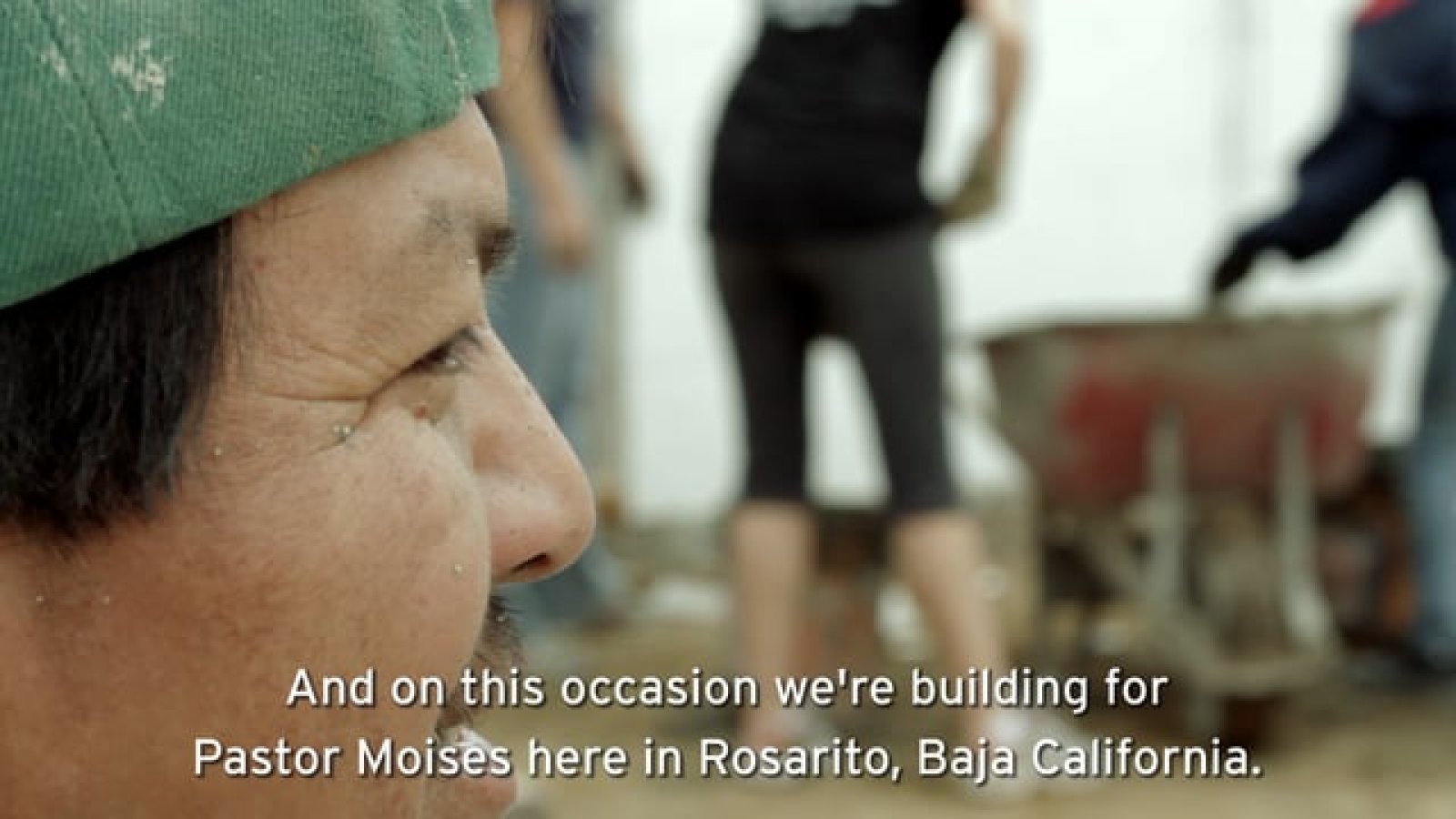 Spring Break Build
For their 2011 spring break, 53 PLNU students, staff, faculty, and alumni, including PLNU President Dr. Bob Brower, chose to spend the week building a church and parsonage in Rosarito, Baja California, México.
Watch Video:
Building of a Rosarito Church
Student Leadership Opportunities
Considering serving on Ministry with Mexico's leadership team next year? If you are interested in joining our leadership team, please fill out the Student Leader Application and have a mentor/or pastor fill out a Reference Form.
Ministry with Mexico Student Leader Form