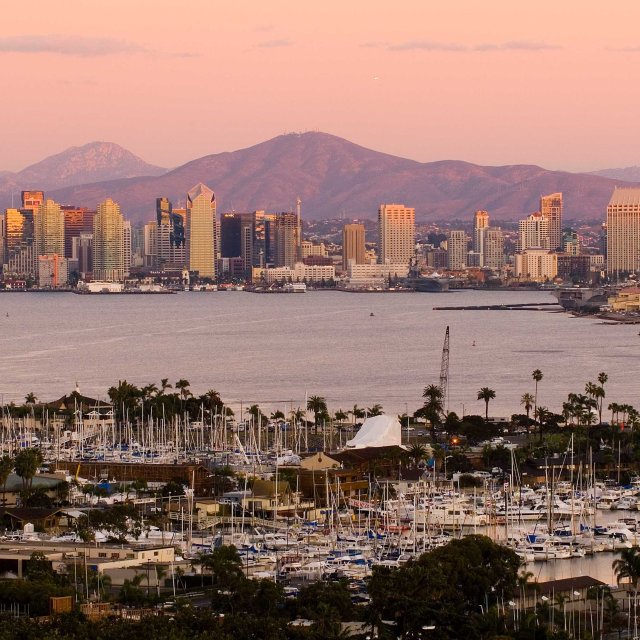 Point Loma Nazarene University's PA Scholars program is an exclusive opportunity for freshmen to be guaranteed a position in PLNU's physician assistant program upon graduation from specific pre-PA degree programs offered at PLNU.
The PA Scholars program allows students seeking careers as physician assistants to gain valuable health care credentials prior to entrance into the post-baccalaureate PA program. This preparatory education, in conjunction with the PA program's didactic and clinical curriculum, enriches the graduate's expertise and competence. In addition, it allows students the opportunity to complete a degree that positions them for a rewarding health care career should they choose another path and elect not to continue in the graduate PA program upon completion of their bachelor's degree.
Application Requirements
The application requirements are as follows:
Minimum cumulative GPA of 3.75, weighted or unweighted, as reported on the senior year high school transcripts. 
Completion of at least three years of high school math and science - four years of math and science are highly recommended 
Minimum official test score (only one of the following is required):

28 composite ACT with no subsections below 23
1300 composite SAT, Math + Evidence-Based Reading and Writing
*This requirement is waived for the 2021 application year.

Complete and submit an online PA Scholars application for admission and submit all required materials (transcripts, ACT or SAT scores, etc.) Indicate one of the approved degrees and "Pre-PA" as your pre-professional program.

Approved majors include: 

Applied Health Science BS
Biology BA
Biology BS
Biology-Chemistry BS
Chemistry BS

Complete the online PA Scholars application by December 1 of your freshman year. 
Submit two letters of recommendation, emailed by December 1. The letters  can be emailed to terrabowles@pointloma.edu
Letters can be from high school teachers, coaches, other pre-PLNU contacts, or PLNU contacts.
Application Timeline:

Deadline: December 1 of your freshman year at PLNU
Admission decisions will be mailed to applicants by March of their freshman year
Requirements to Remain in the Physician Assistant Scholars Program
Once accepted as a PA Scholar, students are expected to maintain full-time enrollment at Point Loma Nazarene University and to meet the following requirements:
1. Maintain a cumulative GPA of at least 3.75 through completion of the Bachelor's program.
2. Obtain a "B" or higher in all the following prerequisite courses. Note: retakes are allowed for the pre-requisite courses listed below in #3, but the student's cumulative GPA must always remain at least a 3.75
3. Complete all prerequisite courses at PLNU: 
General Chemistry I and II (CHE 1052, CHE 1052L, CHE 1053, and CHE 1053L) 
Organic Chem I and II (CHE 2094, CHE 2094L, CHE 2096, and CHE 2096L) 
Anatomy and Physiology I and II (BIO 1030, BIO 1030L, BIO 1040, and BIO 1040L) 
Cell Biology and Biochemistry (BIO 2010 and BIO 2010L)
Microbiology (BIO 2020 and BIO 2020L or BIO 3015 and BIO 3015L)
Statistics (MTH 2003 or MTH 3063)
Advanced Biochemistry (BIO/CHE 4050 and BIO/CHE 4050L)
Genetics (BIO 3045 and BIO 3045L)
Choose at least one of the following courses: 

Pathology of Injury and Illness (KIN 3085)
The Physiology of Exercise (KIN 3040)
Assessment of Lower Extremity Pathology (KIN 3087)
Assessment of Head, Spinal and Upper Extremity Pathology (KIN 3088) 
4. Complete pre-approved direct patient care hours:  
100 hours by August 1 after the sophomore year 
250 hours by the end of the junior year
500 hours by the end of the senior year
The method of obtaining these hours must be approved by the PA Education Department prior to beginning the experience. Documentation of direct patient care hours must be submitted by the end of each Spring and Fall semester.
5. Attend two PA information sessions:  one in March to ensure candidates understand the requirements to remain in the program and a second between September of Junior year and November of Senior year at PLNU
6. PA Scholars will be required to complete the online Central Application Service for Physician Assistants (CASPA), the CASPer test, a Snapshot recording by November 1 of the senior year at PLNU.  A supplemental application may be added.  This process ensures students are captured in the national database for PA programs. Applicants will need to pay the current CASPA rate as well as the supplemental rate for the PLNU PA program.  In addition, admission to the PA program for all incoming PA students is contingent on clearance of a criminal background check, a negative drug screen and compliance with immunization requirements.  Specific information regarding these requirements is available in the PA Student handbook which is posted on the webpage. 
7. Attend a PLNU PA Interview session during January or February of Junior year at PLNU.  Dates will vary.  
8. Attend additional PA Program activities as communicated via the PA program
Frequently Asked Questions
Does the PA Scholars program offer guaranteed admission into the Physician Assistant program?
Yes. Students who successfully complete the program's requirements and maintain the required GPA for the duration of their undergraduate studies, as well as completing the required, pre-approved direct patient care hours, are guaranteed placement in the Physician Assistant program.
Does the PA Scholars program shorten the length of time I will spend in school?
No. The PA Scholar obtains admission to PLNU's Physician Assistant Education Department (PAED) "contingent" upon successful completion of the qualifying bachelor's degree program from Point Loma Nazarene University. We believe that a traditional, full-length course of undergraduate study remains one of the best preparations for success.
How will my advanced placement credit courses transfer?
In keeping with their high level of academic achievement, students who wish to become PA Scholars are encouraged to take Advanced Placement and/or advanced credit courses in high school whenever possible. However, no AP or advanced credit will be awarded to incoming PA Scholars for any pre-requisite PA course. It is in the best interest of every future physician assistant student to take these courses in college regardless of past experience. The one exception to this rule is if a student scores a 5 on the AP Biology exam we will accept that AP score in place of BIO 2010 and BIO 2010L.
When can I become a PA Scholar?
Applications are due in December of the freshman year. Only first-time freshmen applicants will be considered for acceptance into the program.
What if I change my major or decide that I do not want to continue on to the PA program?
Students may continue on as PA Scholars provided they choose another approved, pre-PA major at PLNU. Remember that there is no penalty for withdrawing from the program, but applying to become a PA Scholar is an opportunity that you have only as an incoming freshman.  If you withdraw from the PA Scholars program, you can apply to the post-baccalaureate PA program through the traditional application process, with no guarantee of admittance.
Can I study abroad as a PA Scholar?
Yes. PA Scholars are encouraged to study abroad.  PA Scholars will work with their CHS undergraduate academic advisor to determine a time that is most optimal for study abroad. 
What other benefits do PA Scholars enjoy?
A Scholars enjoy numerous other program benefits, including 
One-on-one advising through an academic advisor assigned to their specific undergraduate program
Participation in the Point Loma Pre-Health Student Association (PLPHSA)
Opportunity to have a PA program faculty mentor beginning in their Junior year at PLNU
Attend select events hosted by the PA Program student organization beginning in their junior year at PLNU