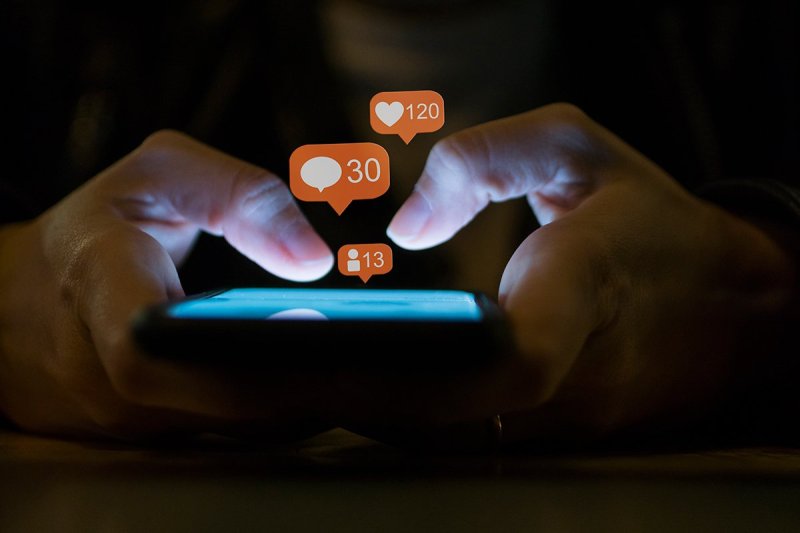 Ten years ago, social media for business was not exactly a huge deal. This stemmed from the fact that social media platforms did not hold as much power and were not crucial for businesses. However, today things have changed.
The statistic below clearly shows how prominent social media is today, across all platforms, and the ways its popularity continues to increase. With over 7 billion people in the world, at least one-in-three individuals are using one of these sites. 
How is Social Media Used for Business?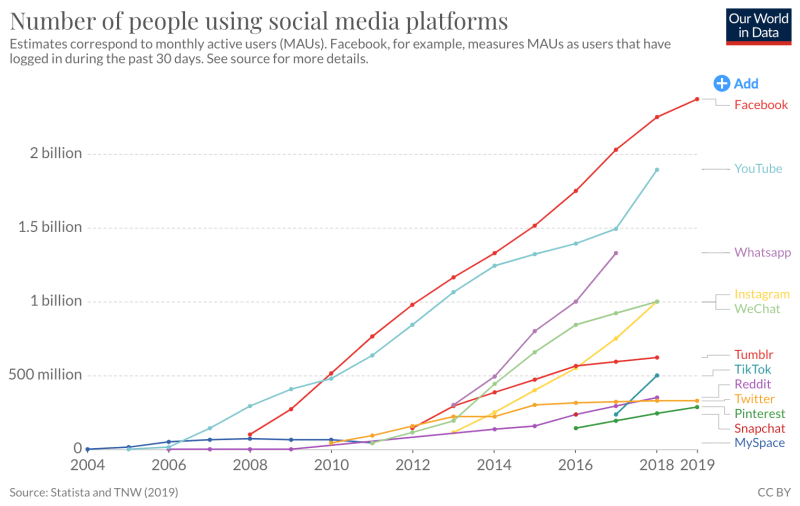 Defining Digital Media and Social Media
Social media platforms are a much-needed tool for entrepreneurs, brands, and businesses that need to reach a broad audience.
Using social media for business allows brands the chance to go viral with little effort and be more visible; social media can also increase lead generation, audience engagement, and, in the end, sales.
Including social media platforms in the representation of your overall marketing strategy and actions comes with a set of challenges. For example, a marketer needs to create content that works for digital marketing. This general umbrella term includes marketing actions accessible by mobile, tablet, PC, and, of course, on the internet.
__________
Experience life-changing education.
Connect with PLNU.
__________
A digital channel can be anything from a search engine to an email and a social media platform.
It is more than evident that digital marketing and especially social media can connect businesses with prospects and future customers. Nevertheless, this comes with a set of tactics.
The 4 Main Social Media Platforms
There are plenty of social media platforms, each one serving a specific purpose. However, this article will talk about the Big Four of social media: Facebook, Instagram, LinkedIn, and Twitter.
Facebook
When talking about social media for business, marketers often talk about Facebook first. And with good reason.
What Is Facebook?
Facebook is the driving force behind other social media platforms, and the fourth most visited website, according to a report from Ahrefs.
Despite past controversies, and the idea of social media echo chambers created because of said controversies, Facebook is still an excellent source for marketers to target their ideal audience. 
With more than 1.5 billion users active per day, Facebook is one of the most lucrative platforms for marketers. Provided, of course, they know how to use it.
How To Use It 
People on Facebook tend to pay more attention to images and videos and less attention to text posts.
However, a marketer needs to take a fundamental principle into account: if the prospects cannot see the post, they will not look for it. This statement drives marketers to create content to be posted on specific times and days.
Here is what this means: a marketer understands the need to analyze data and figure out the best times to post on each social media platform - in our case, Facebook.
These times are Thursday through Sunday. The weekend is naturally ideal, while the best time of day is in the morning (around 9 a.m.) and afternoon (between 1 and 3 p.m.). During these times and days, more people log on to their Facebook profiles, making interaction and engagement with a brand's post far more likely.
Of course, these times are not set in stone. Every marketer needs to take a look at their data and customer personas before deciding on creating and posting anything on social media.
Posting on Facebook as a business requires a brilliant business page. Marketers know that the page and the posts need to be optimized. Both the keyword that best describes the brand and the contact information needs to be there.
What is more, the keyword needs to be something that interests the target audience and describes the business's niche. The page itself needs to be optimized visually and in terms of text for all devices: mobile, tablet, and desktop. Broken visual elements can cost conversion, and marketers need to hook the prospects when they access the post.
Every marketer needs to take a look at their data and customer personas before deciding on creating and posting anything on social media. 
Brands need to encourage their target audience by posting consistently and encouraging their prospects to interact with their posts. 
Asking questions, encouraging shares and likes, and incentivizing the effort by offering a discount to those who share a post or like the business's page can be a real engagement booster and can get brands viral quickly and easily.
Trick the Algorithm 
Tricking Facebook's algorithm is no easy task. However, there are some basics as to the posts and marketing actions Facebook's algorithm favors.
Creating and maintaining a Facebook page with mostly positive comments and an overall positive look and feel is crucial. So, marketers need to create content and actions that can bring back positive reactions and engagement.
An "angry" or "sad" reaction on a Facebook post can cause the algorithm to give the content a reduced ranking.
Content that drives engagement is favorable. That is why most brands favor video content or image posts. Audiences prefer watching a video to reading blocks of texts when they are on social media. Not to mention that text posts hardy ever go viral.
Posts and content that drives engagement end up on a news feed. However, this engagement does not come without a consistent posting schedule. A niche can contain a million brands, after all. Each brand needs to stay in the mind of a prospect.
All in all, marketers that have decided to trick Facebook's algorithm need to remember the following:
Content with better engagement (comments, positive reactions, shares) ends up in the newsfeed.
Consistency is key, as it allows brands to be remembered and can have a positive impact on user searches on Facebook.
Video content and photos are the most engaging
Instagram
Instagram's social media platform is also one of the most popular when it comes to social media for business. Instagram's tweaks and visual-based content can prove to be a goldmine.
What Is Instagram?
The Facebook-owned social media platform heavily relies on visuals, making it the most practical choice if the target audience is one that likes to engage with visuals rather than text.
Instagram is all about being creative with videos and images. The app's original purpose was to unleash this creativity, which can work like a charm for brands.
This social media platform allows brands to showcase their products and services through video and image-based posts with a more personal look and feel.
How To Use It
The consensus of Instagram marketing revolves around three core elements:
User engagement
Building brand loyalty through said engagement
Conversion
As mentioned before, visuals boost conversion and engagement far more than a text post does, and Instagram has been built for such posts since it first started.
Marketers tend to use images to create announcements, showcase the use of their products but also create brand loyalty. Through that, curate and nurture their leads, nudging them gently further down the conversion funnel.
Businesses that use this social media platform create posts that also show the company culture and how this culture coincides with their audience's interests and personal values.
This practice creates a more personal, tailor-made feel.
Another great use of Instagram for businesses is influencer marketing and Instagram giveaways.
Through Instagram influencer marketing, a marketer utilizes two basic human principles: the principle of authority and the principle of reciprocity.
Instagram influencer marketing is mainly a way for brands to be promoted by influencers in their niche. This type of social proof "hooks" the audience, seeing as a large part of the audience considers influencers to be "authorities" at what they do.
In addition, Instagram influencers offer insights on products and services and promote those through giveaways, competitions, and other marketing actions that make great use of the principle of reciprocity.
Practically, this tactic allows prospects to feel like they can communicate with the influencer and, by extension, the brand itself.
All in all, a brand can delve into Instagram marketing by using social media influencers' power, creating relatable posts, and giveaways. 
"In other words even as digital budgets have decreased, the influence on social media has remained quite valuable, especially as 60% of marketers said their influencer budgets would stay the same or even increase" (Forbes).
Marketers also like taking advantage of tools like Instagram stories and IGTV - both highly engaging as they are mainly video-based and can showcase everything from product use to "behind-the-scenes" sneak peeks.
Trick The Algorithm 
Tricking the algorithm in favor of social media growth for businesses is not an easy task. However, marketers know that Instagram's algorithm considers three key points:
Time - The most recent posts are the ones that have priority on a prospect's homepage and Discover page.
Engagement - The most viral posts are those with which more prospects have engaged.
Interest - search history and hashtag popularity show Instagram's algorithm the posts that can potentially interest a more substantial part of the platform's user base.
Unlike popular opinion, Instagram's algorithm does not pay much attention to the number of followers or the time spent on a particular post.
LinkedIn
LinkedIn is one of the most popular platforms for Business-to-Business (B2B) companies and can offer excellent networking opportunities to professionals and brands. However, it has a more professional nature. Can the principles of social media for business fit in its spectrum?
What Is LinkedIn?
LinkedIn is a social media platform, created with networking in mind. Marketers of B2B companies can leverage that with ease, so long as they know how this aspect works.
Being the best-known networking sites for professionals allows marketers to connect with prospects and collect data through some substantial research.
Business-to-Consumer (B2C) businesses can see some real benefit from using LinkedIn, as it allows marketers to connect with influencers and use their audiences on social media platforms in general. 
LinkedIn includes a professional's employment history, skills, education history, and even the names of other professionals who trust their skills, making it the most practical choice for targeted social media marketing for B2B businesses.
Of course, Business-to-Consumer (B2C) businesses can see some real benefit from using LikedIn, as it allows marketers to connect with influencers and use their audiences on social media platforms in general.
How To Use It
Marketers that need to use this social media platform to expand their business need to be aware of the following steps:
First of all, a brand needs an attractive and informative business page. It needs to include a detailed summary of the brand, the values, and its services, all in one place. After all, LinkedIn is a platform that is built by and for professionals.
This platform is one of those where a tone adjustment is imperative, especially for brands that use more youthful platforms, such as Instagram. After all, when networking, people use a specific tone. This does not mean that brands should change their tone overall. 
However, brands need to make their values and message work in the context of a networking platform, through keywords relevant in their niche or even articles related to topics that would interest their target audience. 
Trick the Algorithm
LinkedIn's algorithm does not differ too much from the algorithms of other social media platforms.
Therefore, a business's posts need to contain the elements mentioned below to get more exposure:
Content should contain relevant keywords that resonate with the profiles of the brand's target audience.
Engagement and shares can help a brand go viral on LinkedIn, just like the rest of the social media platforms, as those rank higher.
Proper citation of sources that are valuable and credible gets more notice. Therefore, a brand needs to share a post from a website that is trustworthy and relevant to its niche.
Finally, marketers that would like to take full advantage of this social media platform for their business and score maximum engagement rates should remember that the best times to post on LinkedIn are in the morning around 7-8 a.m., during lunch break, or after the end of the workday (i.e., around 17:00-18:00 p.m.). 
Twitter
Twitter is a social media platform that is slightly different from the rest, as it is best for sharing messages with a low character count that can be comprehensive and make sense at the same time.
What Is Twitter?
As a social media platform, Twitter has managed to "star" in several posts and a wide variety of topics, from the entertainment industry to politics and finances.
On Twitter, businesses can follow competitors and other businesses in their niche and create exciting content that is helpful and easy to remember.
It can be very beneficial for all sorts of businesses, especially for businesses that can go viral with engaging content and marketing actions. 
How To Use It
Twitter has a unique way of "being on the move." Its feed updates regularly with tweets, retweets, and quotes, making things look more like a text-message thread and less like random social media posts. 
This gives Twitter's feed an advantage, seeing as a brand or a marketer is encouraged to tweet several times during the day, instead of posting a large block of text.
As with every piece of content, a brand is more than welcome to retweet an old tweet, especially one of those that got more exposure, and add to this piece of content with a new quote.
A brand or a marketer can also use some content from other businesses in their niche. This could come in the form of quotes or the form of Twitter feuds, an action proven to be very useful in terms of engagement, as brands using humor can create an excellent environment for it to flourish.
Marketers and brands that want to utilize Twitter's reach for their social media marketing plan also need to remember that images and hashtags on a post are just as important as original, relatable content that is keyword-optimized.
Trick the Algorithm 
Twitter's algorithm is not that different from the algorithm of the other social media platforms. 
It favors accounts that offer credible resources, native content designed and created exclusively for Twitter and, of course, posts that have high engagement rates.
Twitter's feed is chronological, meaning that the first posts on a feed, unlike Instagram or LinkedIn, are those that are most recent. If a marketer wants to take advantage of that feature, they should consider posting during office breaks, such as during lunchtime or after-work hours, like 5 or 6 p.m. 
Why Do Businesses Need Social Media Marketing?
Knowing why a business - particularly a small or medium venture - needs social media is more important than knowing how to use social media for business. It is the first step towards building the brand's strategy.
Social media marketing is, along with email marketing, one of the most affordable ways to advertise. A business account is free, after all. The real benefit here stems from the fact that the smaller a business is, the smaller its marketing budget. Therefore, the more it spends, the less the Return On Investment (ROI).
Social media accounts and a good social media strategy allow businesses to build awareness around their brand's tone, values, and name. Awareness and virality are the two most sought-after results of social media campaigns and are entirely possible when marketers engage prospects into a back-and-forth with the brand.
With brand awareness comes brand authority and vice versa. Businesses need to create useful, authoritative, original posts and allow prospects to interact with them regularly. This tactic creates the image of a brand that cares. Even more so, it suggests the brand wants to develop with its customers and for them.
Engaged customers are, after all, loyal customers. If a brand treats them like a part of their culture and allows their community to flourish, it creates a more "intimate" circle, especially if marketers decide to incentivize these efforts and get prospects to promote their brand's name to their social circles.
That way, the brand can get more exposure, and more exposure will surely bring in more appropriate prospects.
Lastly, social media for business, social engagement, and strong social media presence are not just significant ways to boost a brand's ROI.
Social media presence is one of the factors that influence rankings. Search Engine Optimization (SEO) is an essential strategy for building a brand and going viral, as well as one of the most cost-effective strategies.
Optimizing social media posts, blog posts, and a brand's website content overall for the keywords that a marketer is targeting is of great importance. 
So, sharing blog posts and website content on social media, apart from creating social media content, is one of the tactics that boost SEO efforts.
How Can Businesses Nail Social Media Marketing?
Social media for business can be a complicated affair, but not if a marketer breaks the process down in small steps.
First off, brands and marketers need to do some research and find the audience they need to "speak" to. Not marketing to the right audience results in loss of time, resources, and limited ROI.
The fact that different age groups frequent different social media platforms is not a new concept.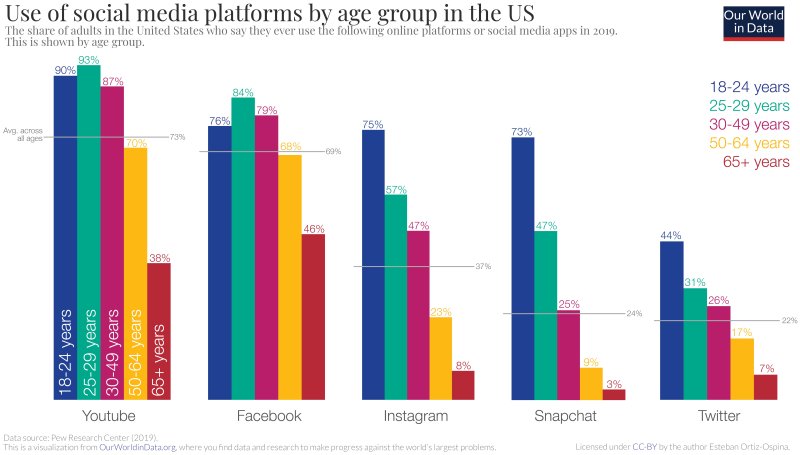 For example, if a brand's target audience is between 18 and 24, the brand ought to use Instagram marketing as the first social media marketing endeavor it is going to undertake, as evident by the graph above.
Of course, enticing the appropriate audience is not something that happens if a brand simply creates a profile on their preferred social media platform.
Creating a profile that corresponds with the brand tone and values the brand has set is of high importance. A consistent brand tone can boost recognition and trust between the prospects and the brand, thus increasing the emotional connection. What is more, a genuine and appropriate tone of voice can increase revenue.
Of course, that tone needs to be ever present when it comes to a brand's copy, content, and visuals. Consistency across platforms, visuals that correspond with the brand's colors and, of course, frequent posts are also crucial.
A consistent brand tone can boost recognition and trust between the prospects and the brand. 
Brands need to create content that represents their values, both visually and in terms of texts, blog posts, and everything in between. 
In reality, when used for business, social media profiles need to present an image that mentally - and practically - redirects the prospect to the website and make them think of the brand as a whole.
Of course, stunning visuals, colors that correspond with the brand's tone, and copy that attracts attention are not the elements that steal the show. A brand that is there to correspond with its prospects on a one-on-one basis, though, is.
Therefore, marketers, entrepreneurs, and solopreneurs need to remember that when utilizing the power of social media for business, they need to have a skilled social media team that responds to comments on the spot, creating a positive brand image.
Answering on a one-on-one basis can also boost exposure and help brands prevent a social media crisis, should that arise.
Lastly, marketers need to make sure to share content consistently and according to a schedule. That way, they can create all the right conditions for prospects to anticipate their content.
This is not an easy task, but a brand can always repurpose old content, break old blog posts down to digestible bits and pieces that can be shared on social media by marketers and prospects alike, and link back to the brand's website and landing pages.
Of course, posting content can be fruitless if the posts are not optimized for the keywords that perform best in the brand's niche specifically.
After all, prospects look for said keywords, and good rankings on Search Engine Results Pages (SERPs) are what allows them to stumble across each brand.
The Takeaway 
All in all, social media for business is not something too hard, but not something a brand or a marketer can take lightly.
It is wise to invest in AI technology, and marketers need to study their data and analytics, as those elements allow them to make informed and educated decisions and not just guesstimates.
AI, more specifically, can distinguish patterns that humans just cannot. This eventually creates segments that allow marketers to personalize their posts on a one-on-one basis and hyper-target their audience when it comes to content and paid ads.
High-performance, driven marketing actions stand out in the hectic world of social media for business. It takes a marketer with skill, proper education, and a knack for insightful and meaningful predictions to put everything together in a harmonious way.
The creation of all of the above, from branded social media profiles to posts that convert, is impossible without some excellent marketing education to back it up.
Programs like PLNU's Evening MBA can create all the conditions through which a marketer will be able to create, curate, and target the audience that will be spot-on for their niche. A program that offers in-depth business knowledge, inspiration, and teaches all the tricks of the trade is all it takes for marketers to turn social media for business to their playground.
About the Author 
Virginia Zacharaki is the Marketing Communications Associate of Moosend, a highly competitive Email Marketing, and Marketing Automation platform. Passionate about knowledge, art, teaching, and creating. Tends to live as a ballerina bookworm.