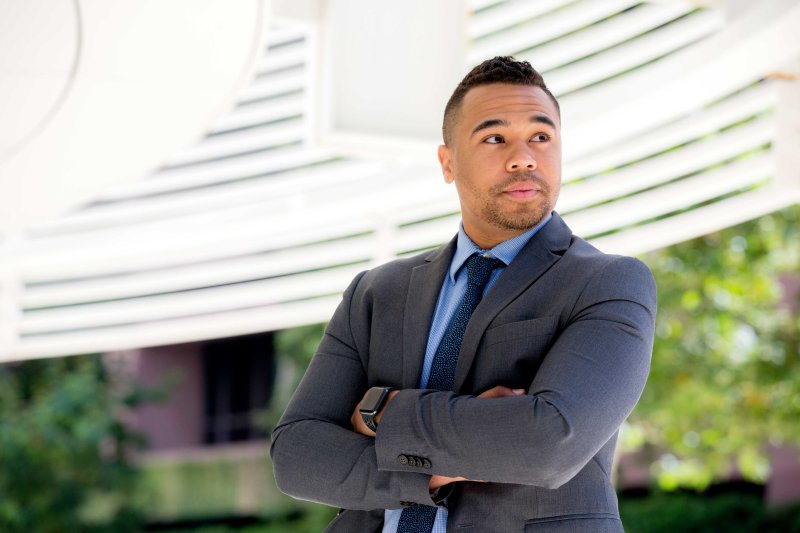 Not only did Jeremy Swift (03) not get paid for his internship at a startup email marketing company, but it also cost him. Every day on the job, he bought a downtown parking spot and a Starbucks latte for the boss as part of his internship agreement.
"I didn't care," Swift said. "I wanted to be part of something that was bigger than me and had potential for success."
He was a junior at the time and was eager to become part of the PLNU founding team of BlueHornet, an email service provider before the term existed. They approached San Diego churches and nonprofits and inquired, "What if you asked your congregation or donors for email addresses instead of sending expensive bulletins, mailers, and newsletters?"
"It was a massive shift and a massive cost savings," Swift said. "The idea of sending stuff to email was very foreign at the time." For Swift, the biggest draw was the team, and the idea of applying what he was learning in the classroom to the business world.
His investment paid off. In 2004 the company sold to Digital River, a publicly traded company. After the successful exit, Swift received a share of the profit.
"It completely charted the path that I've gone on professionally," he said. "When we step out, take a risk, act in faith, what comes out the other side is a better version of ourselves that God was looking to sculpt and mold us into."
Swift has gone on to start two new companies: Gelper, an app that uses business to benefit nonprofits and is currently in the beta test stage, and Cordial, a digital marketing company.
__________
Experience life-changing education.
Explore PLNU.
__________
"As an entrepreneur, you can't avoid taking risks," said Dr. Randal Schober, PLNU professor of management. He added that the type of risk taught in business classes is calculated risk, which involves looking at both how likely and how serious potential loss would be. "You do a lot of research to minimize your risk," he said.
An Entrepreneurial Mindset
 Dr. Jamie Ressler, PLNU associate dean of graduate business education, said thinking like an entrepreneur isn't just about starting a business. It's such an important skill that Developing an Entrepreneurial Mindset is one of the core courses of the PLNU MBA program. "Businesses want employees who can tackle problems a different way," she said, "and don't get stuck in 'the way that we've always done it."
An entrepreneurial mindset can translate to every area of life, according to Schober. "It's about not being content with the status quo. It's an attitude that challenges assumptions and has a healthy dissatisfaction with life — believing that you can improve the world and the lives of others," he said. "This can result in disruptive innovation that changes how an industry functions."
Ressler pointed to Taylor Guitars, a local San Diego guitar manufacturer, where she has taken PLNU students to visit. The company makes fretboards and bridges out of ebony, a wood used for most acoustic guitars in the industry. Ebony's history is bleak, as it has been harvested almost to the point of extinction in places such as Madagascar and Sri Lanka. Cameroon is now the only place where ebony can be sourced legally.
In 2011, Taylor Guitars partnered with Madinter, a Spanish company that distributes guitars and Tonewoods, to purchase an ebony mill in Cameroon to ensure fair labor practices. Soon after, when CEO Bob Taylor visited Cameroon, he discovered loggers would cut down tree after tree with marbled black and tan heartwood, and abandon them because they were worthless to the guitar industry, which favored solid black ebony. "We're talking about 300-year-old trees that are now rotting on the forest floor, because they have some variegations," Ressler said. After cutting an average of 20 trees, loggers would bring only two back to their trucks.
This was a startling realization to Taylor, who decided on the spot to no longer only use solid black ebony for his guitars and let hundreds of other trees go to waste. He has met with other guitar manufacturers in person to advise them to do the same.
"I can't in all good conscious know that we cut down 10 trees to get one black one and let that happen over and over every day, every month, every year, so we as guitar players can have ebony that is pure black. It's just wrong," Taylor said on the company's website. "The good news is that we found out that there's 10 times as much ebony as we thought was possible."
The bigger risk that Taylor has taken, other than going against the grain of black ebony, is in acquiring the mill in Cameroon at a considerable cost, which has improved working conditions, ordered lunches, and doubled worker wages. "Though he doesn't know if the investment will pay off," said Ressler, "Taylor believed it was the right thing to do."
This entrepreneurial mindset is what Schober helps students exercise in his entrepreneurship class, which he begins with a $5 challenge.
He passes out a $5 bill to every one of his students and gives them two weeks to use the money to create more. He explains that it's an interest-free loan that he'll want back on presentation day – unless students want to donate their proceeds to charity.
"We all have this ability to create," Schober said. "I tell my students that if God is the great Creator and we are made in His image, then we all have within us the ability to be creative."
One of his students, senior Emily Sauer, made cake pops, partnered with another student, and ended up having almost $100 to give to an autism foundation. She felt a twinge of embarrassment when she first tried to sell the blue-frosted pops or posted promotional photos on her Instagram feed. "It reminded me of my Girl Scout days," she laughed. But after two weeks, she and her partner were encouraged to keep selling for a week more so they could continue to earn money to give toward autism research. "It was a great introduction into having an entrepreneurial mindset in your own life," she said.
Schober admits that this mindset, which involves some level of risk, doesn't come easily for all his students. One woman bought a homeless man pizza, and later realized she missed an opportunity to be entrepreneurial and feed multiple people.
Are Successful Entrepreneurs Risk-Immune?
In his New York Times bestseller, Originals: How Non-conformists Move the World, Adam Grant, a professor at Wharton named one of the world's 40 best business professors under 40, wrote, "When we marvel at the original individuals who fuel creativity and drive change in the world, we tend to assume they're cut from a different cloth. In the same way that some lucky people are born with genetic mutations that make them resistant to diseases like cancer, obesity, and HIV, we believe that great creators are built with a biological immunity to risk."
Grant later goes on to say that this is a myth. "A growing body of evidence suggests that entrepreneurs don't like risks any more than the rest of us – and it's the rare conclusion on which many economists, sociologists, and psychologists have actually come to agree."
Grant used the example of Warby Parker, an online eyeglass retailer that launched in 2010. The founders, four young college grads, challenged the status quo of $500 eyeglasses by offering their glasses at a much more affordable price of $95 online. Plenty of naysayers questioned whether consumers would change their eyewear purchase habits. After two years of research into the eyeglass industry and collecting data from surveys and focus groups, the grads still saw a hesitancy to buy glasses online, but believed that a free home try-on program could persuade customers.
One of the founders, Dave Gilboa, said in the book, "By the time we were ready to launch, and I had to make the decision that this was something we were ready to do full time, it didn't seem risky. It didn't feel like I was taking a big leap of faith." Grant wrote, "The free home try-on program was so popular that Warby Parker had to temporarily suspend it within 48 hours of launch." The company has gone on to become a big player in the eyeglass industry, and is currently worth more than $1 billion.
Warby Parker employs hundreds of people and has distributed more than 1 million pairs of glasses to people in need in developing countries. Instead of giving away glasses, the company partners with a nonprofit called VisionSpring, which trains men and women to perform basic eye exams and sell glasses at a low price.
"Sometimes through disruptive innovation like Warby Parker, you can turn an industry on its head," Ressler said. "And companies that are run ethically can make a huge impact."
"A Growing body of evidence suggests that entrepreneurs don't like risks any more than the rest of us."
The Benefits of Risk
Fast forward one decade past the acquisition of BlueHornet, and Swift was "feeling the itch" to launch a new business again. This time, more was on the line.
He had a well-paying job at Digital River, a wife, and three children. When he and his wife, Audi, discussed the possibility of starting another digital marketing company with four other trusted colleagues from BlueHornet, they felt the time was right.
"When you calculate it, you say, 'We can't fail,'" Swift smiled. "And then two years in, you think, 'Man, I'm glad I didn't have any foresight into the challenges.'" At one point, Swift, as the CEO of Cordial, had to gather five of his employees in a small office while the remaining four joined via video chat, to announce that payroll would be deferred for a month. Swift wondered how his team would react. Would people leave? Would people get angry?
But instead, the trial brought unity.
"People asked, 'OK, what do we need to do together?'" Swift said. "It's something I pray I never have to do again. But those have been moments of God's refinement."
Schober, who has started several businesses, said that such risks build character. "It comes back to a Christian belief that God is in charge, and he will guide you in the good times and mold you in the tough times," he said. "Character is built when we trust in God."
The venture has brought to Swift's life more dependency on God, more frequent devotional time, more prayer time with his wife, and more creativity with how his family spends money.
"Comfort, for us, has often brought complacency with our relationships with the Lord," he said. "But God is shaping and forming new habits in us. I would choose this path 100 times out of 100, even though I was comfortable before. We don't feel we were put on this Earth to be comfortable."
And while Cordial may not be comfortable, it's definitely exciting. Every employee has equity in the business, and the team is developing new technology that could lead to another major shift in the way that businesses, churches, and other nonprofits communicate with their customers.
"Life is only truly lived when we are willing to fail," Schober said. "There are no guarantees to life's outcome, but on our deathbed we will only regret the things we never tried, not the things we tried, failed, and grew from. Without risk, life isn't truly lived."
"It comes back to a Christian belief that God is in charge, and he will guide you in the good times and mold you in the tough times."
How to Take Smart Risks
We're all at different points on the risk spectrum. And sometimes, someone who will slackline over a giant ravine will not muster the courage to ask for a promotion. So wherever you find yourself, don't worry. Here are some ways you can grow in your ability to take calculated risks in whatever area you choose.
1. Know Yourself

Some people are born cautious, and others develop a fear of risk over time, according to Dr. Daniel Jenkins, PLNU professor of psychology. Several factors can contribute to how comfortable you are going against the grain, but if your discomfort comes from past hurts, Jenkins recommends seeking out a trusted therapist.
"Unresolved trauma can create anxiety that can prevent someone from taking risks," he said. "Therapy can help people get off the fence."
2. Team Up

No matter how you hope to push yourself, friends can be a big help. For business ventures, Dr. Randal Schober, PLNU professor of management, recommends getting a partner. "Find someone more risk savvy than you," Schober said. "Identify your weaknesses, and find someone who can fill in the gaps."
Even if you don't end up having a business partner, ask someone to mentor you, tell friends your struggles and fears, and ask people to pray for you on your journey.
3. Read Book on Risk

You won't find a shortage of books on how to step out of your comfort zone. (Apparently, you're not the first risk-averse person in the world.) Entrepreneur Jeremy Swift (03) recommends Love Does by PLNU adjunct business professor Bob Goff.
"I want to mirror what Bob Goff said, 'Live on the edge of Yikes,'" Swift said. "I've found that doing this can unlock a drive, work ethic, discipline, and passion that you never knew existed."
Other good books on risk include The Icarus Deception by Seth Godin, Failing Forward by John Maxwell, and The Art of War by Sun Tzu.
4. Start Small

Just because you want to start a bakery doesn't mean you need to buy a $16,000 mixer, rent a space, or have a website. Bake in your kitchen and sell your habanero chocolate cookies at a local market. As your capital increases, you can slowly grow your business. "When you start small, your risk is small," Schober said.
5. Rethink Failure

Did you know that Oprah Winfrey was deemed "unfit for TV," Winston Churchill failed the 6th grade, and Walt Disney apparently "lacked imagination and had no good ideas?" If you google "failure to success stories," you'll end up with hundreds of similar stories that make failure not seem like such a big deal.
Make a list of times you have failed. What happened? Did anything good come from those experiences? Reframing how you see failure may help you step out in ways that can influence others for good and bring about positive change.
Unlock the Next Level of the Entrepreneurial Mindset
If you feel a call to change the status quo, consider earning your MBA or earning a Master's degree in Organizational Leadership. Many successful business professionals and entrepreneurs have pursued graduate business education to help them gain the skills necessary to take their entrepreneurial mindset to the next level.