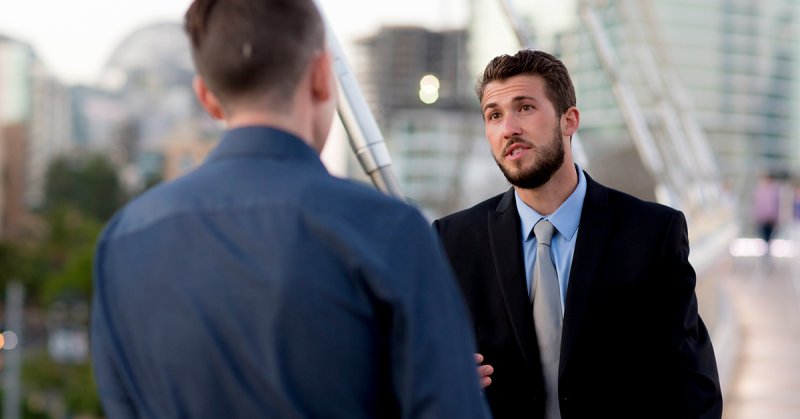 If you are interested in working in a business management or leadership role, you have probably thought about the specific career you would like to pursue.
Business Management and Leadership Degrees
According to the Bureau of Labor Statistics, all business and financial occupations—from financial advisors to training and development specialists—are projected to grow 7% between 2018 and 2028. The projected job outlook for these careers is higher than that of average careers, as the field continues to grow and demand more qualified managers and leaders. If you have considered pursuing a position as a leader in any type of organization, you may have explored the option of earning an advanced degree in business management or leadership. 
Whether you have been working in the business industry for a while or have just graduated with your bachelor's degree, pursuing a master's degree can yield many benefits. The National Center for Education Statistics reports that 23% of all students who earn a master's degree in the U.S. pursue a degree in business. Over the span of the last 20 years, the number of annual business degree graduates across the country has grown from 120,000 to almost 200,000. 
__________
Experience life-changing education.
Connect with PLNU.
__________
Defining MBA and MAOL Degree Programs
If you want to advance your career in your current company, potentially earn a higher salary, or step into a leadership role in a new organization, you may want to start looking into what type of master's degree program would be the best fit for you. 
You may already be familiar with a Master of Business Administration (MBA) degree since it is prominent and well-recognized within the business world. During MBA programs, students develop a foundation in different business disciplines, including marketing, finance, and economics. They become familiar with the science of business and how to use data and information to make strategic decisions for the companies that will employ them. 
Another degree program growing in prevalence across the country is the Master of Arts in Organizational Leadership (MAOL). Rather than focusing on business structures, students in MAOL programs learn about the human processes that comprise organizations. They study how group interactions impact individuals, concentrating on the ethics and psychology of human behavior. If you pursue an MAOL degree, you will learn about making organizational changes, navigating human resources, and implementing project management in the workplace.  
MBA and MAOL Similarities
Before taking a deeper look at specific differences between an MBA and an MAOL, it can help to examine the ways in which the degrees are similar. Overall, when it comes to earning a master's degree, graduate degree holders make an average of $17,000 more than their coworkers with bachelor's degrees, on an annual basis. This salary amount can vary based on geographic location, company, years of experience, and other factors. Some individuals earn a higher amount and others earn a lower annual salary. However, earning either an MBA or MAOL will usually help you earn a higher wage. 
Pursuing an advanced degree typically helps with job advancement as well. If you are interested in moving up the ladder in your current company or transitioning into a higher position in a new company, earning a graduate degree, can demonstrate your commitment to gaining specialized knowledge and enhancing your credibility. Both MBA and MAOL programs allow you to hone your skills in a specific field and increase your competitiveness. 
Business Management vs. Organizational Leadership 
When it comes down to making a decision between pursuing an MBA or MAOL, it is essential to consider the differences between the programs. While many of the outcomes of a business degree are similar to those of the MAOL, an MBA degree program will focus more on developing your analytical skills for corporate management. Accounting, economics, finance, information technology, and other related courses will teach you how to analyze data for the purpose of making business decisions or solving problems. 
When it comes down to making a decision between pursuing an MBA or MAOL, it is essential to consider the differences between the programs.
While an MAOL program will also include essential business-related skills in its coursework, the emphasis of an MAOL degree is helping you develop skills like leadership, interpersonal effectiveness, social management, and organizational fluency. Organizational leadership orients itself more with professional development, effective communication, and quality human resources than it does with learning strategic business tactics. 
Quantitative vs. Qualitative Skills
When you begin to examine business management versus organizational leadership, one of the most significant differences is that MBA programs have more of a quantitative approach whereas MAOL programs are more qualitative. If you find that you are more people-driven and motivated to make  personal connections at work, you may be more invested in the qualitative aspects of an organization. In an MAOL program, you will learn how to lead, inspire, and retain employees in all kinds of work environments. 
An MAOL program can help you cultivate leadership capabilities and pursue a more diverse range of careers. While you can work as a business manager with an MAOL, you can also advance your career as a nonprofit organization leader, training and development specialist, school administrator, or human  resources manager, among other career options. If you want to better understand how you can apply organizational change to a company or organization, you can benefit by learning how to practically apply management philosophies to the workplace. 
MBA vs. MAOL at PLNU
If you are weighing the benefits of earning an MAOL versus an MBA degree, it can help to explore the degree program options at Point Loma Nazarene University. The university offers two MBA options for graduate students. The Daytime MBA Program provides a great option for students looking to enroll full-time and graduate in 12 months. On the other hand, the Evening MBA Program is a better option for working professionals who prefer to take classes in the evenings. Since the program is adjusted to accommodate a busier schedule, graduate students are enrolled in the part-time program for 24 months.  
The Organizational Leadership, M.A. degree program is the best option for graduate students interested in leading social change within the cultural and political contexts of organizations. Over the course of 15 months, graduate students develop the posture and skills of servant leadership in the hybrid program that meets both online and in-person. 
If you have any questions about the MAOL degree program or MBA degree programs, you can contact Point Loma Nazarene University for more information. If you already know which degree you'd like to pursue, you can begin the application process today. 
About the Author 
McKenna Themm earned her Bachelor of Arts in Literature and Writing and is currently pursuing her Master of Fine Arts in Creative Writing. She works as a freelance writer and lives in San Diego, California.