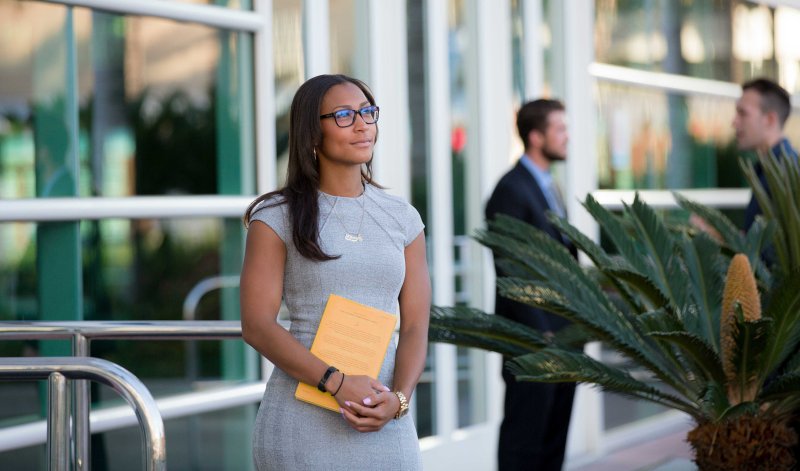 If you have any connection to the business industry, you've most likely heard about an MBA degree. Perhaps you know a coworker or friend who's earned one. But what exactly is an MBA?
MBA.com defines an MBA degree as "the world's most popular graduate management degree." With thousands of individuals who apply to MBA programs each year, the degree benefits both individual professionals and the businesses they work for. 
However, in a world where students and professionals can earn almost any type of undergraduate or graduate degree, why is an MBA so popular? Let's take a look at exactly what an MBA degree entails and how it can benefit you in your personal career.
Defined: What is an MBA Degree?
In the most straightforward sense of the definition, MBA stands for Master of Business Administration. Like many graduate-level degrees, an MBA is associated with professionalism, hard work, and commitment. An MBA specifically has many connotations relating to: business leadership, entrepreneurship, and business management.
__________
Become who are you called to be.
Pursue your purpose at PLNU.
__________
While over 1,000 MBA programs currently exist in the U.S. alone, Harvard introduced the first MBA program in 1908. After individuals and businesses alike began to see how business students benefited from the program, different universities, such as Point Loma Nazarene University, began to introduce their own MBA programs across the country.
MBA programs can be accredited by the Association of MBAs, the Association to Advance Collegiate Schools of Business, or EFMD Quality Improvement System. Additionally, the Fermanian School of Business' MBA programs are accredited by the Accreditation Council for Business Schools and Programs (ACBSP). However, even without this mark of approval, MBA degree programs hold high levels of credibility since they've been around for many years and empower hard-working and strategic business professionals.
How Long Does it Take to Earn an MBA?
MBA degrees have always been popular options for students and professionals interested in advancing their business careers. Students who graduate with a bachelor's degree in business may have a desire to apply for an MBA right after graduation. Others may want to gain a few years of experience in their field before earning an MBA. 
After finding a program that's a good fit, students can expect to spend about one year in a full-time daytime MBA program. Potential courses include: International Business, Leading with Service, Leadership Communication, Financial Management.
While a full-time MBA program can benefit individuals in many ways, taking 12-24 months to earn a graduate degree could be nearly impossible for working adults. Business leaders, employers, and employees alike might not have the financial means or desire to step down from their positions to work full time toward an MBA degree.
Due to this, evening MBA programs have grown in popularity over the course of the last several years. An evening MBA program takes about two years to complete, and even though an evening MBA takes longer than an in-person program, individuals appreciate having the flexibility to advance their careers while remaining employed at their companies or organizations. In an evening MBA program, students take courses such as Business Ethics, Legal Environment of Business, Corporate Social Responsibility, and Applied Research Methods.
Is Getting an MBA Hard?
Earning any type of graduate degree requires patience, dedication, and commitment. Workloads and classes are often more difficult than their undergraduate equivalents. However, while MBA programs consist of theoretical classes and assignments, they also offer practical lessons and projects. MBA programs are designed to help students approach real-world issues and identify solutions. 
Another question you might ask yourself could be: "Is having a successful business career hard?" In most situations, finding success in the business field can come down to how prepared you are for your role as a leader. By having a strong knowledge base in the field and developing essential skills, you can increase your chances of having a successful career you enjoy.
In most situations, finding success in the business field can come down to how prepared you are for your role as a leader. By having a strong knowledge base in the field and developing essential skills, you can increase your chances of having a successful career you enjoy.
MBA programs help individuals develop new perspectives about problems they've encountered in the past. For example, perhaps students dealt with financial obstacles in their entry-level business jobs. MBA courses are designed to help students enhance their accounting and economics skills so they're more prepared when they step into mid-level and high-level positions.
MBA professors also help students consider solutions to problems they haven't encountered yet. For example, perhaps students haven't dealt with supply chain management issues in past positions, but will deal with them in future roles. Different courses help students contemplate what kind of business leaders they want to become by teaching them how to manage employees, create business plans, and engage in strategic marketing.
Earning an MBA might be more difficult than earning an undergraduate degree in business, but that's to be expected. The stakes are higher and so is your potential to become a business leader. Putting in the time and effort to succeed in an MBA program can yield many long-term benefits.
How Will an MBA Benefit My Career?
Every person has a unique journey. Some people go straight from high school to college and graduate school. Others take time to gain experience in the workforce. Earning an MBA can help individuals jumpstart their business career or it can help experienced business leaders enhance their skills. 
An MBA can benefit you in many ways. If you've been working in the field for a while and have lost your drive for your career, an MBA can teach you innovative ways to address old ideas or problems. If you've been at a company for a while and want a promotion that always seems out of reach, an MBA can be a stepping stone to a more advanced role. Additionally, if you've been in the business industry but want to start your own company, an MBA can cultivate your entrepreneurial ideas and help you establish yourself as a business owner.
If you've been wanting to break into the business industry but aren't sure how to do it, earning an MBA might be a good next step. According to the Business School Hiring Report: Corporate Recruiters Survey by the Graduate Management Admissions Council (GMAC), "77% of the U.S. companies that responded to the survey planned to hire people with MBAs." Employers have witnessed the benefits of MBA programs for several decades now since programs help both young and experienced students develop management skills and leadership competencies.
Regardless of your educational background, an MBA can help you better understand business principles, communication tactics, business ethics, and international business skills.
What Is the Average Salary for MBA Graduates?
Pursuing a job for the sake of earning a certain salary isn't necessarily the best way to find a career you're passionate about. However, individuals who desire to pursue a career in business will be happy to know many management positions come with competitive salaries. According to the U.S. Bureau of Labor Statistics, professionals in management occupations earned an annual median salary of $106,760 as of May 2020.
Specific salaries can vary, based on the specific business or industry. For example, the annual median salary of financial managers is $134,180 while the annual median salary of sales managers is $132,290. 
According to the Graduate Management Admissions Council (GMAC) Survey, "median salaries for MBAs [are] $115,000 compared to $55,000 for bachelor's degree holders." While salaries can range based on job location, company, the specific position, and years of experience, the median salaries for MBA holders are higher than the median salaries of bachelor's degree holders.
MBA Programs in San Diego, California
Earning an MBA can have both short-term and long-term benefits for your life and business career. You can develop specialized skills, learn how to make sustainable data-driven decisions, and create solutions for complex problems.
If you've been looking for an MBA program in San Diego, consider looking into Point Loma Nazarene University's Daytime MBA program or Evening MBA program. With options to accommodate your life and work schedule, PLNU can help you take the next step on your journey in the business industry. For more information about how PLNU's MBA programs can help you, request information here.
If you've been considering the benefits of earning an MBA for a while and are ready to begin the application process, we invite you to apply and we look forward to meeting you.