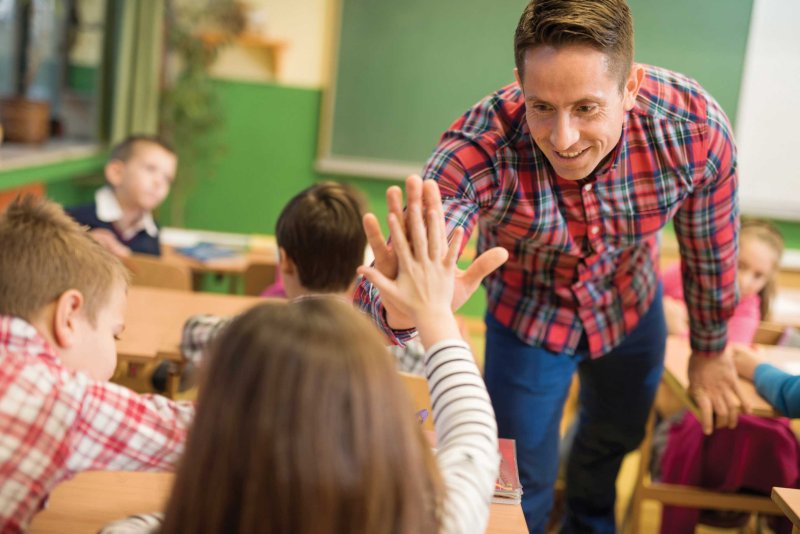 This guide will help you understand the steps you need to take to become a teacher (even if you've been doing something else). Maybe your path began in medicine or office management, the military or business. But something changed, and now you're thinking about education. You're wondering whether teaching is right for you.
You're also probably asking some other big questions, because changing direction comes with a lot of unknowns:
Before you make the leap, you need a few answers. That's why we're here to walk you through every step of the way.
Point Loma Nazarene University's School of Education has been preparing future educators for over four decades. Our graduates have done such an excellent job in their fields that local school districts now call us when they're looking to fill positions. Our faculty bring both passion and experience and have dedicated themselves to sharing it with you. And that's why we want to help determine if teaching could bring the challenge and satisfaction you seek. 
__________
Experience life-changing education
Pursue your purpose at PLNU.
__________
Will I Like Teaching? 
Though we can't answer that for you, there are many practical reasons for entering the field. Most teachers' eyes light up when talking about the satisfaction and purpose they feel in their profession. They describe that particular kind of joy that wells up as a child finally "gets" a difficult concept. They take pleasure in those spontaneous classroom moments when breakthroughs occur or when a student deepens their understanding of the world. 
Teaching is a string of moments — many exciting, some challenging — that allow a teacher to inspire learning, help students succeed, prepare young people for life, and ultimately find deep passion and meaning in the journey.
So why might YOU want to teach? 
Are you yearning for more meaning in your profession? 
Has someone complimented the way you work with young people? 
Are you looking to synchronize your work schedule with your own kids'? 
Is it your dream to be able to share your knowledge and passion for a subject with others? 
Or perhaps you are looking for more stability, benefits, or job security?
Meaning
By interacting with students on a daily basis, teachers form the kind of relationships that provide opportunities to mentor, encourage, and change lives. Teachers also get to talk about their favorite subjects and inspire their students to love learning as well.
How Do I Become a Teacher? 
Becoming a teacher in California requires a teaching credential through an accredited program. You must earn a teaching credential in order to teach elementary, middle, or high school students in a public school setting. Earning your credential can take 16-24 months depending on the type of credential and program, and how fast you can complete the program itself. Point Loma's education programs will prepare you to:
Manage a classroom.
Teach your chosen subject or grade level effectively.
Fulfill the requirements of credentialing.
And more!
How to Earn Your Teaching Credential
The path to becoming credentialed in California varies depending on what kind of education and experience you already have, as well as which credential you choose to pursue.
The steps you need to take in order to meet California teacher certification requirements are:
Meet education requirements: Earn a bachelor's degree or higher from an accredited college or university. 
Complete an accredited credentialing program: While in the program, you'll be offered support as you fulfill the additional requirements, which include:

Completing a student teaching assignment.
Getting tested for tuberculosis. While this is not required for a credential, it is required in order to enter the classroom as a student teacher, and is a simple procedure that can be administered at any clinic.
Depending on your desired career path, different courses and standardized assessments will be required. Your credential program will help you set up a personalized plan based on your background and teaching goals. For most people, these goals include:

Passing the California Subject Examination for Teachers (CSET), which evaluates your competency in the subject area(s) that you'll be teaching.
Completing a Developing English Language Skills and Reading course, which focuses on comprehensive reading instruction.
Passing the Reading Instruction Competence Assessment (RICA).
Passing a course on the U.S. Constitution or an approved exam.
Completing a computer technology course that gives you skills in using current technology in educational settings.

Complete student teaching hours: Individuals in a teaching program must perform at least 600 hours of student teaching (fieldwork).  
Take and pass required exams: The California Basic Education Skills Test (CBEST) or the California Subject Examination for Teachers (CSET) are required exams all credentialed teachers must take and pass in order to teach in a California public school classroom. 
Apply for your certification online.
At first glance, the requirements may feel overwhelming, but a good teacher preparation program will provide the support you need to accomplish them all.
How to Choose a Credential
When considering the type of credential you wish to earn, think about the following questions: 
Do you like the idea of working with younger children? 
Would you enjoy teaching multiple subjects to one classroom of younger students? 
Do you prefer digging deeper into a single subject with older kids?
Are you called to teach children with disabilities who require special education?
What population of students do you imagine yourself teaching?
To teach in an elementary self-contained classroom, you'll need a multiple subject teaching credential. This credential allows you to teach multiple subjects in one classroom and is required in a kindergarten or elementary class.
To teach a single subject in a middle or high school, you'll need a single subject teaching credential. This credential authorizes you to teach in a specific subject area of your expertise (such as history or science) in a departmentalized classroom typical of middle and high schools.
To teach in a special education classroom, you'll need an education specialist instruction credential. With this credential, you specialize in a Mild/Moderate & Extensive Support credential. This credential allows you to work with students with special support needs — it also makes you a more competitive candidate when applying for a position in the California education system. 
How Do I Keep My Credential Current? 
Many careers have ongoing requirements for keeping professional certifications current. Teaching has a simpler process. Within the first five years of receiving your preliminary credential, you can earn the professional clear credential, which does not need to be renewed or upgraded. 
And while a great teacher never stops learning or seeking a deeper understanding of the profession, there are no further requirements for your credential after obtaining the clear.
Upgrading to the clear credential requires completing an approved clear credential program, which doesn't interfere with your ability to work full time. In fact, in many cases, local universities have developed relationships with public schools in order to offer clear credential classes in the evenings to cohorts of teachers from the same school. These valuable classes deepen your knowledge of pedagogy, creating inclusive environments for learning and working with special populations of students.
Your personal requirements for the clear credential depend on the path you took to obtain your preliminary credential. The details will be worked out under the guidance of your teacher preparation program. If you're unsure which credential is right for you, or you'd like to talk through the credentialing process, we'd love to answer your questions. You can receive free career guidance by getting in touch with a trained counselor.
How Do I Choose the Teaching Program That's Right for Me? 
It may be tempting to jump into a program for its cheap tuition or apparent ease. But the truth is, your preparation is critical to your success. Arguably the biggest factor in how smoothly you transition into full-time teaching is how prepared you are — how organized, how well you understand the expectations, and how many "tools" you have in your teaching toolkit.
Watch our video below to learn more about how Azucena Gonzalez found her calling in education.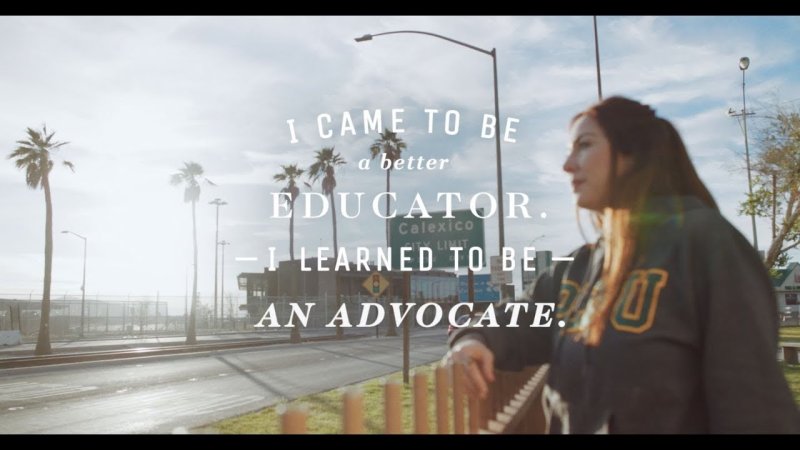 When determining which program is right for you, consider the following questions:
1. Do you already have a degree? Or do you need to complete your degree and credential at the same time?
There are two types of teacher preparation programs: one provides you with a credential only, and the other provides a way to earn both a degree and a credential together.
2. What kind of reputation does the college or university have with school districts in the area?
Graduates from programs that produce excellent teachers are in demand. In fact, this could make all the difference in landing your first job. Some universities actually receive calls directly from district human resource departments asking for students or graduates to hire for internships or permanent teaching positions.
3. When do you begin student teaching, and are you given preparation prior to entering the classroom?
Some programs get you into the classroom immediately; others first require the completion of several units. How comfortable you are with either approach often depends on how much time you've spent in a classroom already, for example, from volunteering in your own child's class or working in a youth-related or after-school program. If you don't have prior experience, you may prefer to acquire some preparation and support before you start student teaching.
4. How big are the class sizes, and to what degree will you be mentored by your professors?
Smaller classes and a more intimate learning environment build camaraderie among fellow teaching candidates as well as offer more opportunities for direct mentorship by professors. Smaller class sizes also allow for more personalized attention and support as you navigate the challenges and requirements of the credentialing process.
5. Do you prefer learning online or in person?
Many people find the relationships they have with their peers and professors are critical to their personal growth as future teachers. Being able to walk in with a question and receive an immediate answer or guidance can make all the difference in achieving your goals. Online programs don't always provide the kind of interactive learning that classroom programs do. In considering an online or hybrid program, ask about how students receive support and nurturing.
6. Does the program offer any test preparation guidance, student teaching seminars, or other professional development?
Some programs go beyond the preparation provided in formal classes by offering additional free trainings throughout the semester, as well as personalized career counseling.
How Can I Afford My Teaching Education? 
Teacher candidates who already have a bachelor's degree may apply for an internship at a public school. Internships allow you to work as a teacher, satisfying your student teaching requirement while getting paid.
Substitute teaching is also an option. Substitutes choose whether or not they wish to accept an assignment, which could be a single day, several days, or long term, as in the case of parental leave. 
In the majority of cases, substitutes receive an automated call early in the morning with an assignment for that day which can be accepted or declined immediately. Substitutes often become known with certain schools, which could potentially lead to a future long-term hire. In order to substitute, you must apply separately to every district in which you wish to work.
There are scholarships, loan forgiveness programs, and federal grants that incoming teachers can apply for to fund their teaching education. The Teacher Education Assistance for College and Higher Education (TEACH) grant, for example awards students completing coursework to begin a career as a teacher as long as the individual agrees to teach in a high-need field for at least four years after graduation. There is also a California Golden State Teacher Grant for educators in the state of California. 
Helpful Resources:
How Do I Land My First Job as a Teacher? 
While a great teacher preparation program will guide you through this process, there are still a few things that are good to know. School districts post openings as well as on the education job site EdJoin. Each district will require a separate application.
Before you enter the classroom, you'll also need to be fingerprinted and have a background check through a Livescan service in your area. Your program should help you through this process. A TB test is also required, though you'll have completed this prior to beginning your student teaching.
Now that you know, are you ready to make the leap? 
If you still have lingering questions or doubts, we're happy to help! PLNU's School of Education supports students through every step of the journey — from those first seeds of interest to the acceptance of a permanent teaching placement. We'd love to help you determine your next steps.
Speak with an admissions counselor