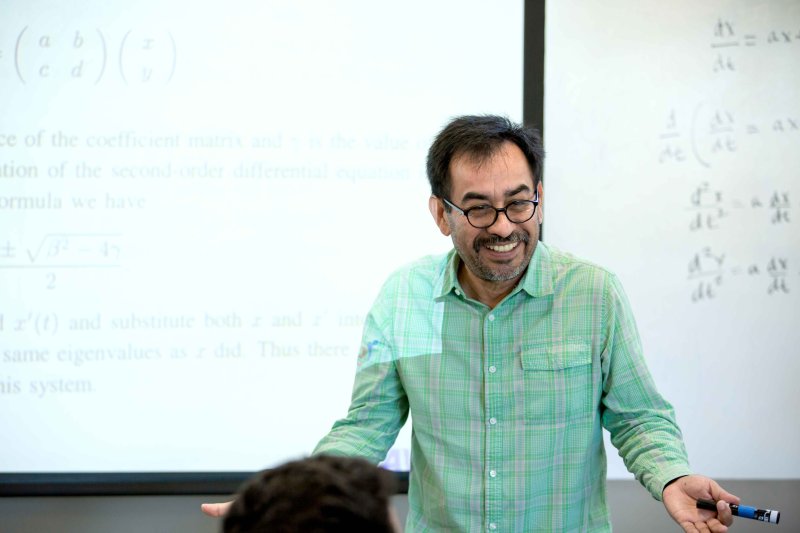 Earning a Master of Arts in Teaching opens a wide variety of job doors and learning opportunities that can expand your skills as an educator and lead to higher salary options. One of the most appealing aspects of earning an M.A. in Teaching is that no previous teaching experience is required!
Once you earn your degree, you're also not required to work in the education field or pursue a job in teaching. The versatility of this degree and the doors it opens for current as well as prospective teachers is what makes an M.A. in Teaching a smart investment in your future.
Why get a master's degree in teaching?
Among the many reasons to consider earning your master's in teaching, perhaps the greatest is setting yourself apart from others in your field. While that may seem like a simple observation, the National Center for Education Statistics shared in 2018 that 58% of elementary and secondary level educators had earned a post-baccalaureate degree, and more than half of all educators at the public school level had earned their secondary degrees after receiving a bachelor's. This follows an increasing trend in the average standard for education with more individuals earning master's degrees, with more teachers earning master's degree to become eligible for higher pay.
Beyond setting your resume up for success, a master's in teaching is a unique degree path, with curriculum options specializing in single subject, multiple subject, and specialists from moderate to severe to better tailor your experience. Many programs are less than two years in length while other master's degrees can take up to three years to finish. 
Furthermore, with an M.A. in Teaching, you can feel confident during the job search process that you'll qualify for a higher salary. Teachers with a master's degree of any kind have higher salaries, with those in California making slightly more than the national average. Your salary might vary slightly depending on the positions you apply for, but overall you can negotiate for more money during the interview process.
What can you do with a master's degree in teaching?
Graduates with a master's degree in teaching have the flexibility to work in many nuanced areas of education including elementary, post-secondary or college, kindergarten, administration, special education, adult literacy, and even coaching. Each of these positions varies in level from instructor to administration. 
__________
Become who you're called to be.
Pursue your purpose at PLNU.
__________
And while the career opportunities for a master's degree in teaching are usually connected to the education sector in some way, there are many amazing career paths that don't directly involve teaching. You can use your degree to become a journalist who covers the education sector. You can write for a magazine that focuses on teaching or the latest updates in technology applicable to educators. A master's degree in teaching can also act as a catalyst to build on a degree you've already earned. For example, if you earned your bachelor's in biology you can use an M.A. in Teaching to work in educating future biologists.
In some professions, a Master of Arts in Teaching is considered a terminal degree, meaning once you earn it you're qualified to teach certain subjects without having to earn a doctorate.
Careers in education besides teaching
You can explore career opportunities in instructional design, curriculum development, counseling, and even psychology with a master's degree in teaching. An M.A. in Teaching provides you with invaluable skills to transition into the next phase in your career as well as a network to support you along the way. 
Being a teacher is an amazing and rewarding career experience. However many educators end up working in other sectors even after teaching full time.
M.A. in Teaching salaries by state
Master of Arts in Teaching salaries vary by state and by experience level. While you may be educating individuals, the standard for how and at what level creates differences in salary. For principals at the public school level in 2020, the highest paid individuals worked in the District of Columbia with a starting salary of $56,000 and a top salary of $116,000. The lowest paying state, Montana, came in at $32,000, almost half the starting salary in D.C. California is also one of the top-paying states with an average annual salary of just over $77,000. 
Regardless of the state where you plan on working, a master's in teaching not only prepares you to teach but also bolsters your resume and qualifies you for higher salaries in general.
Master's in teaching and credential programs
Like any master's or secondary degree, there's a wide variety of M.A. in Teaching programs and credential options. The opportunities for earning your master's in teaching range from 12 to 18 months and up to two years. Most major accredited universities have master's in teaching or education options with flexible paths that are part time and full time. 
PLNU's M.A. in Teaching program, for example, offers 18-month and 24-month options for completing your degree with hybrid instruction of coursework both online and in person. This master's in teaching program also includes opportunities to earn teaching credentials approved by California in single subject, multiple subject, and education specialist in mild/moderate and moderate/severe tracks
Earning a secondary degree at PLNU also means you'll develop a network of colleagues and cohort members in multiple prosperous school districts. These areas include the San Diego Unified School District, which is one of the largest school districts in the state of California and Southern Kern Unified School District. PLNU's Bakersfield campus provides opportunities to earn this degree while building connections in the Kern County school district.
If you end up earning your teaching credential in a state other than California you may also be able to apply for a reciprocity agreement. A reciprocity agreement means your credential may transfer to California without going through the licensing process again. There are some stipulations around length of experience in teaching and the type of credential you've earned so be sure to explore all of the options. 
Pursuing a Master of Arts in Teaching can provide you with the skills, experience, and education to earn a better salary and work in more competitive school districts. Additionally, this degree is extremely versatile and can be applied to more than just the teaching field. Check out PLNU's M.A. in Teaching degree to discover more about earning this degree in San Diego, Bakersfield, or elsewhere. Or apply now to start your journey toward a fulfilling and unique degree.