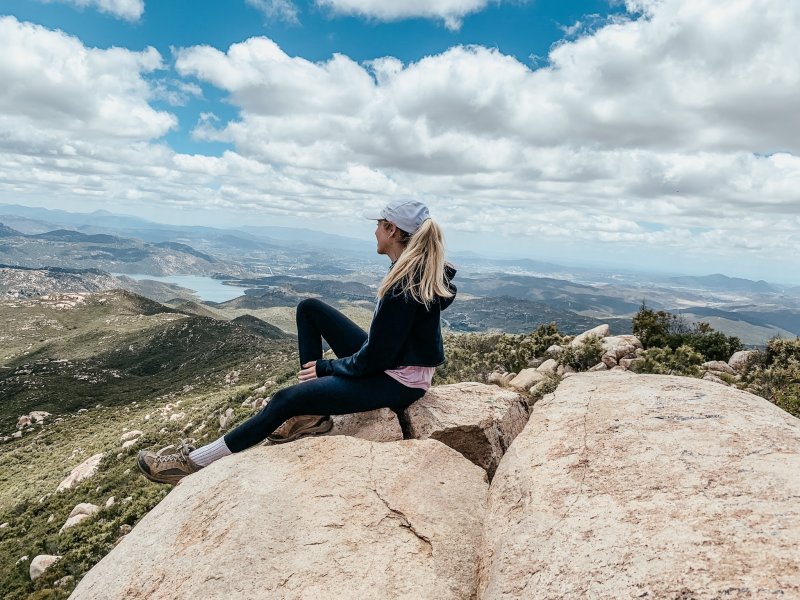 When you begin to think about San Diego and what there is to do here, the first thing that comes to mind for most people is the ocean or surfing. But, did you know San Diego actually has a ton of other outdoor activity options too? Like hiking!
Hiking is a great form of exercise as well as a perfect opportunity to connect with friends or nature.
There's an overwhelming amount of hikes located around San Diego, but let's discuss the 10 best hikes in San Diego County, ranked from easiest to hardest.
Easy Hikes in San Diego County: Beginner Level
These gorgeous hikes are for any level. Some are even wheelchair-friendly! Torrey Pines, Cabrillo National Monument, and Sunset Cliffs all offer insane views along the way, and each makes for a great place to watch the sunset.
1. Torrey Pines
Located along the coast of La Jolla, Torrey Pines State Reserve offers a good amount of trails that snake together. Most of these trails are flat the entire way. But if you want to add some incline to your hike, it's recommended to park along the beach down below and hike up from there.
There is free parking along North Torrey Pines Road or there is a paid parking lot at the end of the road where the hike begins. Prices vary from $15-$25 per vehicle depending on demand.
If you're looking to take it easy, then drive up to the top to skip the steepest part of the hike. Peek at the visitor's center and start your hike from there.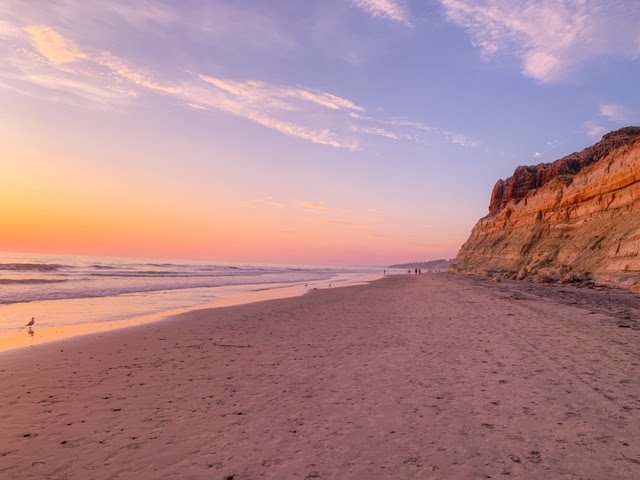 The Visitor's Center is open from 10 am-4 pm with guided walks Friday-Sunday starting at 10 a.m. 
The most popular trail is the Razor Point trail, a 1.3-mile long hike that offers some great views. This route begins near the Visitor Center parking lot.
2. Cabrillo National Monument
Cabrillo National Monument is located right at the tip of Point Loma and is easily accessible to anyone. As a heads up, you do have to pay a small fee to enter this monument.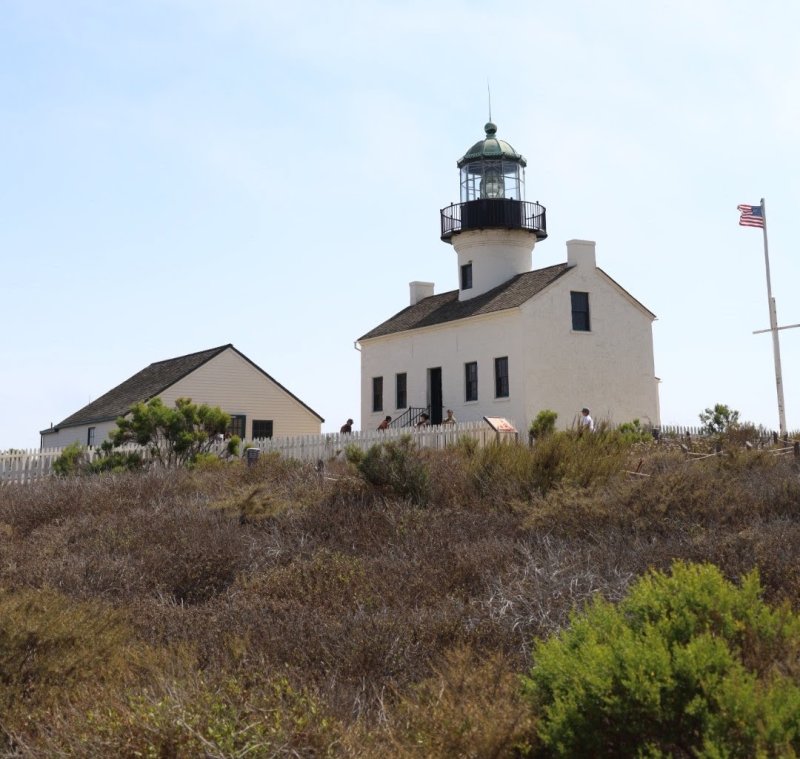 You can easily spend hours just walking around the grounds of Cabrillo reading about its history or you can drive down to the bottom of this area and do the one-mile-long tidepools and coastal trail.
Be sure to look for starfish along the way!
3. Sunset Cliffs
Sunset Cliffs is located just below Point Loma Nazarene University, and while it doesn't have a "hiking trail" itself, the cliffs alone make for a beautiful and easy walk or hike.
Take a sunset walk all along this coastline — you won't be disappointed. If you're lucky, you may even find the hidden swing at the end of Sunset Cliffs.
Moderate Hikes in San Diego County: Intermediate Level
These hikes are for your casual hiker who's looking to get out there and experience some new trails.
4. Cowles Mountain
One of the most popular hikes in San Diego County is Cowles Mountain. There are a few routes to the top, but the most popular starts from the parking lot off Navajo Road. This dog-friendly, 2.9-mile roundtrip hike makes for a great sunrise hike, and lots of people actually run the trail at sunrise for their exercise.
Cowles Mountain is part of the Mission Trails five-peak challenge, so if you feel inspired, maybe you can do all five hikes one day.
5. Iron Mountain
Located in Poway, Iron Mountain is a great place to see some wildflowers during the spring season. This 5.6-mile loop trail starts out flat then quickly begins to incline to make it a moderate-level rated hike.
If you plan to do this hike, it's recommended to go on a weekday vs. a weekend to avoid the extra crowds.
6. Los Peñasquitos Canyon
Although the Los Peñasquitos Canyon trail is relatively flat the whole way until you reach the end, where the terrain becomes a bit rough. At times, you'll be walking over loose gravel, making it difficult on the feet and ankles.
This 4.7-mile hike is still a great hike for kids and families as there are lots of stops, creek crossings, and offshoots you can make along the way.
7. Stonewall Peak
Located out near the town of Julian, the Stonewall Peak hike offers something a little different. In the winter, this hike can be covered in snow and can make for some beautiful pictures. Be careful though, as the rocks at the end of this hike to the peak can become very slippery!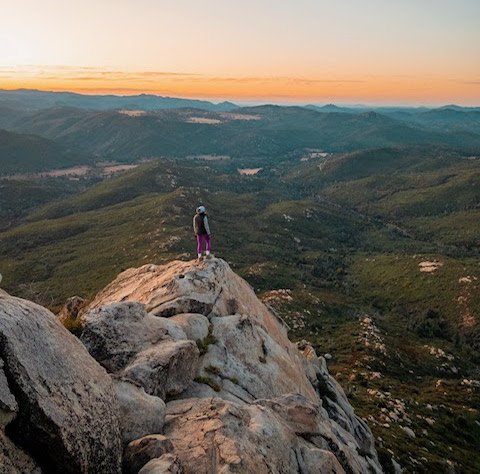 Along the way, you'll see views of the Cuyamaca Mountains, and once you reach the top you'll even be able to see the desert of Anza Borrego. Stonewall Peak is 3.8 miles long.
After you've completed your hike, reward yourself with a famous Julian apple pie!   
Hard Hikes in San Diego County: Experienced Level
These hikes should remain reserved for those who have hiked before and feel comfortable doing something a bit more challenging. If you do attempt these hikes, please make sure to bring plenty of water and start the hike as early as possible.
8. Mt. Woodson 
The classic "Potato Chip Rock" hike. You've surely seen photos of people sitting on a very thin-looking rock that juts out into the sky. This hike is otherwise known as the Mt. Woodson hike and is known for its classic Instagrammable photo opp.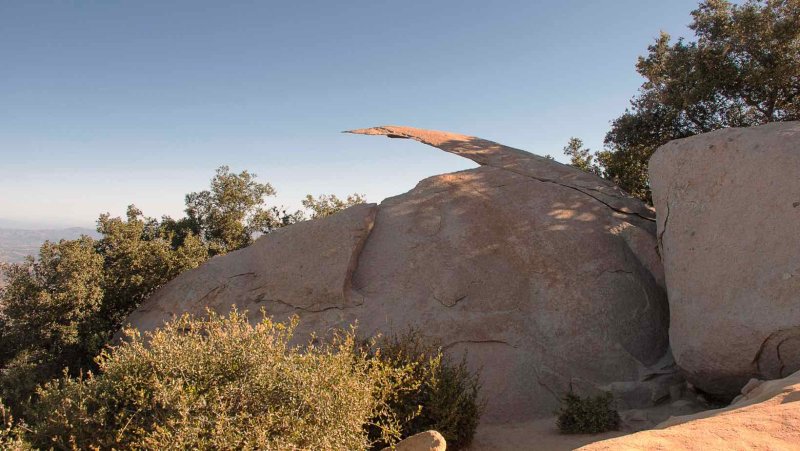 This is a strenuous 7-mile round trip hike with very little shade; therefore, it should be started early in the day and should be avoided in the summer months.
9. Cedar Creek Falls
Many seem to wonder if there's a waterfall hike in the area. So, if that's your question too, then Cedar Creek Falls is the answer. A permit is now required for this hike due to how popular it's become.
Again, a strenuous 4.2-mile roundtrip hike with very little shade. For the best chances to see the waterfall flowing, go a few days after heavy rainfall. Lastly, you're allowed to swim once you reach the swimming hole, but cliff-jumping is not allowed and is dangerous. 
10. El Cajon Mountain
Probably one of the longest and hardest hikes located in San Diego County, El Cajon Mountain in East County is 10.9 miles long and is one that will definitely require you to bring lots of snacks to re-energize along the way. 
Once you reach the top of this hike, though, you'll be rewarded with panoramic views!
San Diego County Hiking
Hiking a mountain can be no joke, so make sure to pick a hike you feel comfortable with, yet also feel challenged with. Make sure to bring plenty of water, avoid hiking in the middle of the day when the temperatures are more extreme, and remember to always follow the seven principles of Leave No Trace. 
And that's it! Which one of these hikes in San Diego County is your favorite and which will you be taking on in your next adventure?
Hike Around PLNU as Part of a Campus Tour!
If you are considering PLNU as the next step in your education, come visit our campus for a guided walking tour led by a current PLNU student.