Our Mission
PLNU exists to provide higher education in a vital Christian community where minds are engaged and challenged, character is modeled and formed, and service is an expression of faith. Being of Wesleyan heritage, we strive to be a learning community where grace is foundational, truth is pursued, and holiness is a way of life.
Vision Statement
PLNU will be a nationally prominent Christian university and a leading Wesleyan voice in higher education and the church — known for excellence in academic preparation, wholeness in personal development, and faithfulness to mission.
The university will be recognized for:
Spiritual vitality centered on the Lordship of Jesus Christ.
A robust scholarly community that promotes excellence in teaching, research, and service.
A collegial community characterized by civility and respect, where all members are valued and encouraged to fulfill their potential.
A distinctive undergraduate curriculum and co-curricular experience that offer a model in higher education.
Exceptional undergraduate programs preparing students for success in graduate school and their professions.
Select graduate programs of quality and professional relevance.
Participation and influence in professional and academic organizations at the national level.
Superior student retention and graduation rates.
A thoughtful articulation and consistent embodiment of a Wesleyan approach to faithful living.
Effective efforts in the development of pastoral and lay leadership in collaboration with the church.
An exemplary model of student engagement for service to community and church.
A source of expertise, resource, and involvement for the university's surrounding communities.
Core Values
Excellence in Teaching and Learning
Teaching and learning constitute the central and defining activities of PLNU. Faculty believe effective teaching includes maintaining a vital relationship with one's discipline, establishing a positive connection to students, and building bridges among the students as a community of learning with the academic material.
An Intentional Christian Community
We want students to be participants in a community of learning who intentionally think and behave as Christians in all their endeavors. Through many curricular and co-curricular activities, PLNU builds a community where women and men are challenged to explore ways to align their hearts and minds to that of Christ.
Faithfulness to Our Nazarene Heritage and a Wesleyan Theological Perspective
While working cooperatively with the whole church of Jesus Christ, we are committed to maintaining and celebrating our denominational ties with the Church of the Nazarene and embracing the distinctives of that tradition.
The Development of Students as Whole Persons
A complete education prepares women and men to live full lives that integrate the pursuit of knowledge with beliefs, values, and actions. Holistic learning prepares students to make a positive difference in the world.
A Global Perspective and Experience
Our students should be equipped to become "world citizens." The university provides academic coursework, international study, field research, and ministry experiences that aid students in becoming conversant with the complexities of life in the global community.
Ethnic and Cultural Diversity
We recruit women and men from a variety of cultural, ethnic, and socioeconomic backgrounds as students, faculty, and staff. A willingness to hear and learn from many diverse voices is foundational to a Christian liberal arts education and prepares our students to become truly educated people, equipped to live in a diverse society and world. We therefore actively pursue ideas, practices, and relationships that honor diversity and encourage engagement with others different from one's self to grow in community with and be reconciled to one another.
Stewardship of Resources
We are caretakers of all that has been entrusted to the university (people, facilities, money, and knowledge). We are to use these resources in a way that reflects the purposes of God and protects the goodness of God's creation.
Service as an Expression of Faith
We are stewards, not owners, of our time, talent, and selves. Part of our call as Christians is to serve the world, working to better the condition of humankind locally and globally.
Strategic Priorities
Rooted in our mission, vision, and university values, our strategic priorities build upon our successes to ensure the future quality and relevance of a PLNU education for all whom we serve. The rapidly changing context of higher education and the demands of an increasingly complex world require our planning and action to take a proactive approach to our future. While a strategic plan is not intended to describe all PLNU must do in its pursuit of mission and vision, it is intended to identify priorities that point us toward the institutional quality and vitality that will be necessary to effectively serve our students and communities. These priorities are the result of broad input from across the university, which also incorporated environmental scanning data to help provide the future context of our work. 
Preparing students as effective leaders in a rapidly changing world is not a new calling for PLNU; it is the foundation of our history and work. For generations, PLNU has developed students deep in faith and life skills who were academically well prepared to meet the challenges and opportunities of their day. The core needs for the future are similar, but the pace of change and the uncertainties of this age require a new educational agility, with increased student access points, creative learning modalities, and relevant learning outcomes if graduates are to effectively respond to the demands of their day.
PLNU's Four Strategic Priorities

Strengthen Our Distinctive Learning Community
To meet the educational needs of students in a rapidly changing world, we will innovate in our curricular and co-curricular programs to strengthen and enhance student learning.
Increase Educational Access
To meet the educational needs of students in a rapidly changing world, we will create opportunities and strategies to increase access to a PLNU education.
Foster Innovation and Agility
To meet the educational needs of students in a rapidly changing world, we will design proactive strategies that ensure effective educational programs and institutional systems are created to address the changing contexts in higher education and culture.
Demonstrate Accountability
To meet the educational needs of students in a rapidly changing world, we will continuously demonstrate and improve student learning and mission fulfillment through effective assessment practices.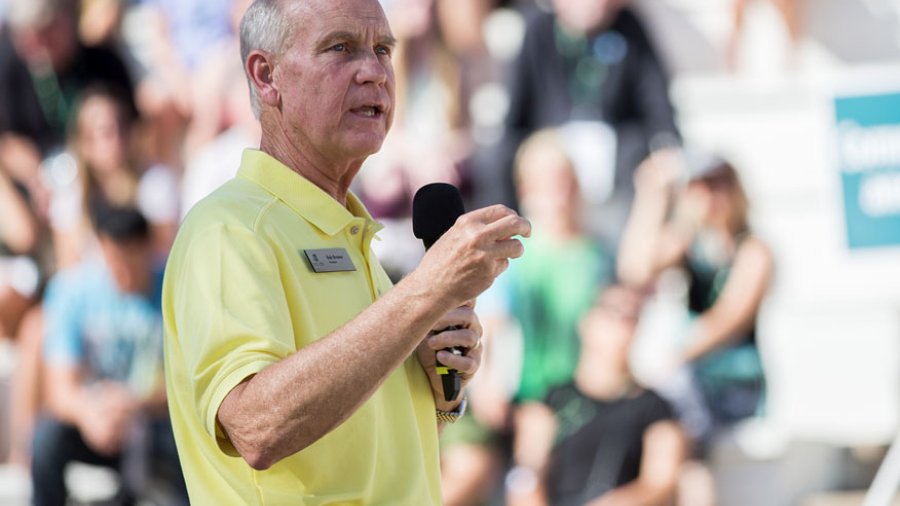 PLNU's Four Strategic Priorities
PLNU's strategic priorities identify what is necessary to expand the university's capacity to provide the kind of education that will prepare our students to affect the world for good.