Preparing for Commencement
Welcome graduates! Commencement is on its way; be sure to check back regularly for updates.
Preparing for Commencement
Check Your Student Account
Your student account must be paid in full to receive your commencement tickets and regalia, participate in the Commencement ceremonies, and receive your diploma.
Order Your Announcements
Announcements can be ordered online from CB Graduation Announcements or Herff Jones.
If you have any questions, please send an email to commencement@pointloma.edu.
Tickets and Seating
Tickets
General
Tickets are required for all convocations at Point Loma Nazarene University.
Each qualified candidate who will be participating in the Graduate and Professional Studies convocation on Friday, May 5 is eligible to receive 10 tickets.

Tickets for Spring Commencement will be available for pickup with Commencement Regalia. See "Commencement Week" for a complete distribution schedule.

Children age three and older are required to have a ticket.
Tickets allow guests access into the Greek Amphitheatre but do not reserve a specific seat. All seating is available on a first-come, first-served basis.
Tickets are not for resale.

All financial accounts must be paid before receiving commencement tickets.
Wait List
The waitlist is now open. Requests will not be accepted after Friday, April 21.
All requests for additional tickets must be made by the student.
Students who would like to be placed on the waitlist for additional tickets should contact Shelley Fruchey. Please provide your name, student ID number, degree/program/major, and how many tickets you are requesting.
The waitlist does not guarantee extra tickets will be available.
The waitlist is first-come, first-served.
Waitlist tickets will be distributed together with regular tickets and regalia.
Seating
The Greek Amphitheatre will open for seating one hour before the scheduled start time of each ceremony.
Seating for guests with special needs is available at the top of the north and south sides of the Amphitheatre.
Due to limited space, only one person may sit with the guest with special needs.
Guests may also view a broadcast of the Convocation in the temperature-controlled Crill Performance Hall.
For those who are unable to attend, a live webcast of the Convocation will be available online via a link on the PLNU commencement page.
Regalia
Regalia
General
Commencement regalia is ordered/purchased by PLNU for current eligible students.

The regalia you receive is yours to keep; you do not have to return it.
Each regalia package will include your cap, gown, and tassel. It does not include a stole. If you wish to purchase a PLNU stole, please visit our Common Knowledge Bookstore in-person or online.
Regalia will arrive pre-cleaned; there is no need to wash it upon arrival. 
The packing/shipping process will result in some creasing or wrinkling. Please remove the regalia from the packaging upon receipt and place it on a hanger.
To remove wrinkles and creasing, we recommend steaming the gown by hanging it near a shower or using a garment steamer. Ironing is not recommended as it may damage the fabric.
Students may choose to decorate their graduation cap if they wish. However, decorations should be tasteful and not present a hazard or viewing obstruction to fellow graduates or guests. The university reserves the right to request that a candidate remove their decorated cap if it is deemed inappropriate.
Honor Cords, Shawls, and Stoles
Honors applies to undergraduate students who have earned both a resident GPA of 3.500 or higher AND a cumulative GPA of 3.500 or higher.
Honor cords will be distributed to eligible candidates as follows:

Bakersfield Students – Honor cords will be distributed at the Records Booth on the west side of Peppertree lane on Friday, May 5 starting at 3 p.m.
All other Mission Valley, Community College, and Adult Undergraduate (Online) Students – Honor cords will be distributed with regalia and tickets according to the distribution schedule provided below.

Shawls are worn by international students, depicting their national origin.
Only university-provided cords and shawls will be allowed to be worn at the Commencement ceremony.
Students may wear one university-approved stole at the Commencement ceremony (nursing, athletics, or PLNU).
To purchase a PLNU stole, please visit our Common Knowledge Bookstore in-person or online.
LomaFirst Pins 
LomaFirst welcomes you to honor your first-generation college student status at Spring 2023 Commencement with a pin! You are welcome to wear these on your gown at the graduation ceremony, and pins will be available for pick-up on the day of your ceremony. Pins will be distributed next to the Records tent on Peppertree Lane according to the schedule below.

Who is a first generation student?
At the time that the student completed high school or high school equivalency, their custodial parent(s) or legal guardian(s) had not earned at least a bachelor's degree. This means that they are the first to attend a four-year university and obtain a bachelor's degree. Please know, we welcome anyone who self-identifies as a first-generation college student, this can include students whose parents did not earn a bachelor's degree in the US.

Why is this important?
First-generation students have done something amazing. Your hard work and perseverance have led you through your undergraduate degree, which is a huge accomplishment for you and your family! And with over 22% of our PLNU students being first-gen, this represents a significant portion of our student population! We are proud of you, and you should be proud of yourself!
Pick Up Your Cap and Gown (Regalia) and Commencement Tickets
The regalia distribution schedule for Spring Commencement is below:
Bakersfield Students
Tuesday, April 25 through Thursday, April 27 AND
Tuesday, May 2 through Wednesday, May 3
Hours: 9 a.m. – 6 p.m.
Located at the Bakersfield Office

All other Mission Valley, Community College, and Adult Undergraduate (Online) Students
Monday, May 1 through Thursday, May 4
Hours: 3 – 6 p.m.
Located in the first floor lobby of the Mission Valley Campus (4007 Camino del Rio South)

Any Student Unable to Pick Up Their Regalia, Honor Cords, and/or Tickets During Times Provided Above (LomaFirst pins will also be available at this time)
Friday, May 5
Hours: Starting at 3 p.m.
Located at the Records Booth on the west side of Peppertree Lane in front of the Early Childhood Learning Center playground.
Students must show I.D. (driver's license or PLNU student I.D.) when picking up regalia and tickets. All student accounts must be clear at the time of pickup. If a student is unable to pick up their own regalia and tickets, they can email the following with the name of the person who will pick it up. That person will need to show their own I.D. at the time of pickup.
Bakersfield – chart@pointloma.edu
ALL OTHER Students Walking on Friday, May 5 – gpsregistration@pointloma.edu
Before Commencement Day
Make sure you have all pieces of your regalia before traveling to Commencement.
Plan your Commencement Day attire.

Comfortable clothing under the robe is suggested.
Comfortable shoes are also recommended since you will be descending and ascending unevenly spaced steps in the amphitheatre.
If you have any questions regarding regalia, please send an email to commencement@pointloma.edu.
Commencement Day
In line with public health guidelines, PLNU requests that all students and guests attending Commencement monitor their health and take their temperature prior to arriving on campus. If you are unwell or running a fever of 100.0 or higher, please stay home. Persons at higher risk for severe symptoms of COVID-19 are also encouraged to stay home. We will be live-streaming the event via a link on our PLNU Commencement page.
Commencement Day
Commencement Etiquette
For the Convocations to be enjoyed by all and for everyone's safety, we ask you comply with the following:
Face coverings are encouraged but not required for students, guests, and staff while on campus.

Students who choose to wear a mask may remove their face covering as they reach the platform to receive their diploma cover and to have their photos taken if they wish.

Leave valuables with family members or guests prior to lining up for the academic procession. There will be no secured areas to store these items during the Convocation.
Cell phones and other personal electronic devices should be turned off or silenced for the duration of the ceremony. Before the Convocation begins, arrange a meeting place with guests for after Commencement and please resist the temptation to send text messages during the ceremony.
The items below are not allowed in the Greek Amphitheatre at any time before, during, or after the Convocation and will be confiscated by security personnel:

Air Horns, Cowbells, or Other Noisemakers
Confetti Launchers, Streamers, Silly String
Beach Balls
Drones
Pets

Each convocation should last between sixty (60) and ninety (90) minutes. If you should find it necessary to leave your seat, please notify one of the faculty marshals for assistance.
PLNU is a smoke and tobacco free campus. The University also observes a strict no-alcohol policy.
Lineup and Academic Procession
There is no rehearsal for Commencement. For the Friday convocation, you will begin lining up at approximately 4:45 p.m. Lineup will take place on Peppertree Lane (the main street throughout campus). Lists of names will be posted on green stanchions for each row of graduates. Faculty Honor Guards will assist you with the lineup and provide instructions for the procession. View details of the line of march.
Hooding
A hooding process is part of the ceremony. The hood, or the vestment of colors that fits around your neck and drapes down your back, is an important element of your regalia because its colors represent the university's degree. As you move to the platform and while you are standing in line waiting for your name to be called to receive your degree, members of the faculty will place the hood around your neck. In so doing, they will be investing you with the colors of your degree. This hood is also yours to keep.
In Case of Rain...
This is a "rain or shine" event. While we may experience a delay due to inclement weather, the ceremony will remain in the Greek Amphitheatre. Guests are encouraged to bring a hooded jacket and something dry to cover your seat if rain is expected.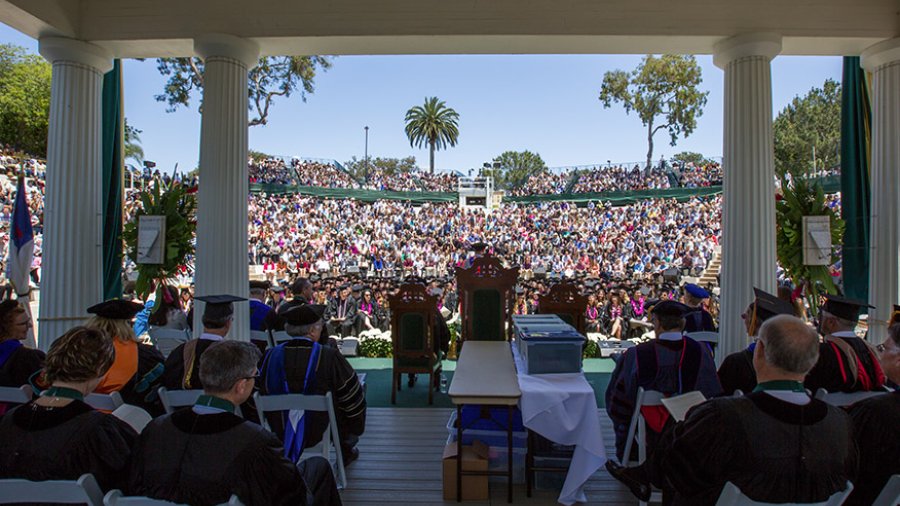 Additional Viewing Options
All ceremonies will be broadcast live in Crill Performance Hall (Cooper Music Center, adjacent to the Greek Amphitheatre), where additional seating will be available. Tickets are not required for entrance to Crill Performance Hall. This location is ideal for guests with special needs and those uncomfortable with prolonged exposure to the weather.

For those unable to attend, we will be broadcasting live on the Internet. A few days before the event, a link will be posted on the main Commencement website to access the live stream of the ceremony. That link will "go live" a few minutes before the start of each Convocation.
Following Commencement
Following Commencement
Diplomas
Since it is impossible to identify with certainty by Commencement Day the students who have completed all requirements, degrees are not posted until all final grades are received and Student Financial Services has confirmed a zero balance on your account. As you walk across the platform and greet the university President, you will receive a symbolic diploma tube or folder. To let the Office of Records know if you want your diploma mailed or would rather pick it up once it has been received, please complete a Diploma Mailing Request online. If your address changes from the original request submitted, please submit a new Diploma Mailing Request and email records@pointloma.edu to make us aware of the change. Once the Records Office has confirmed all requirements for graduation are complete and your balance is clear, your degree will be posted and your diploma will be ordered. It takes approximately 8-10 weeks after degree posting to receive and have it available for pick-up on the Point Loma campus or mailed to the address designated on the order form.
Saying "Good-Bye"
Students who are finishing all requirements for graduation on schedule will be withdrawn automatically from the university following the posting of their degree. It is your responsibility to return library books and settle student accounts. Failure to follow through on these details will make it impossible for the university to release diplomas.
Alumni Benefits
As new members of PLNU's Alumni Association, graduates are eligible to enjoy unique experiences and special benefits. We invite you to visit the Alumni Association website.
PLNU Email Address and Other University Technology Accounts
Your PLNU Google account will expire one year after graduation, along with other University technology accounts, such as Office 365. Once expired, neither your account nor the data stored in it will be accessible or recoverable. ITS will send multiple reminders to your PLNU Gmail account that will include the date when your account will expire. In addition, this FAQ answers common questions regarding this transition, including how to transfer your data to another account.