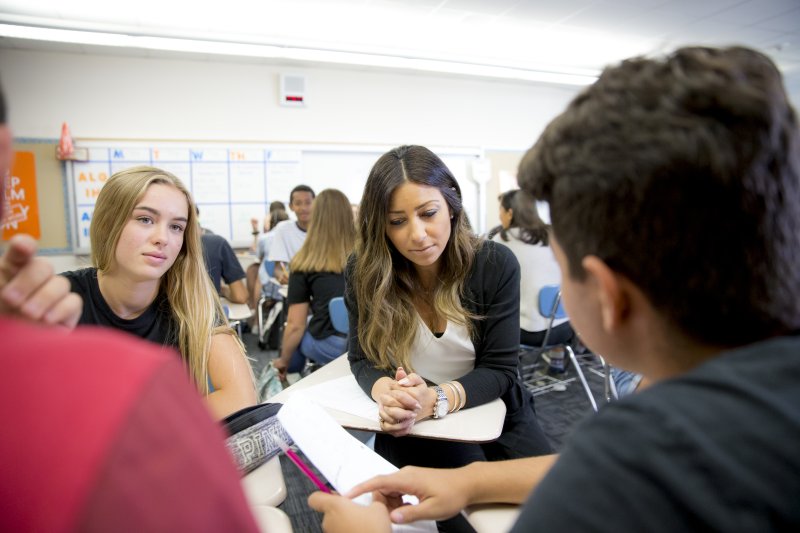 Are you a teacher looking to continue your educational journey? There are a variety of paths current educators can take in order to pursue career goals in education. PLNU offers resources and programs to help. Specifically, a master's degree in education may help you achieve your short- and long-term career goals as an educator.
Why Should I Get a Master's Degree in Education?
A graduate degree in education sets you up for better career success. Not only does it build upon the skills you acquired in a Bachelor of Arts or credentialing program, but it also helps you stay up to date with the latest theory and developments in your field. This specialized knowledge helps you be more attentive to student needs. You also benefit from the growing network of support you'll have access to as a graduate student and instructor.
In addition, earning a master's degree can have financial advantages. Teachers who hold a master's degree often receive salary increases compared to their colleagues who only obtain a B.A.
Pursuing a master's degree in education is not only beneficial if you are or want to be a K-12 educator. A graduate degree can also open doors for other career opportunities, such as administration and counseling. Furthermore, as a graduate degree holder, you can potentially teach higher education classes in community colleges and/or at two- to four-year public and private universities. Some faculty and staff job opportunities at this level include:
Adjunct professor
Part- or full-time lecturer
Undergraduate or graduate academic advisor
You can also decide to complete a Ph.D. program after earning your master's. Doing so would make you eligible to apply for tenure-track teaching positions and upper administrative roles in schools and universities.
6 Types of Master's Degrees in Education
As mentioned above, you can choose a  degree program that fits the trajectory of your individual career goals. PLNU's School of Education offers six degree paths across our various campuses in San Diego, Bakersfield, and online learning.
Master's in School Counseling
Master's in Educational Administration
Master's in Curriculum and Instruction
Master's in Special Education
Master of Arts in Teaching
Master's in Higher Education
The programs are available in a variety of formats — including online and face-to-face instruction — and have varying program lengths. This allows our students to take control of their program's pace while also allowing them the flexibility of working around teaching and family obligations.  
Each path has different degree requirements and research opportunities. Students can choose between thesis and non-thesis (research-based) tracks, with the exception of the Master of Arts in Teaching degree, which only offers a non-thesis track. 
The thesis track is designed for individuals who wish to continue their education to earn a Ph.D., whereas the non-thesis track is meant for those who do not wish to continue seeking further graduate-level education.
Whichever path you choose, PLNU's expert graduate advisors and faculty will be with you to guide you along the way. Read on for descriptions of our degree programs.
1. Master's in School Counseling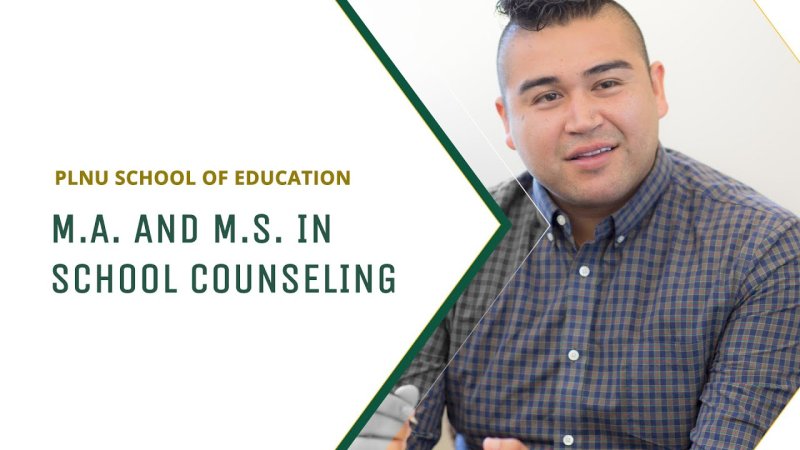 PLNU's Master's in School Counseling degree is a 16–24-month online degree program. Applicants can choose between either a Master of Arts or a Master of Science track.
An M.A. prepares educators to work directly with students as an elementary school counselor, middle school, high school, or career counselor. This track is often coupled with a Pupil Personnel Services (PPS) credential completion option for those who wish to work as school counselors in the public school system.
In comparison, the M.S. track acts as a stepping stone for those who wish to pursue a Ph.D. in education or counseling. Educators who complete this degree move on to become K-12 or career counselors.
2. Master's in Educational Administration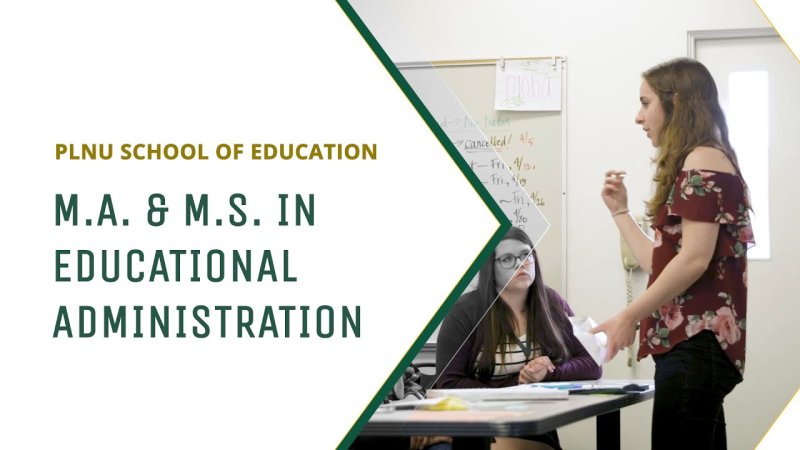 If you're looking to transition into a more leadership-focused career, a Master's in Educational Administration will help prepare you for this role. PLNU offers courses for this degree either entirely asynchronously online or face-to-face at our Bakersfield campus.
This degree is perfect for you if you wish to serve as:
Principals or vice principals
University registrars
District administrators
Similar to the Master's in School Counseling, the Master's in Educational Administration offers M.A. and M.S. tracks, the former of which has the option to be coupled with an Administrative Services credential.
3. Master's in Curriculum and Instruction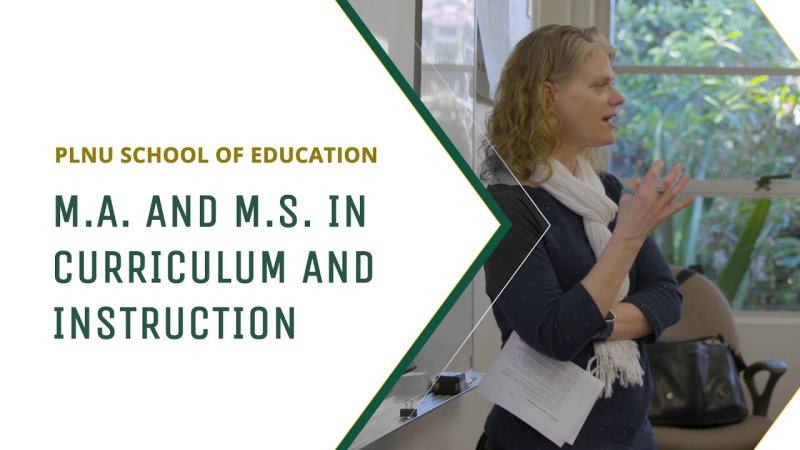 If you want to improve your skills in lesson planning and course structuring, consider pursuing a Master's in Curriculum and Instruction. This 12–24-month program is entirely online and culminates in either a five-chapter thesis or research project.
With this degree, you can enhance your teaching experience or transition out of the classroom and into an industry position role, such as corporate training facilitator or training manager. Educators with technical writing experience can even assist with state and national textbook development and publishing.
4. Master's in Special Education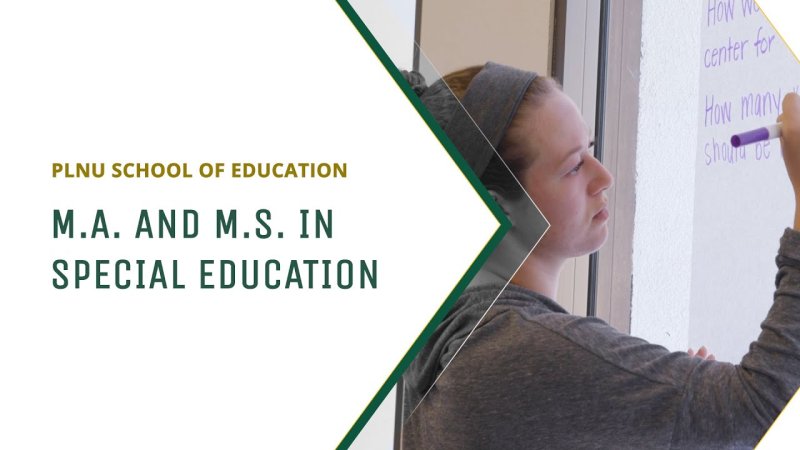 If you are a current credentialed education specialist, you are encouraged to apply to PLNU's Master's in Special Education program. This 16–24-month online program has M.A. and M.S. tracks, specifically designed to improve your ability to work with students with special needs. 
Both tracks allow you to complete your Google teacher certification (level 1) and your reading and literacy authorization, along with another authorization of your choice. Options include:
Autism Spectrum Disorder
Traumatic Brain Injury
Emotional Disturbance
Early Childhood Special Education
Adapted Physical Education
Orthopedic Impairment
______
Who are you called to be?
Pursue your purpose at PLNU.
______
5. Master of Arts in Teaching

PLNU's Master of Arts in Teaching (MAT) is specifically designed for aspiring teachers. You are recommended to pass the California Educator Credentialing Examination (CSET) prior to beginning the program.
The program typically takes between 20 and 32 months to complete. Available in both online and face-to-face formats, the degree program offers admitted students the opportunity to earn one or more of the following credential types:
Multiple subject (for elementary school teaching) 
Single subject (for middle and high school teaching) 
Education specialist (for special education teaching)
As part of the program, PLNU partners with school districts to allow you to complete your fieldwork and clinical hours as a student-teacher.
In addition to preparing you to teach in more traditional roles, an MAT prepares you to utilize your skills in tutorial centers, as well as corporate environments or museum education departments.
6. Master's in Higher Education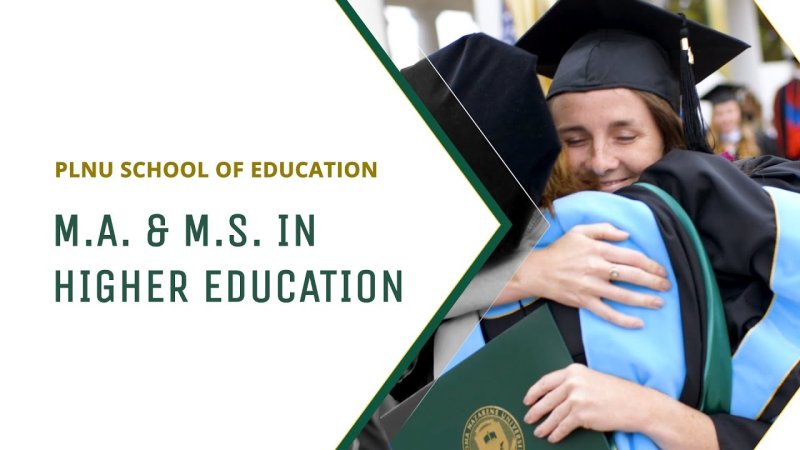 PLNU's 16-24-month online asynchronous Master's in Higher Education program will prepare you to work or advance in higher education roles. Graduates of the program serve in college and university communities as enrollment counselors, residential life directors, and in career services roles, among others.
Both M.A. and M.S. track graduate students work directly with students and faculty advisors to complete fieldwork hours and research projects. M.S. students also defend a thesis project. 
Students enrolled in this program may also concurrently complete additional PPS or College Counseling and Student Development certifications.
Take the Next Step
Education remains the foundation of our society. It prepares people for the roles they'll pursue in life. With a first-rate education, students develop the tools to better build communities and bring people together.
Better educators come with a stronger impact on future generations of students. That's why PLNU is committed to assisting current and aspiring teachers, counselors, and administrators with their continuing education.