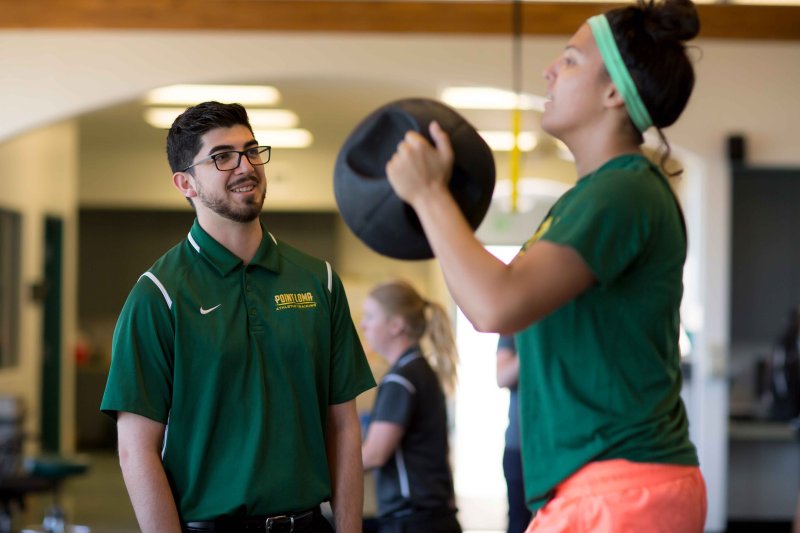 Michael Statzula and Kaela Knight share what it means to be an athletic trainer as they take us through a day in their lives as graduate students at Point Loma Nazarene University's Master of Science in Athletic Training (MSAT) program. Each with varying experiences, they offer insights into their clinical rotations, time spent in the classroom, relationship with faculty, tips to balance mental health and schoolwork, and aspirations for their futures as athletic trainers.
What is an Athletic Trainer?
Athletic training is a hands-on and high-demand career that touches on multiple areas of the healthcare realm. Athletic trainers are healthcare professionals who have the opportunity to work in a wide variety of environments. PLNU offers a west-coast athletic training program with a unique option to choose from one of three athletic training concentrations: 
Anatomy Education
Biomechanics
Sport Performance
Michael Statzula, a second-year student in PLNU's athletic training graduate program, knew he loved sports but wouldn't be able to play forever. Pairing his passion for the game with a deep passion for holistic care and helping others led him to pursue a master's in athletic training at Point Loma Nazarene University (PLNU). "Aside from being a player, there is no better way to be a part of a team than to be an athletic trainer," he said.
Kaela Knight, also a second-year student in PLNU's athletic training graduate program, explained: "Our profession overall encompasses a lot of different healthcare areas," she explained. "We do massage therapy, physical therapy, and personal training to an extent, paired with strength and conditioning. We are knowledgeable about nutrition, and we have emergency care training so we know how to do oxygen, CPR, and suturing. There is a lot that the job encompasses."
Kaela Knight's Journey to Athletic Training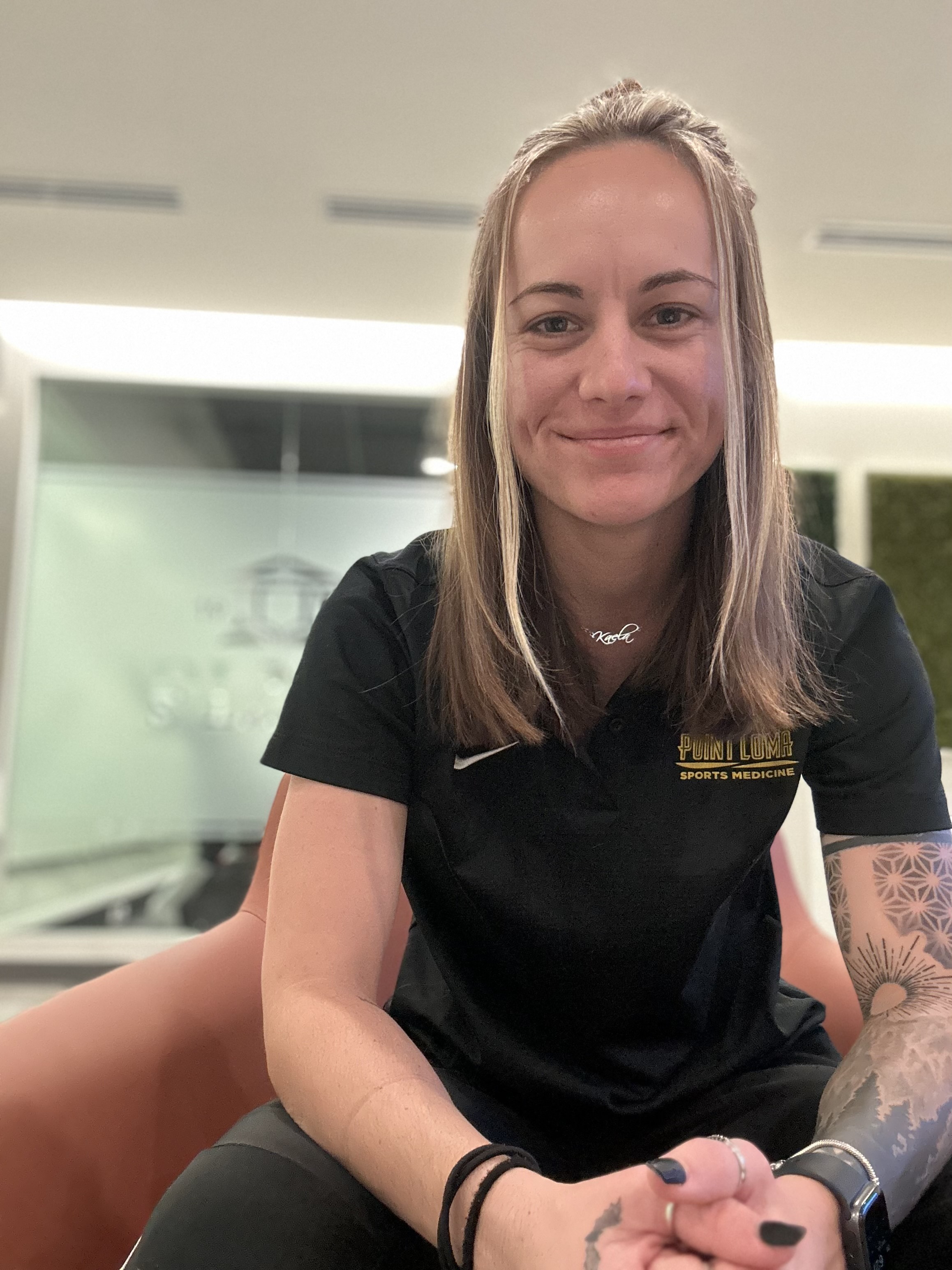 Kaela's journey to pursuing athletic training began with a passion for athletics and empowering others, though this career wasn't an option presented to her until a few years into post-graduate life. Having grown up in San Diego, she knew of PLNU but didn't attend the school for undergrad. 
After a year of studying to be a physical therapist and being met with closed doors, she decided to expand her career search. It was at this time that PLNU reached out to Kaela, offering information about the MSAT. The school guided her to a counselor to further explore this career path, which when she says the pieces quickly fell into place.
After years of seeking out next steps in her career, she knew exactly where she was meant to be. "It felt like destiny once I got through the off period after undergrad, and I don't regret the time it took to get here."
A typical day for Kaela in the MSAT looks like dedicating time to classwork and clinical hours while also prioritizing her mental and emotional health. Her semester courses include the following:
ATR6008 — Research Seminar II: Focused predominantly on cultivating a paper or poster for the program's final research project on a topic chosen within the first semester.
ATR6010 — Therapeutic Interventions & Lab: Includes working with a physical therapist on rehabilitation techniques for helping patients return to activity.
ATR6015 — Therapeutic Agents: Education about tools such as massage, ultrasound, vibration, dry needling, etc.
ATR6093 — Clinical Practicum I: Focused on internship logging, practicing evaluations, and special tests.
KIN6026 — Sport and Exercise Nutrition for Peak Performance: Learning how nutrition has an effect on the body and how nutrition can help patients.
Kaela's favorite course was Therapeutic Interventions: "It was fun learning all of the information about the different techniques and aspects of treatment that can be used and are not just exercise based. I like how there are multiple options for what we can use for pain management and helping with other MSK (musculoskeletal) symptoms that our patients are having."
__________
Become who are you called to be
Pursue your purpose at PLNU.
__________
For Kaela, a typical day includes talking with professors and working through any questions she may have. "They are there to support you and to be a helping hand … I never feel like I am a hindrance in bringing my problems to them."
Hands-On Learning
Kaela's time in PLNU's MSAT program exposed her to a wide variety of settings in the world of athletic training. In her first year, she spent clinical hours at a division-one university, where she had the opportunity to work with athletes to help prevent, diagnose, and treat injuries. 
Other responsibilities of this role included providing on-field coverage during practices and games in case of medical emergencies. Since this clinical rotation, she's had opportunities to work in the following settings:
Industrial site
Urgent care
In surgery
At the industrial site, Kaela's internship role was as a "safety specialist." During this time, she learned how to watch for improper ergonomic positions and taught workers the best way to carry themselves while working in order to prevent injuries. In this position, she was often in emergency situations, with the responsibility to contact EMTs and stabilize patients until their arrival.
Kaela's experience in urgent care allowed her to collaborate with both doctors and physician assistants to note, input, and learn about prescribing medications, as well as schedule future patients.
The clinical experience that inspired her career path, however, was in surgery. There she had the opportunity to observe medical procedures of knee and shoulder reconstructions or debridements for patients experiencing chronic or recent injury. Additionally, she was a part of follow-up appointments and had the chance to follow patients' journeys with their postoperative care.
Through her experience at clinicals and time in class, Kaela has found her passion for athletic training, and she encourages others who are searching for their dream career that while it wasn't easy, hard work pays off.
She expressed that it was discouraging for a period when it seemed that everyone else around her was moving on with their lives, and she felt stuck, unsure of her next steps. 
But it was that time that led her to a career as an athletic trainer, and she doesn't regret the time it took for her to get to where she is today. "I have pretty decent-sized aspirations. And no, the program is not easy, but if you are dedicated and driven in what you want, the results of your graduate program will reflect that." 
After becoming a certified athletic trainer, she hopes to continue working in a surgery setting, supporting patients who have had recent injuries or need surgery to address chronic pain.
A Day in Michael Statzula's Shoes as a Graduate Student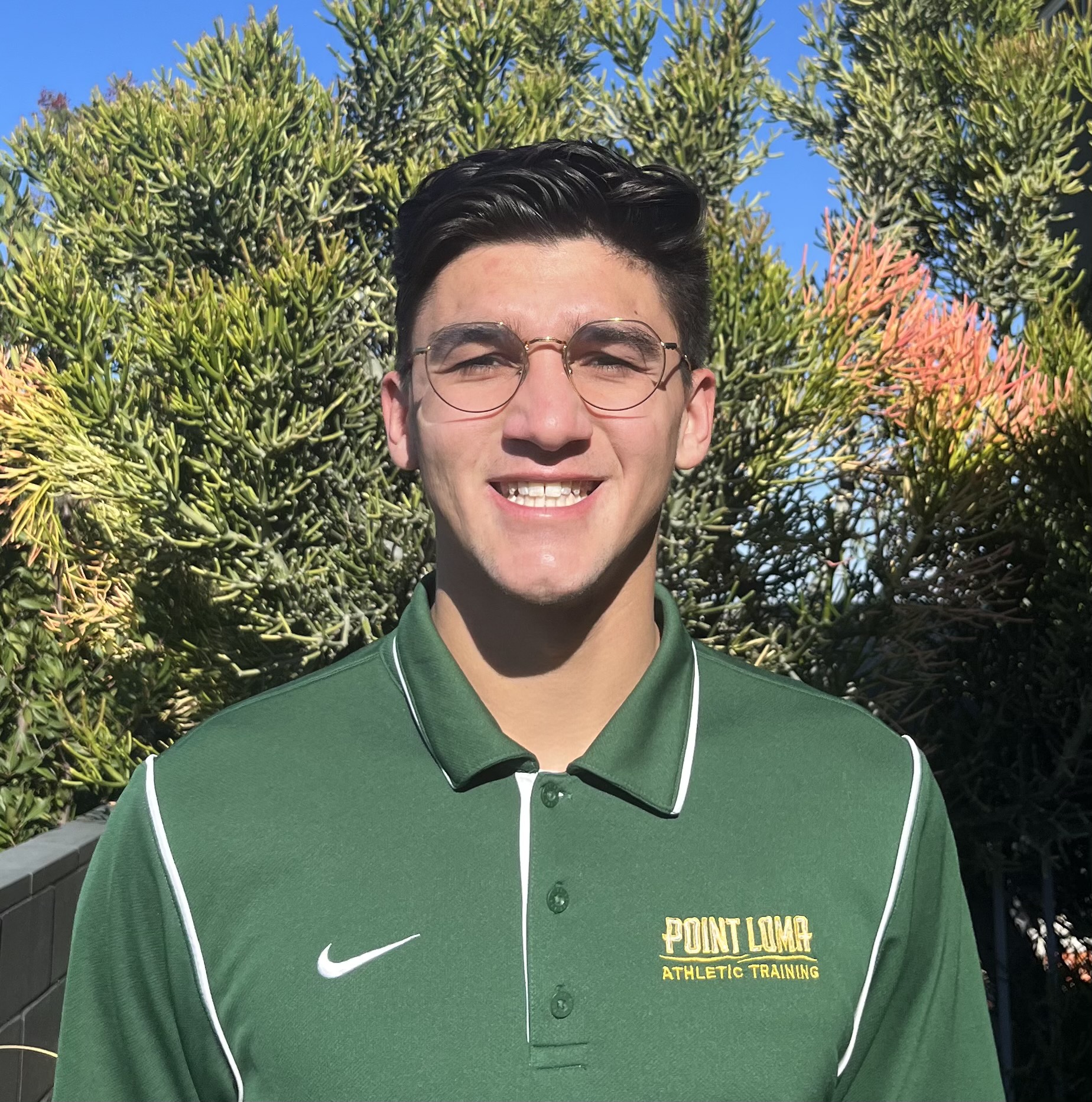 With a story different from that of Kaela's, Michael was drawn to the idea of athletic training since high school. The path was solidified once he learned about PLNU's accelerated 3+2 MSAT option, where students can earn both a bachelor's and master's in five years. 
His day starts early, with classes from 8 a.m. to 12 p.m., every other day, where he studies the concepts he'll later apply during his clinical rotation the following day. The courses Michael took throughout his fall semester include the following:
Therapeutic Agents
Therapeutic Interventions
Clinical Practice and Sports Nutrition
His favorite class was Therapeutic Interventions: "This class was something I was very interested in because it had an emphasis on injury prevention programming which is something I am very interested in and experienced with. I enjoy creating workout programs for my friends and family, so it was great practice."
Classes are taught at PLNU's Balboa Regional Center, which is equipped with simulation and skills laboratories, research facilities, and classrooms that come with state-of-the-art technology and foster collaboration. 
Supplying him with a wealth of experiences, Michael's internships have ranged from working with a men's soccer team and a women's basketball team, both at a collegiate level at the University of San Diego (USD), and the San Diego Legion rugby team. Each training setting enlightened him about different clinical care approaches and provided him with takeaways unique to the setting in which he worked.
Other opportunities for hands-on experience are available through the MSAT program; one learning opportunity available for students to work with athletes is found through PLNU's partnership with the San Diego Loyal soccer club. SD Loyal utilizes the Balboa Regional Center for their athletes, and graduate students get the chance to work clinical rotations with teams.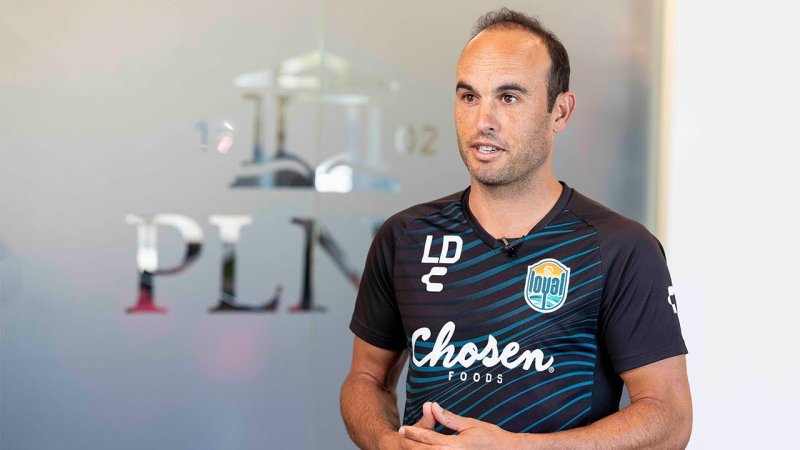 Along with opportunities for hands-on learning, Michael attributes much of his success to the support of professors at PLNU. "My advisor, Dr. [Nicole] Cosby, I love her. I couldn't do it without her, because she has guided my entire journey. She has been someone I know I can lean on and go to when I know that I am having troubles." 
Though the athletic training program is intensive, Michael still feels that holistic well-being is prioritized in the lives of the students through the investment and care of faculty. Equipped by his professors and instilled with ambition and drive, his long-term dream is to work in the NBA as a director of sports performance or head of sports medicine.
Is Athletic Training Right for Me?
"Most people think of us as 'water jockeys,' just tapping ankles or making ice bags, but there is so much more [to athletic training]. We help calm the patient down, tell them what we can see, turn that into a diagnosis of an injury, and explain what we need to do to move forward for treatment or potential surgery. 
Regardless of the setting of athletic training, and while the responsibilities might change slightly, the principle stays the same: we care for our patients and get them what they need to be able to get back to living the best life they can."

— Kaela Knight
Multi-faceted and engaging, athletic training is the perfect career for someone with a passion for sports, holistic health, and empowering others to be their best selves. Want to hear more from previous students in our San Diego athletic training program? Click here to watch Jarret Welsh explain his PLNU MSAT experience. 
With a master's in athletic training, there's a wide variety of career paths to choose from, whether working for a professional sports team, inside surgery, or with athletes at a division one university.