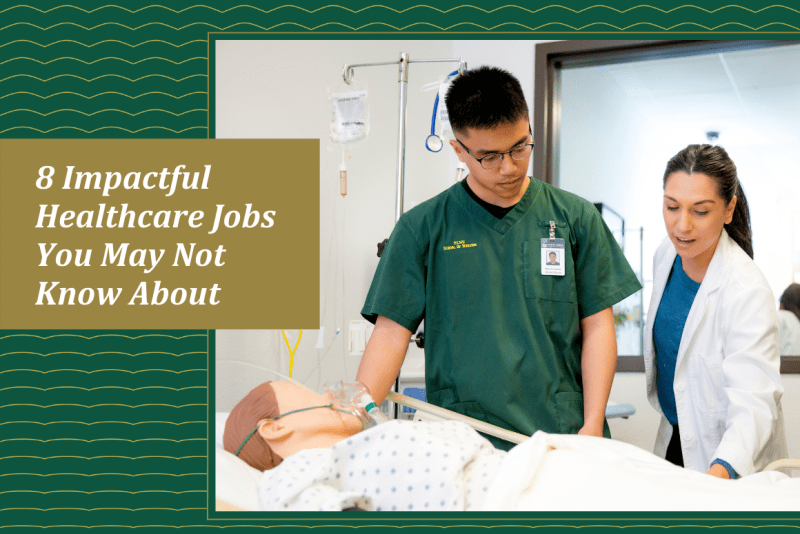 Health care-related career opportunities are on the rise nationwide, and there are a wealth of opportunities you can pursue that don't require a doctorate degree. Whatever your skills, passions, and career aspirations may be, you can find a variety of positions that could fulfill your calling to help others — including some that are lesser known by rising professionals.
Here are 8 promising healthcare careers that you may not have known about.
1. Orthotist and prosthetist
Average annual salary: $75,440
Projected employment increase: 17% (much faster than average)
Education requirements: master's degree and certification
Orthotists and prosthetists perform the important role of creating braces and artificial body parts. 
Orthotists create braces for body parts like arms, back, legs, neck, and more. These provide external support and correction to aid patients' motor functions or recovery. Prosthetists create or customize prosthetic body parts, like legs and arms, to help patients live more comfortably and independently. Both orthotists and prosthetists may also give directions to patients or prescribe exercises to help patients adjust to the hardware.
Most positions require a graduate-level orthotist or prosthetist program to qualify. A Bachelor of Science in Nursing (BSN) can be an excellent way to build experience in healthcare while completing necessary prerequisites for this specialist program.
2. Phlebotomist
Average annual salary: $37,300
Projected employment increase: 10% (faster than average)
Education requirements: high school diploma; certification preferred
Phlebotomists draw blood for testing and donations. They work at blood donation centers, physician's offices and hospitals, and are responsible for drawing, handling and storing blood.
Despite its salary being lower than other entries on this list, phlebotomists are great entry-level positions for those pursuing healthcare careers or wishing to gain experience, even before earning a bachelor's degree, such as a BSN. 
3. Sonographer
Average annual salary: $75,380
Projected employment increase: 10% (faster than average)
Education requirements: high school diploma, bachelor's preferred 
You may know sonographers in their most widely-known role of performing ultrasound for pregnant patients. In reality, ultrasound is used in a variety of ways. Sonographers use ultrasound to examine, diagnose, or test areas of a patient's body. They work closely with physicians and surgeons, and often work in hospitals or offices of physicians.
Sonographers can specialize in a variety of areas, including:
Abdominal sonography 
Breast sonography
Cardiovascular sonography
Obstetric sonography
Pediatric sonography
And more
4. Nurse anesthetist
Average annual salary: $123,780
Projected employment increase: 40% (much faster than average)
Education requirements: master's degree in nursing 
Certified registered nurse anesthetists (CRNA) administer general or local anesthesia for patients so physicians and surgeons can complete procedures without pain or discomfort to patients. Nurse anesthetists can administer anesthesia via inhaled gas or intravenous drugs. At an incredible 40% growth rate over the next decade, this is one of healthcare's fastest growing career opportunities.
Anesthesiologists also specialize in administering anesthesia, but have a medical degree (MD) or doctor of osteopathic medicine (DO) and work on more complex patient cases or surgeries. Although they earn more because of their higher level of specialization, nurse anesthetists are in much higher demand and require less schooling to qualify.
__________
Who are you called to be?
Pursue your purpose at PLNU.
__________
5. Clinical laboratory technician
Average annual salary: $57,800
Projected employment increase: 7% (as fast as average)
Education requirements: bachelor's degree
Clinical laboratory technicians conduct tests to diagnose, treat, and prevent disease. They may work in hospitals, physician's offices, or diagnostic laboratories, and use and maintain specialized equipment like microscopes and cell counters. They often test bodily fluids like blood, urine, and tissue samples to look for anomalies. 
These laboratory technicians can specialize in different areas, like:
Blood banks
Cryotechnology
Microbiology
Molecular biology
And more
6. Occupational therapist
Average annual salary: $85,570
Projected employment increase: 14% (much faster than average)
Education requirements: master's degree
Occupational therapists (OT) help treat and train people with disabilities, injuries, or illnesses to improve their daily lives and be more independent. They work with patients to assess their home, work, or school environment to see what kinds of equipment, environmental changes, or accommodations are needed to improve their level of comfort, support, and navigability. They may train patients how to use equipment like mobility aids or demonstrate exercises to aid with recovery and improvement.
PLNU offers a master's degree in occupational therapy that will help give you the skills and experience to become an effective, impactful OT. 
7. Speech language pathologist
Average annual salary: $79,060
Projected employment increase: 21% (much faster than average)
Education requirements: master's degree
Speech language pathologists help treat children and adults with communication disorders. They help clients make sounds, improve fluency, and improve their ability to communicate vocally. They work in hospitals, schools, or nursing care facilities. They assess clients' goals and help them achieve desired results, such as improving socialization.
There are a variety of situations in which speech language pathologists are needed, such as aiding developmental delays, swallowing problems, or assisting recovery from medical issues like a cleft palate or a stroke.
8. Child life specialist
Average annual salary: $64,400
Projected employment increase: 7%
Education requirements: bachelor's degree
Child life specialists help children cope with challenging situations surrounding medical environments, long-term illnesses, and more. They work in children's and adult hospitals and help young patients or young family members of patients to understand and cope with extended periods in the hospital, significant injury or illness, and other difficulties. They may support children by encouraging play, self-expression, conversation, and emotional support. They may also help provide emotional support for parents.
This role is perfect for those who want to support children in times of need. A bachelor's degree in child development is a great way to prepare for the complexities of this role.
Take the next step
There are a variety of careers that are available in the world of health care. PLNU's bachelor's programs in nursing and child development can lead to positions that help patients of all ages and demographics. PLNU also offers graduate-level programs in nursing and occupational therapy, as well as post-graduate certificate and doctoral programs if you're interested in pursuing senior-level healthcare positions. 
Each of PLNU's programs is designed to help you to fulfill your purpose, make meaningful connections, and advance in your career. Take the next step by applying to PLNU.