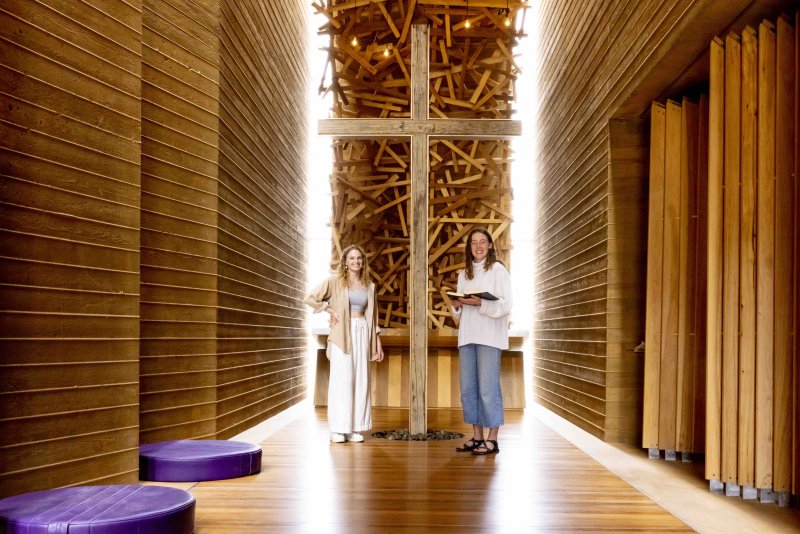 Religious studies and philosophy overlap in many ways as college areas of study, but there are a few distinct differences in how these degrees can prepare you for meaningful future careers.
And while these majors aren't housed in the traditional science, technology, engineering, art, or mathematics (STEAM) realm, graduates of these programs learn how to think critically, appreciate challenges, explore difficult questions, and gain skills that are marketable in a variety of environments.
Religious Studies vs. Philosophy
So what are the major differences between religious or Christian studies and philosophy? The most apparent differences are in their focuses. Religious studies has a strong focus on texts around religion. For instance, PLNU's Bachelor of Art in Christian Studies focuses on traditional Christian texts in both Hebrew and Greek, while the Bachelor of Art in Philosophy takes a broader approach to critical thinking and can reference religious as well as many secular texts.
Religious or Christian studies majors can expect to spend time considering the various religions and faiths of the world, with a goal of understanding the main tenets of each religion and how they engage with and impact society historically and currently. As a philosophy major you'll be more likely to study logic and critical thinking processes. 
Common coursework between the two majors usually includes introductory classes that provide basic background info on religion and philosophy, ethics, and logic. Some programs will offer concentrations or minors within their religious studies and philosophy majors. As you're working toward your Christian studies degree at PLNU you can also earn a concentration in philosophy by adding a few more philosophy-specific courses.
Why Should I Major in Religious Studies?
While traditionally many people may think of religious studies as a less marketable major, the coursework you take while pursuing this degree is versatile, preparing you for a variety of careers where your skills and knowledge are applicable. This degree helps you understand the intrinsic connections between a culture and its religion. It can be an excellent building block for both international and domestic jobs, especially as the world becomes more globalized and connected. Additionally, the percentage of individuals employed in the job market with this degree is increasing.
Is a Religious Studies major worth it?
As a religious or Christian studies major you'll have the opportunity to study classes in religious theory, ethics, and justice in the church. These classes will prepare you to think critically and ask questions about religion, the church, and philosophy. You'll develop a healthy curiosity for other faith practices and soft skills like empathy that are valuable in many careers, not just those in the clergy. If you're looking for a job within the church then this major will prepare you to work in those settings when you graduate. But beyond the church this major is also valuable in global settings where an appreciation for other ways of thinking and other cultures in necessary.
Why Should I Major in Philosophy? 
Like Christian studies, philosophy is considered a humanities degree path which means it deals with the human experience and society, approaching both from a critical perspective. The word "philosophy" also comes from the original Greek word "philosophia" which means a "love of wisdom." You can expect to learn how to think as a philosophy major. As a result, you'll gain strong transferable skills in this major. 
The art of thinking critically and approaching challenges without necessarily aiming to solve them are hallmarks of this degree path. You may also have the opportunity to pursue some interesting elective courses in this major that are specific to your university. For instance PLNU's Bachelor of Art in Philosophy has a number of required major courses but also allows you to choose 18 upper division courses in addition to those you find interesting. This means you and your peers might major in the same degree but have very different college experiences depending on the courses you choose after you've met your major requirements. 
In 2020, the number of individuals who graduated with this degree also rose by 1.5%. The annual income for common jobs has also increased in recent years. Beyond the positive data points, majoring in philosophy will prepare you to think well which is a valuable skill in any career.
Is a Philosophy degree worth it?
When you think about a philosophy degree it may drum up images of white-haired Greek philosophers arguing under temple pillars while folk watch and listen. And while the degree does involve public speaking and you'll need to be able to defend and support your thoughts verbally, the value of a philosophy degree is in the way it teaches you to think. Employers recognize that quick thinking, attention to detail, and forethought are all welcome skills in an office environment. In fact, many philosophy majors end up pursuing and succeeding at careers in law because they are able to hold complex ideas in their minds even if they disagree with those ideas, while also analyzing statements and arguments to articulate their conclusions.
Career Opportunities for Religious Studies Grads 
While most students graduating with a religious or Christian studies undergraduate degree work toward a career within the clergy, many also become lawyers, judges, or professors. With this degree you can also pursue jobs in social and community work. The career opportunities are diverse for this degree path and can often range in location.
Career Opportunities for Philosophy Grads 
Career opportunities for philosophy graduates are a bit broader than for religious or Christian studies graduates. As a philosophy graduate you can also apply your studies to fields such as law, higher education, health services, psychology, or journalism.
Study Christian Studies or Philosophy at PLNU
One of many Christian universities in San Diego, PLNU offers a unique degree experience for students interested in Christian studies or philosophy. As a Nazarene university, PLNU takes a biblical approach to the Christian studies major focusing on interpreting scripture in the Old and New Testament and engaging in Christian formation as it applies to ministry. In this major, you'll also have the opportunity to study the Greek and Hebrew languages to further enhance your biblical reading. With six concentration options and just under 40 different elective class options, Christian studies at PLNU offers a varied approach to the religious studies field. 
If you're interested in a broader approach to the field of critical thinking, look no further than PLNU's Bachelor of Arts in Philosophy. Philosophy at PLNU is another flexible and semi-customizable degree program. You'll take the same lower and upper division major requirements as your peers, but once you've completed these courses you can choose 18 other elective courses from the School of Theology and Christian Ministry. In this program you can expect to "engage in the disciplined practice of asking questions about God, the world, and [yourself], including questions for which there may be no easy answers." Learn more about the philosophy program at PLNU or apply now to start your journey on this exciting degree path.