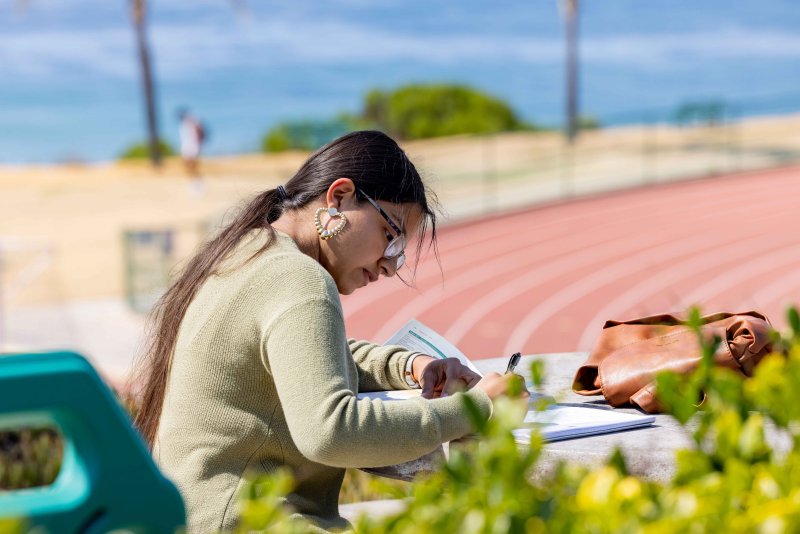 The online world is the new frontier. With new technological advancements, the journalism and media communications industries are evolving, and so is higher education curriculum. Discerning which path is best for you can be difficult. That's why we've developed a simple guide to help!
What's the difference between journalism and media communication?
Colleges and universities often house journalism and media communication in one department, but the reality is they're not synonymous. When you break up the term media communication you get two separate definitions: 
Media: the main means/technology of mass communication (broadcasting, publishing, and the internet) regarded collectively.
Communication: the imparting or exchanging of information or news. 

Essentially, media communication is the study of technology and its specific uses for communication. Whereas, journalism is the study of writing/producing for newspapers, magazines, news websites, or prepping news to be broadcasted. While media communication and journalism may seem similar, it's really like comparing apples to oranges … or, in a media communication context, laptops to cellphones. 
As G. Stuart Adam, journalism professor at Carleton University quoted in The Poynter, 
"I suggest that in order to reflect on the future — and to encourage a more sanguine view of the situation — you distinguish between journalism as a cultural practice, on the one hand, and media, on the other. The term 'media' blends (and blurs) concepts of culture and technology. When used as a synonym for journalism, the term 'media' pushes technology into the foreground and conceals the fact that 'journalism' is one thing and 'media' is another. The latter refers mainly to technologies of various effects and uses."
The main similarities between media communication and journalism
The main similarity is their common goal: dispersing communication to an audience. Media communication seeks to find the best platforms/technologies for certain information based on the audience. Journalism also seeks to share stories/news with an audience but is also tied to journalistic integrity and ethics. Journalists have to remember the means/technology they use cannot change or disrupt the information that must be shared. 
Another similarity is the environment in which people with these degrees often work in. A media communication graduate could work in the PR department of a news organization while a journalism graduate edits the opinion column. It could even be the other way around. Media communication can set up graduates for careers in journalism too, but they might have to do additional work on their own time to develop journalistic writing skills. You'll hear more about the opportunities for crossover in the next section!
Academic Pathways for Journalism and Media Communication
Journalism overview:
Bachelor's degree programs usually have two concentrations: print or broadcast. The classes can be pretty similar, but the programs and methods for telling a story/news are different. With broadcast, you're telling a story with clips of video and audio. In print, you use photos and text. However, technology has changed the game. Both broadcast stations and print publications have websites and can use a mixture of elements to tell stories, which is why the curriculum is evolving to meet these new demands of digital formats.
Therefore, it's common for students to take a wide range of classes even if they're declared in one concentration. But a necessary part of undergraduate learning experiences is an internship. Journalism is a networking field, so students are often required to complete an internship where they'll not only gain hands-on experience but also expand their network. 
Media Communication overview:
Bachelor's degree programs can have a variety of concentrations including film studies, screen performance, production, and multimedia. These concentrations teach students how to use particular technologies within certain work environments and how to create their own content.
The areas where there is journalism overlap are usually within broadcast news. Media communication majors can be trained in production and run cameras or other technologies in the newsroom. However, media communication majors aren't limited to news; they can go into the entertainment industry and a variety of other areas where media technology is needed. The classroom and internship opportunities prepares them for these environments.
Job Outlook for Journalism Majors
Employment in journalism is growing at an average rate in comparison to other careers. Overall employment in the field of news analysts, reporters, and journalists is projected to expand 6% from 2020 to 2030, according to the U.S. Bureau of Labor Statistics (BLS). Although it has a reputation of being a difficult career to find success, students who are hard-working and go-getters can achieve their goals. 
Job Outlook for Media Communication Majors
Employment in media communication depends on where you choose to work. There are a variety of opportunities (in addition to the journalism field) in public relations, marketing, and even art.  Here are a couple of positions media communication graduates can pursue:
Broadcast, sound and video technician: Employment in this field is projected to expand 21% from 2020 to 2030, according to the BLS.  
Public relations specialist: Likewise, employment in this field has good prospects. Employment is projected to expand 11% from 2020 to 2030, according to the BLS.  
Ready to choose?
Both journalism and media communication offer exciting and high-paced work environments. They're an essential part of our entertainment and news industries. Whichever you choose, the opportunities are endless!

Learn more about how you can get your bachelor's in journalism or media communication. You can also explore our various undergraduate media outlets through Point Loma Nazarene University or contact a counselor for more information.