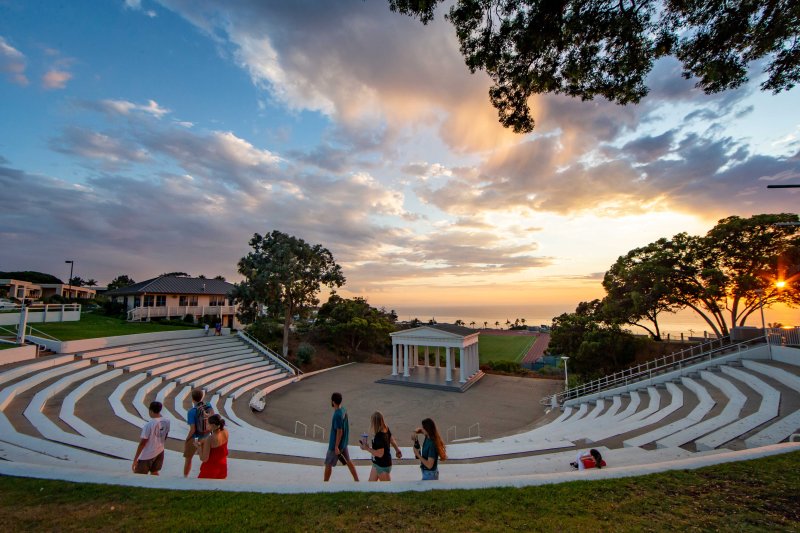 Arriving at PLNU's main campus, the Pacific Ocean is among the first sights to greet you. The expansive horizon and vast, blue body of water hypnotize the eye.
You think to yourself: "What time is the sunset today?" and "Where is the best place to watch it?" Located on Sunset Cliffs, PLNU arguably hosts some of the best lookout points in San Diego. We've chosen the top six most popular spots to see the sunset among students, faculty, and the public, along with perks and tips to find a favorite of your own.
The Cross
To begin our tour, starting at the entrance to PLNU, the cross is a great sunset photo opportunity. A common meeting place for various campus clubs and activities, students and visitors often stretch their arms to the sky or strike a jumping pose against a beautiful colored backdrop. Walk south of the cross and you'll find an intimate seating area with a park table on a grassy plot. The cross may be a convenient sunset lookout point for residents living on the northern side of campus or for those just arriving on campus.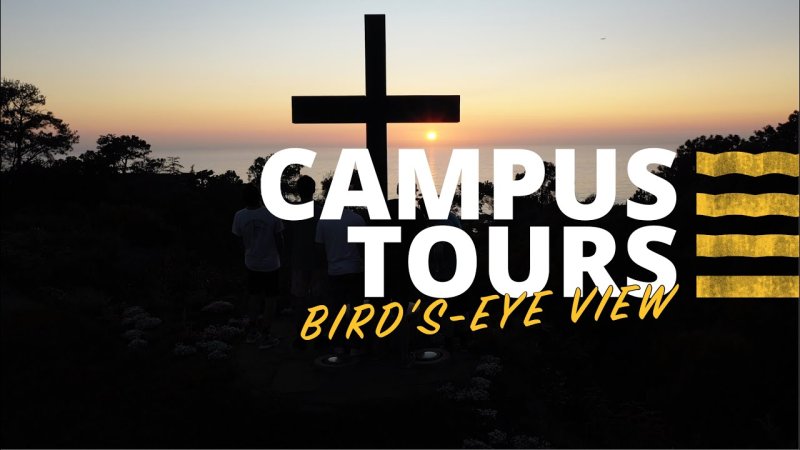 Ryan Learning Center
Moving south, the second sunset lookout point is on the rooftop lawn of the Ryan Learning Center, across from the Offices of Strengths & Vocation. To get there, instead of entering the Ryan Library, continue following the path to the right until you reach a set of outside stairs. Follow the spiraling staircase until you reach the grassy lawn with a patio area, gazebo, and bench seating. Central to main campus and directly off of Caf Lane, this spot is perfect in elevation, and may be the most convenient all-around. Whether studying at Ryan Library or coming back from dinner, this rooftop lawn provides ample space and seating. Planning to attend Time Out Chapel after taking in the view? Exit through the back staircase onto Peppertree Lane, which is directly across from Brown Chapel.
__________
Who are you called to be?
Pursue your purpose at PLNU.
__________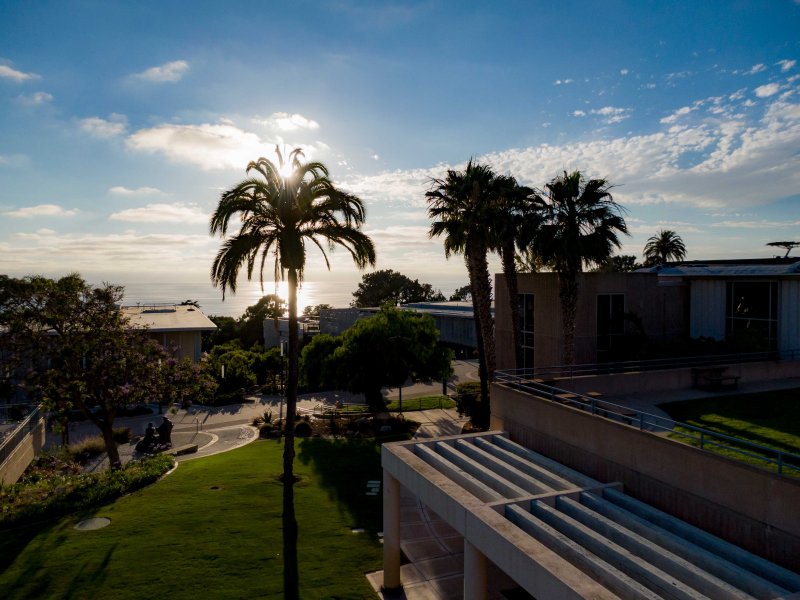 Latter Hall
Moving west from Ryan Learning Center toward the science complex, we'll find yet another impressive rooftop view of the horizon. Entering Sator Hall off of Caf Lane, continue until you come out on top of Latter Hall. This rooftop deck has sporadically placed tables and chairs, perfect for quiet studying. Catching the sunset here is a treat — the view is expansive and continuous, uninterrupted by buildings or trees. A pro tip to share with your friends: On a cloudless night, bring a coat and stay after sunset hour for a clear view of the stars.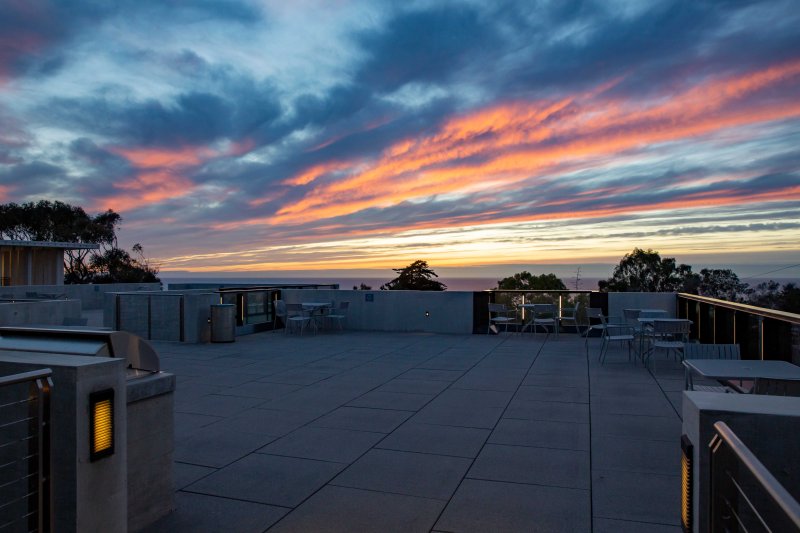 Athletic Training Center 
Our fourth sunset lookout point is another rooftop deck south of Sator Hall. On top of the Athletic Training Center, you'll find a great rooftop deck nestled between Golden Gymnasium and the athletic fields. The location has been used by PLNU's Swing Dancing Club, as it offers a smooth laminated surface and ample space to move. This rooftop deck may be convenient for student athletes or for those who love watching baseball, tennis, or track. If the fields are open, you may be tempted to venture out and experience a closer view of the sunset from the edge of the cliffs.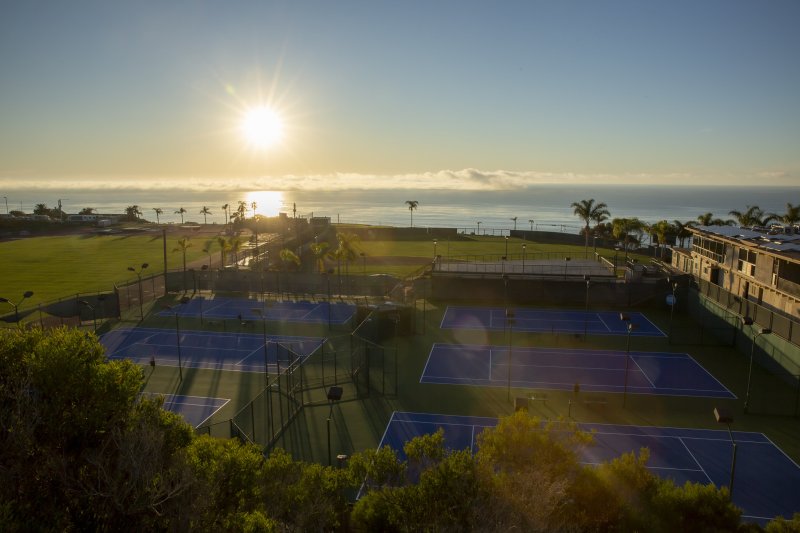 McCullough Park
Moving further up the hill, our fifth spot is located at McCullough Park, beside Fermanian Business Center. Popular with our neighbors from the Point Loma community, this grassy, narrow park is perfect for picnics, bringing the kids or pets to play, or yoga during the day. Several times a week, PLNU's Sports and Recreation hosts its popular yoga sessions at McCullough Park. This sunset lookout spot may be convenient for students living on the southern side of campus or for those who have classes in Fermanian, Rohr Hall, or Taylor Hall. Perhaps one of the highest lookout points on campus, McCullough Park emanates that on-top-of-the-world feeling.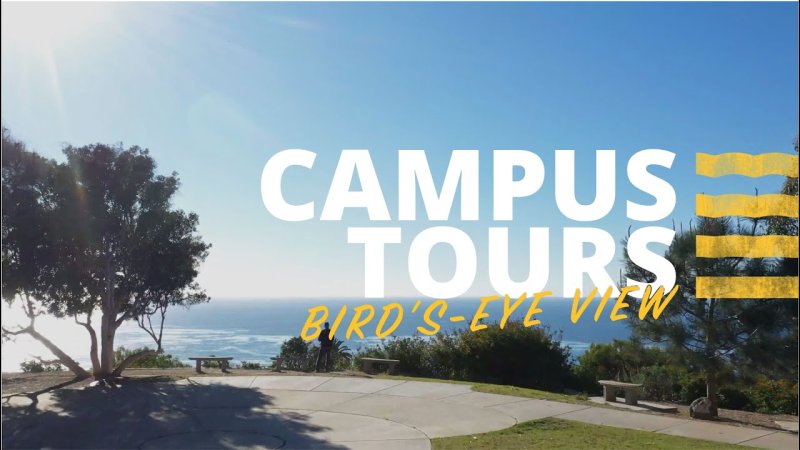 Bresee Alumni House Lawn
Climbing down from the climax of this tour, our last lookout spot is at Bresee Alumni House. Operating year round, excluding Thanksgiving and Christmas breaks, the Alumni House can be booked exclusively by PLNU graduates and parents of current students. Within its perimeter is a grassy lawn with bench and seating areas open to students for enjoyment. To access, simply make your way past Draper Hall (Student Financial Services), and follow the sidewalk. We chose this bonus location as a private option because it's perfect for meditation and prayer. Bring a journal and pen to reflect as you watch the illuminated sky come to a close.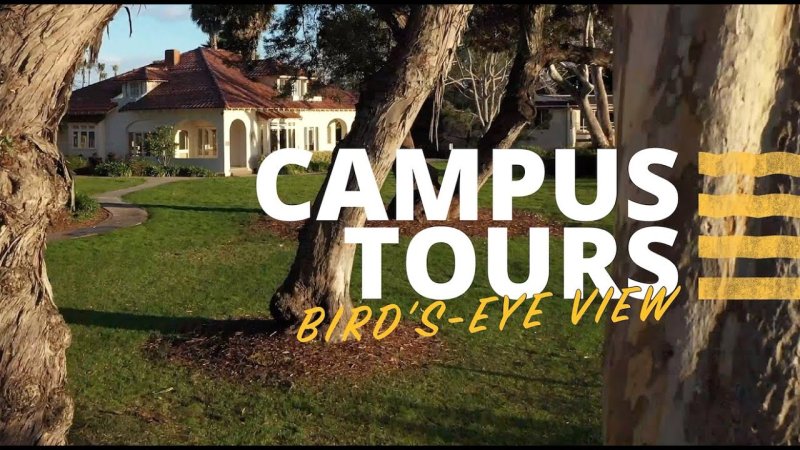 Book an In-Person Sunset Tour 
Not ready for this tour experience to end? It doesn't have to! We offer a variety of virtual and on-campus tours. Register at pointloma.edu/tour for a two-hour, student-led Sunset Tour. Bring a camera and experience the sunset euphoria when you visit these picturesque locations in-person and up close.     
---
About the Author
Lindsey Keith is a PLNU senior, studying literature and studio art.